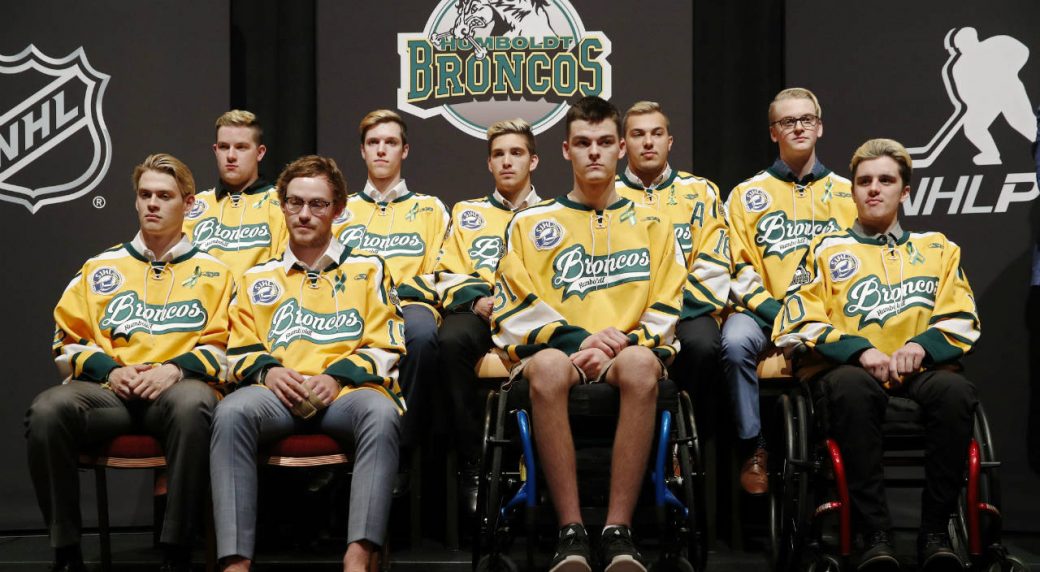 Humboldt will get a chance to come together and cheer August 24.
Washington Capitals forward Chandler Stephenson will bring the Stanley Cup. St. Louis Blues forward Brayden Schenn will bring fellow NHL players. The NHL and the NHL Players' Association are working out details, but the plan is to have a skills competition at Elgar Petersen Arena, home of the Humboldt Broncos.
Ten survivors reunited for the first time in Las Vegas on Monday and will be recognized at the 2018 NHL Awards presented by Hulu at the Hard Rock Hotel & Casino Las Vegas on Wednesday. Coach Darcy Haugan, who died in the accident, is up for the inaugural Willie O'Ree Community Hero Award, which recognizes someone who has improved his or her community through hockey.
"You looked at what happened right after," said Andrew Ference, NHL director of social impact, growth and fan development, at NHL Awards media day Tuesday. "There was obviously an immediate outpouring of financial support, which is important. They're going to need that support. The way we kind of looked at it was, 'What else can we do?' … We said, 'Let's just go in there and have a really fun day of hockey for everybody to enjoy.'"
Broncos forward Kaleb Dahlgren, 21, is from Saskatoon, Saskatchewan, like Stephenson and Schenn. He trains with Stephenson in the offseason.
"I think it's going to be really crazy," Dahlgren said. "I think the community of Humboldt needs that, honestly. They need that to come to them. It's really nice of Chandler Stephenson. I know him personally, and he's a character guy. He's a really, really great guy. Kudos to him and Brayden Schenn as well. They're both great dudes, and I'm really thankful that they're supporting Humboldt."
The survivors are spread out across North America, some at home, some in hospitals. Air Canada flew them to Las Vegas. The Hard Rock Hotel & Casino put them up. When the 10 were in the same room for the first time for dinner Monday, it was emotional.
"You give them all hugs," Dahlgren said. "You need that hug with the guys. It's just really nice to see them, and everybody's recovering so well. Even the guys in the hospital that aren't here right now are recovering very well, and that's nice to see, because I want the best for everybody. I want them to have a positive and happy life."
Nine of the survivors were at media day wearing yellow Broncos jerseys. They got to meet Florida Panthers goaltender Roberto Luongo and Edmonton Oilers center Connor McDavid.
"You just see it on their faces that they've been through a lot and they've seen a lot," Luongo said. "You just try to make them at ease as much as you can."
McDavid said, "It was special for us to meet them, honestly. To know what they've gone through and to see them here in Vegas and to be taking in the event, I think it just speaks to how strong they all are, to how amazing it is that they're able to be here. I think for us players, it's special to be able to talk to them and definitely just a symbol of strength and bravery."
(NHL.com)