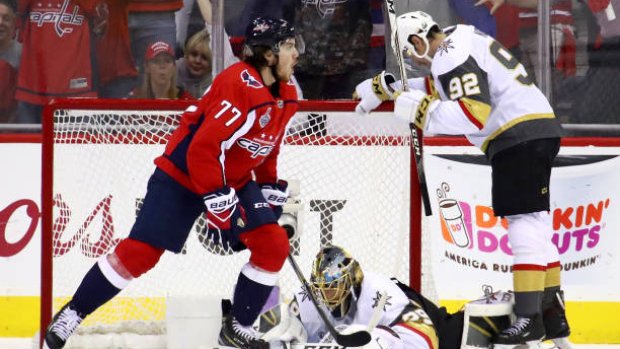 --The Washington Capitals are one win away from their first Stanley Cup. They beat Vegas 6-2 in Game 4 to take a 3-1 lead. Evgeny Kuznetsov had four assists for the Capitals who will try to win it all Thursday night in Vegas. One of those in attendance at the game was Humboldt Bronco Kaleb Dahlgren.
--The Philadelphia Eagles will not be going to the White House. President Donald Trump cancelled the appearance by the Super Bowl champs citing the dispute over whether NFL players protesting racial injustice must stand during the playing of the national anthem.
Trump said in a statement that some members of the Super Bowl championship team "disagree with their President because he insists that they proudly stand for the National Anthem, hand on heart, in honour of the great men and women of our military and the people of our country."
--Former U of R director of athletics Dick White was honoured in Vancouver. He was given the Austin-Matthews award at the USports honours awards gala. The award is presented to an individual who has made an outstanding contribution to interuniversity sport, as demonstrated by long-term commitment and leadership as a coach, director, chairperson and/or executive committee member at the local, provincial and/or national levels.
--
Noah Naylor is the top Canadian selected in this year's M-L-B draft. The catcher from Mississauga, Ontario went 29th overall to the Cleveland Indians. The 18-year-old is the younger brother of San Diego Padres prospect Josh Naylor, who was the top Canadian in the 2015 draft at 12th overall. Pitcher Casey Mize from Auburn was taken number one by Detroit.