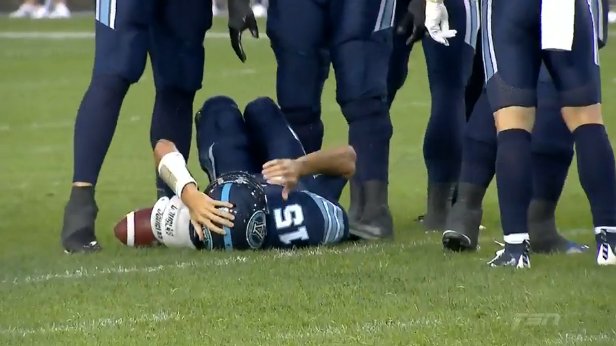 --The CFL community is tight and it is strong. Evidence of that came Saturday night as soon as it became evident that Ricky Ray had been hurt---the extent of which we still don't know even though an update was given Sunday that sounds promising. Immediately, words came across Twitter from CFL'ers past and present hoping for nothing but the best for the Toronto quarterback that is one of the best to strap on a CFL uniform over my time watching this league.
I had stopped watching the game intently because of the score at the time and missed the play in question as it happened. As I looked at the TV and saw the concern for a player lying on the turf, I had no idea it was Ray they were talking about until I hit rewind on the PVR and saw what went down. It seemed to be an innocent play and there was certainly no malice on the part of the Stampeder players involved. Immediately, my mind raced back to the tackle that went wrong by Steelers linebacker Ryan Shazier. It was seemingly a routine tackle, but it obviously wasn't. I don't know how long Ricky is out for, but I hope it isn't a career-ender. His career should not end with him being wheeled off the field on a stretcher.
--We are two weeks into the CFL season. What have we figured out? Not a lot. I think we can all agree it is going to be another long season for the Alouettes and despite talk once again that Calgary is going to slip back to the rest of the pack, they may not be. Edmonton, Hamilton, the Riders and Bombers are all 1-1. The Bombers and BC had their way with the Alouettes so are they good or is Montreal just THAT bad. Ottawa looked great in Week 1, but so did the Riders. Edmonton struggled to beat Winnipeg and were not strong against Hamilton. You know about the Riders first two games. More of a sample size is needed.
--What has been disappointing has been the lack of riveting games. None of the four this weekend were ones you wanted to watch from kickoff to final gun. 4 very one-sided matchups. It wasn't as bad in Week 1, but at least two of the four games weren't ones that kept you on the edge of your seat. Go back to last year when we had six of the first eight games decided by four points or less. Let's hope that we start seeing some closer games to keep the interest piqued.
--Eskimos president Len Rhodes is the one who spear-headed the "move the CFL season" up. We saw the season move up by a couple of weeks and what was an anticipated crowd of 40,000 with a guaranteed 50-50 of at least 70,000 for the home opener ended up being 31,000. Rhodes blamed the 8 o'clock Friday night saying 7 would have been much better. He also said the NHL draft had a lot to do with it. Could it just be people aren't ready to sit down on a Friday night and watch football when they could hit the road and get out of town or do whatever. Is that one of the reasons why the Riders didn't have a sell-out crowd for the home opener. The debate about the scheduling rages on. By the way, the 31,000 was the biggest crowd of the season through the first two weeks.
--As the NHL draft finished on Saturday, many were wondering what happened to the WHL and why more players didn't get selected. After hearing scouts gush about Max Paddock at the Memorial Cup, I was just as surprised as anyone not to see the Pats goalie get taken. Talk of him going somewhere between the mid 4th and the 6th round obviously didn't pan out. Some started to wonder if the WHL is still "the league".
It was just a down year for the WHL in my opinion. No one was talking about this at the end of last year's draft when the league had 33 players taken with 18 of those going in the first three rounds. Those looking to stir something up need to find a better argument. There is nothing wrong with player development in the WHL. Oh yeah, there were 34 players taken in the 2016 draft including 16 in the first three rounds if you're wondering.
--As for the draft itself, what a letdown! I kept waiting for trades to take place and it didn't happen with all the talking heads then making excuses as to why we weren't seeing what we were supposed to. If it weren't for the Flames and Hurricanes we would have had nothing. I'm not really sure what to think of that deal. Yes, the Flames had to shake things up after a season gone bad and it would appear as if there is more to the story when it comes to Hamilton who is now on his 3rd team at the age of 25.
--The question now is what team really helped itself at the draft. I say it has to be the Islanders. For a team that didn't have a top-10 pick, they got two players ranked in the top 10 in Oliver Wahlstrom and Noah Dobson. How Dobson fell that far is beyond me? I had him going to Ottawa at 4 and I certainly didn't think he would get past Vancouver at 7. The fact Edmonton had those two players and Evan Bouchard to choose from amazed me. For what its worth, I had Bouchard going at 9 to the Rangers. With so many blueliners taken in the first round, we will look back in a few years to see where everyone is. I would expect Dobson, Bouchard, Quinn Hughes, Ty Smithand Adam Boqvist to be solid NHL players moving forward, but who will stand out above the rest in the next 3-5 years.
--Ilya Kovalchuk at the age of 35 is going to get more than six million a year from the L-A Kings. Really? Maybe four to four-and-a-half, but six? You do want to keep Drew Doughty right?
--The great Dan Patrick on his radio show last week said more people watched England's first game at the World Cup in England than watched the royal wedding. More people were interested in Harry Kane than Prince Harry. While that does surprise me in one way, it doesn't in another. Say what you want about our fandom, those that support their country in soccer have us beat. Of course, we don't resort to hooliganism if we lose.
--Congratulations to the Regina Riot on their 14-10 WWCFL title win over the Saskatoon Valkyries. It's been a rough last couple of weeks for the women's football team as they had to get over the distraction of getting their uniforms stolen. The Riot, under head coach Olivier Eddie, found a way to get it down winning it late. CTV's Claire Hanna opined after the game that she wishes the stadium were full to see women's football played at a high quality. Sadly, if we can't put 10,000 in the stands to watch the Thunder or the Rams, we aren't going to get a big crowd for the Riot. All three deserve more support if you ask me, but that support isn't there.
--That's all I got. Have yourselves a great week