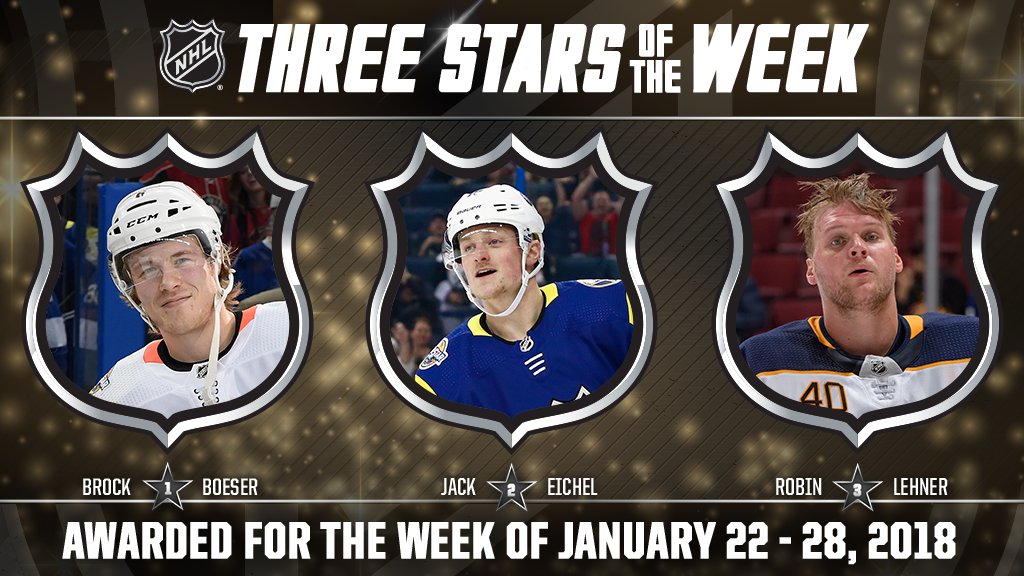 Vancouver Canucks right wing Brock Boeser, Buffalo Sabres center Jack Eichel and Buffalo Sabres goaltender Robin Lehner have been named the NHL's "Three Stars" for the week ending Jan. 28.
FIRST STAR - BROCK BOESER, RW, VANCOUVER CANUCKS
Boeser earned MVP honors at Sunday's 2018 Honda NHL All-Star Game, won Saturday's Honda NHL Accuracy Shooting competition and also scored two goals in two contests earlier in the week with the Canucks (19-24-6, 44 points). Participating as the only rookie in the weekend festivities at AMALIE Arena, Boeser recorded the winning goal in the Pacific Division's 5-2 semifinal victory against the Central Division and added 1-1-2 in a 5-2 triumph over the Atlantic Division in the final. He became the second rookie to win NHL All-Star Game MVP honors, following Pittsburgh's Mario Lemieux in 1985. Prior to that, Boeser won Saturday's Honda NHL Accuracy Shooting competition and $25,000 by hitting all five targets in 11.136 seconds. Earlier in the week, he scored two goals in Vancouver's 6-2 victory against the Los Angeles Kings Jan. 23 before being held off the scoresheet in a 4-0 loss to the Buffalo Sabres Jan. 25. The 20-year-old Burnsville, Minn., native leads all rookies and shares seventh overall with 24 goals in 46 games this season (24-19-43).
SECOND STAR - JACK EICHEL, C, BUFFALO SABRES
Eichel led the NHL with 2-3-5 in three outings to power the Sabres (14-26-9, 37 points) to a perfect week. He scored his third career overtime goal in a 2-1 triumph over the Calgary Flames Jan. 22. Eichel then posted 1-3-4, his third career four-point performance, in a 5-0 win against the Edmonton Oilers Jan. 23 before being held without a point in a 4 0 victory over the Vancouver Canucks Jan. 25. The 21-year-old North Chelmsford, Mass., native - who added 1-2-3 (2 GP) Sunday in his NHL All-Star Game debut - paces Buffalo with 20-29-49 through 49 contests this season. He is the fourth player in Sabres history to reach the 20-goal milestone in each of his first three seasons, joining Gilbert Perreault, Richard Martin and Thomas Vanek.
THIRD STAR - ROBIN LEHNER, G, BUFFALO SABRES
Lehner registered shutouts in each of his two appearances, stopping all 63 shots he faced to help the Sabres complete their first three-game winning streak since Feb. 14-18, 2017 (3-0-0). He made 33 saves in earning his seventh career shutout in a 5-0 victory over the Edmonton Oilers Jan. 23. Lehner then denied all 30 shots against in a 4-0 win over the Vancouver Canucks Jan. 25. In doing so, he became the first Buffalo goaltender to post consecutive shutouts since Feb. 29 - March 1, 2012 (Ryan Miller). The 26-year-old Gothenburg, Sweden, native owns an 11-18-6 record with a 2.87 goals-against average, .912 save percentage and three shutouts in 37 outings this season.