Boston Bruins center Patrice Bergeron, Colorado Avalanche goaltender Jonathan Bernier and Pittsburgh Penguins center Sidney Crosby have been named the NHL's "Three Stars" for the week ending Jan. 7.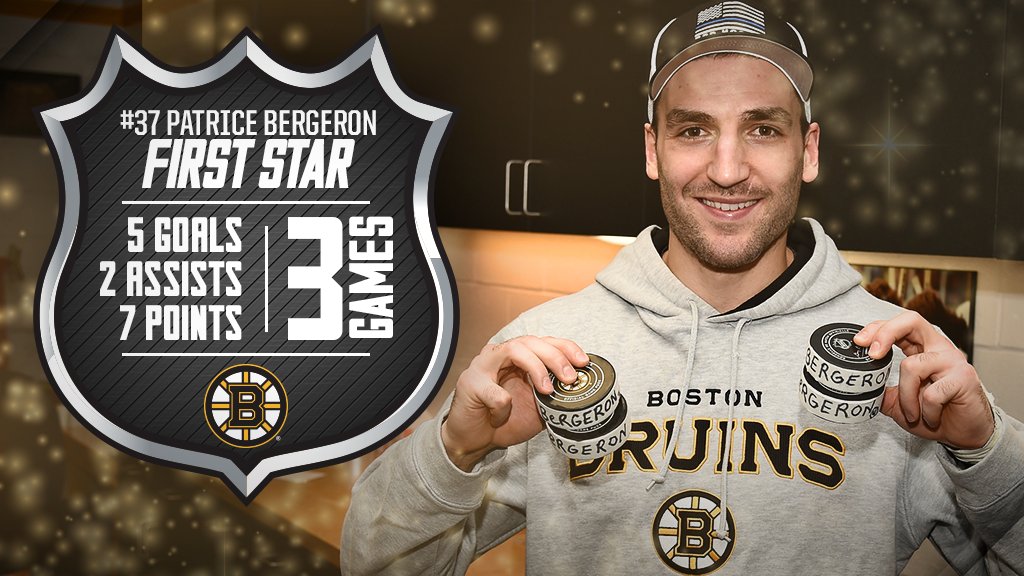 FIRST STAR - PATRICE BERGERON, C, BOSTON BRUINS
Bergeron shared the League lead with five goals in three games (5-2-7) to power the Bruins (23-10-7, 53 points) to a 2-0-1 week, extending their overall point streak to 11 contests (8-0-3). He scored the winning goal in a 5-1 triumph over the New York Islanders Jan. 2. Bergeron then established and matched career highs for goals and points in one game, respectively, with 4-1-5 in a 7-1 victory against the Carolina Hurricanes Jan. 6. In doing so, Bergeron also became the first Boston player to register four goals in one outing since Oct. 28, 1999 (Dave Andreychuk). He closed the week with one assist in a 6-5 overtime loss to the Pittsburgh Penguins Jan. 7. The 32-year-old Ancienne-Lorette, Que., native ranks third on the Bruins with 16-16-32 in 35 contests this season.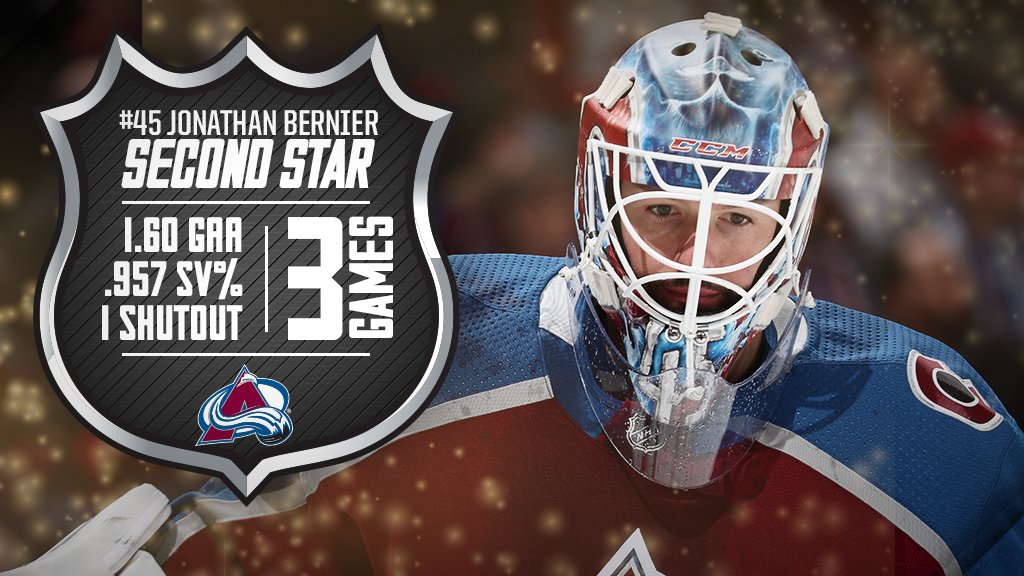 SECOND STAR - JONATHAN BERNIER, G, COLORADO AVALANCHE
Bernier went 3-0-0 with a 1.60 goals-against average, .957 save percentage and one shutout to guide the Avalanche (22-16-3, 47 points) to a perfect week and help extend the team's overall winning streak to five games, their longest such run since Dec. 12-19, 2015 (5-0-0). He recorded 21 saves in relief to backstop Colorado to a 3-2 overtime victory against the Winnipeg Jets Jan. 2. Bernier then made 34 stops to earn his 16th career shutout in a 2-0 triumph over the Columbus Blue Jackets Jan. 4. He posted another 34-save performance in a 7-2 win against the Minnesota Wild Jan. 6. The 29-year-old Laval, Que., native owns a 9-7-1 record in 17 appearances this season (2.88 GAA, .909 SV%, 2 SO), including victories in five of his past six outings.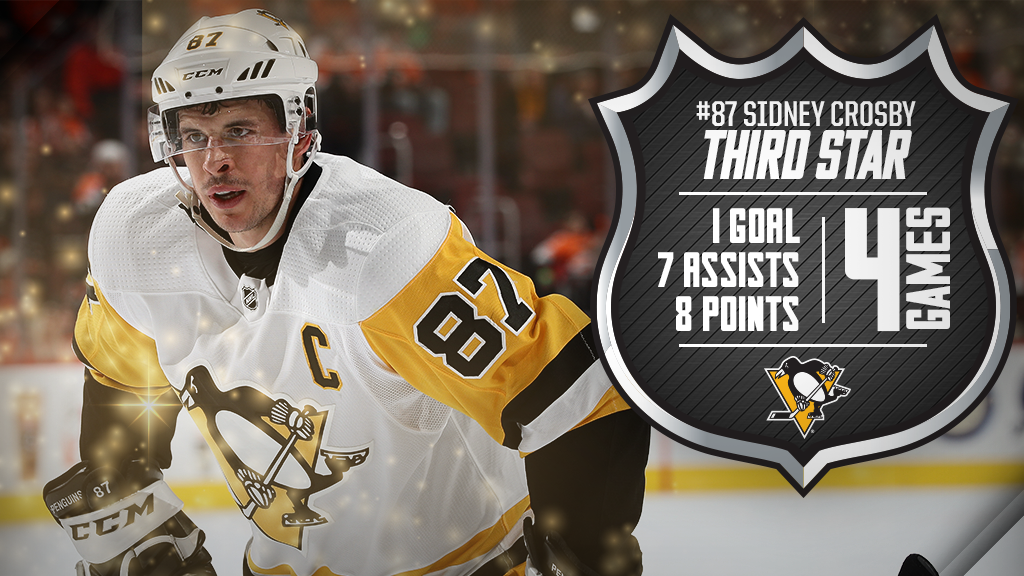 THIRD STAR - SIDNEY CROSBY, C, PITTSBURGH PENGUINS
Crosby collected a League-high seven assists and eight points (tied) in four games to lead the Penguins (22-19-3, 47 points) to a trio of wins. He registered one helper in a 5-1 triumph over the Philadelphia Flyers Jan. 2. After being held off the scoresheet in a 4-0 loss to the Carolina Hurricanes Jan. 4, Crosby rebounded with his 31st career four-point performance (1-3-4) in a 4-0 victory against the New York Islanders Jan. 5. He added three more assists in a 6-5 overtime win against the Boston Bruins Jan. 7. The 30-year-old Cole Harbour, N.S., native sits second on the Penguins and 15th in the NHL with 15-28-43 in 44 contests this season.