THURSDAY'S RESULTS
Alex Ovechkin, Mike Smith, Mitch Marner and Andrei Svechnikov took the spotlight on the second night of the 2019 Stanley Cup Playoffs.
* Teams that take a 1-0 lead in a best-of-seven playoff series own an all-time series record of 467-214 (68.5%), including a 327-106 (75.5%) mark when those wins come on home ice and a 140-108 (56.4%) clip when earned as visitors.
THREE HARD LAPS: QUICK HITS FROM THURSDAY
* Alex Ovechkin, Nicklas Backstrom and John Carlson each played pivotal roles as the Capitals began their Stanley Cup defense at Capital One Arena.
* Mike Smith turned aside all 26 shots he faced to record a series-opening shutout in his first postseason outing in nearly seven years.
* Mitch Marner tallied a shorthanded penalty-shot goal to propel the Maple Leafs to their first series-opening win on the road since the 2003 Conference Quarterfinals.
OVECHKIN, BACKSTROM AND CARLSON POWER CAPITALS IN GAME 1
Alex Ovechkin (1-0—1), Nicklas Backstrom (2-0—2) and John Carlson (0-3—3) each played pivotal roles as the Capitals opened an early 3-0 lead and withstood a late Hurricanes rally to open their series with a win. Carolina's late push against the defending Stanley Cup champions came one night after the Blue Jackets rallied from a three-goal deficit to defeat the Presidents' Trophy-winning Lightning.
* Ovechkin's 62nd career postseason goal stood as the winner. The Capitals captain, who registered two decisive goals during the team's Stanley Cup run in 2018, boosted his postseason totals to 62-56—118 to tie Bobby Hull for 27th place on the NHL's all-time playoff goals list.
* Backstrom collected his 100th postseason point (33-67—100), becoming the ninth active NHL player to reach the milestone. Ovechkin is the only other Capitals player with at least 100 playoff points (active or otherwise).
* Carlson, who established franchise marks for assists and points by a defenseman in a single postseason in 2018 (5-15—20), collected a helper on each of the Backstrom and Ovechkin goals to match the NHL playoff record for most assists in a period.
SMITH SHINES IN FIRST POSTSEASON OUTING IN NEARLY 7 YEARS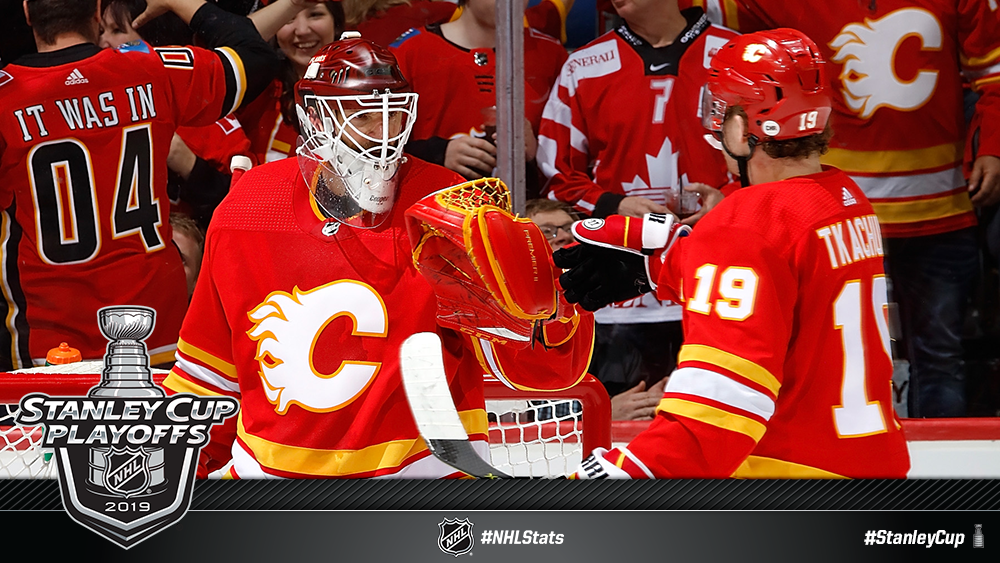 Surrounded by the "C of Red", Mike Smith turned aside all 26 shots he faced - prompting chants of "Smitty! Smitty!" in the process, including in the third period following a crucial glove save on 99-point star Nathan MacKinnon - to backstop the Flames to a 1-0 series lead against the Avalanche.
* Playing his first postseason contest since leading the Coyotes' first-ever run to the Conference Finals in 2012 - more than 2,500 days ago - Smith became the first goaltender in Flames franchise history to record a shutout in a series-opening game. His .947 save percentage through 20 playoff games paces all netminders since 1955-56 (min. 15 GP).
* Among goaltenders to play entirely in the expansion era, only two others went as long between playoff wins: Brian Boucher (3,616 days) and Sean Burke (3,634 days). Boucher and Burke are two of three goaltenders to go 10 or more years between playoff wins (also Jim Henry: 3,654 days).
* Additionally, Smith, 37, became the fourth goaltender to record a series-opening shutout at age 37 or older. The others: Gump Worsley (42 years, 327 days on Game 1 of 1972 QF), Tim Thomas (37 years, 363 days on Game 1 of 2012 CQF) and Georges Vezina (37 years, 47 days on Game 1 of 1924 NHLF).
MARNER'S PENALTY SHOT PROPELS MAPLE LEAFS IN GAME 1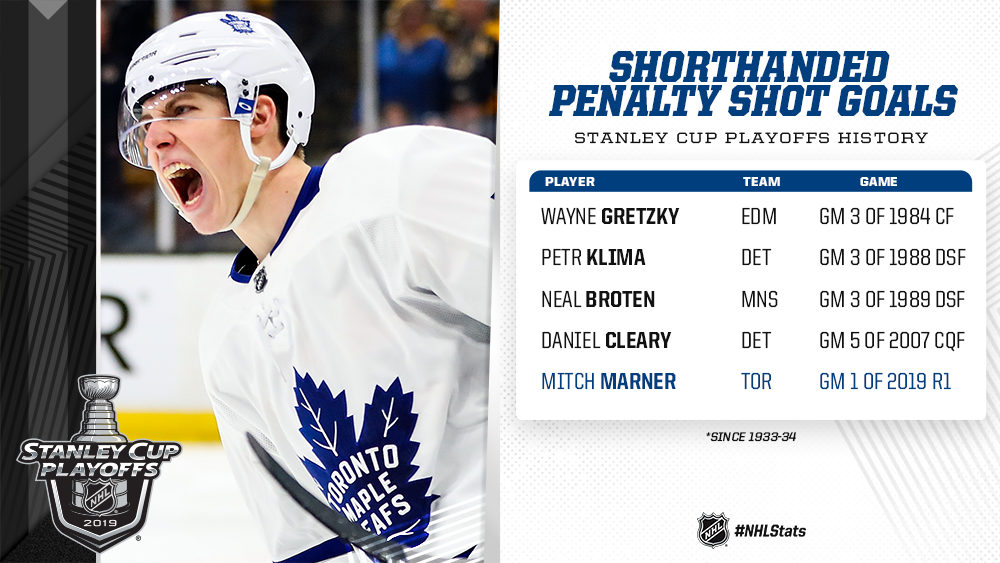 After leading Toronto in points during the regular season, Mitch Marner scored two of four unanswered goals for the Maple Leafs - including a penalty shot while shorthanded - to propel his team to a Game 1 victory in Boston.
* Marner, who led the team with 2-7—9 during last year's postseason clash with the Bruins, joined former Maple Leafs captain Mats Sundin (Game 4 of 1999 CF) as just the second player in franchise history to convert a penalty-shot attempt in the Stanley Cup Playoffs.
* Only four others have scored a penalty shot goal while shorthanded since the League began tracking goals by strength in 1933-34, with Wayne Gretzky the first to do so in 1984.
* Toronto won Game 1 of a playoff series that began on the road for the first time since claiming the opener in Philadelphia during the 2003 Conference Quarterfinals. They have accomplished the feat in Boston once before, in Game 1 of the 1949 Semifinals en route to winning the club's eighth Stanley Cup.
TEENAGERS LEAVE THEIR MARK ON 2019 POSTSEASON, AGAIN
The Hurricanes nearly staged the second three-goal comeback of the 2019 Stanley Cup Playoffs, with 19-year-old Andrei Svechnikov scoring twice to help his team cut its deficit to one goal in the third period.
* Svechnikov (19 years, 16 days) posted his performance one night after fellow 19-year-old Miro Heiskanen (19 years, 266 days on April 10) tallied 1-1—2 to become the youngest defenseman in Stars/North Stars franchise history to score a postseason goal.
* Svechnikov became the youngest player to score at least two goals in a playoff game in nearly 22 years, with Dainius Zubrus the last to do so on May 11, 1997 with the Flyers - almost three years before Svechnikov was born.
* Additionally, the second-overall pick in the 2018 NHL Draft became the fourth teenager to ever score multiple goals in his playoff debut, following Pierre Turgeon in 1988, Eddie Olczyk in 1985 and Don Gallinger in 1943.
SNEAK PEEK AT FRIDAY'S ACTION
Four series continue Friday, with the Blue Jackets looking to hand the Lightning consecutive losses for just the third time in 2018-19. Tampa Bay lost two straight games only twice this season, falling in regulation to the Senators and Sabres from Nov. 10-13 and then consecutive defeats against the Golden Knights (shootout) and Blues (OT) from Feb. 5-7.
* Columbus looks to start the postseason with a 2-0 series lead for a second straight year (2018 FR vs. WSH), while Tampa Bay aims to avoid a 2-0 deficit - a situation they have faced four times previously (1-3 series record), including in the 2018 Conference Finals against Washington.
* The Blues also aim to go up 2-0 on the road, while the New York Islanders and San Jose Sharks vie for 2-0 series leads on home ice. Teams that win the first two games of a best-of-seven series own an all-time series record of 318-50 (86.4%), including a 241-30 mark when those victories come at home (88.9%) and 72-20 record when they come on the road (78.3%).
(NHL Media)