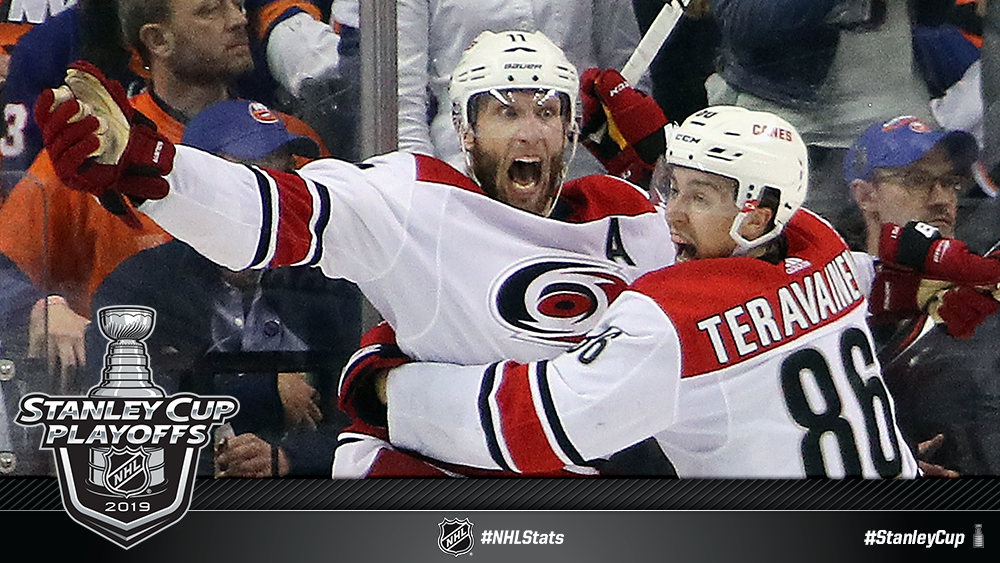 THREE HARD LAPS: QUICK HITS FROM FRIDAY
* Petr Mrazek earned his second shutout of the 2019 Stanley Cup Playoffs to help the Hurricanes outduel Robin Lehner and the Islanders in the 12th overtime game this postseason (50 GP; 24%). Friday was the sixth straight day to feature extra time.
* Brent Burns posted a career-high four points and Joe Thornton recorded his 100th career playoff assist as the Sharks rallied past the Avalanche in Game 1 at SAP Center.
* Teams that take a 1-0 lead in a best-of-seven series own an all-time series record of 472-217 (68.5%), including a 5-3 mark in the 2019 Stanley Cup Playoffs.
MRAZEK, HURRICANES OUTDUEL LEHNER, ISLANDERS IN GAME 1
After Petr Mrazek (31 saves) and Robin Lehner (31 saves) went save-for-save through 60 minutes - combining for 60 stops in regulation, including breakaway denials against Josh Bailey and Greg McKegg, respectively - Jordan Staal broke the ice in overtime to give Carolina a 1-0 series lead.
* Mrazek, who recorded an 18-save shutout in Game 3 against the Capitals in the First Round, became the third goaltender in Hurricanes/Whalers franchise history to record multiple shutouts in a playoff year, joining Cam Ward (2006 and 2009) and Kevin Weekes (2002).
* Only three goaltenders in franchise history have recorded more than 31 saves in a playoff shutout: Ward (36 in Game 2 of 2009 CSF), Weekes (32 in Game 6 of 2002 CQF) and Mike Liut (32 in Game 6 of 1986 DF). Mrazek has posted a shutout in five of his nine career playoff wins.
* After scoring the tying goal in the third period of Wednesday's Game 7 victory in Washington, Staal netted his first career playoff overtime goal. His brother Eric Staal also scored an overtime goal for the Hurricanes in the Stanley Cup Playoffs - exactly 13 years earlier, in Game 3 of the 2006 Conference Quarterfinals in Montreal. Hurricanes head coach Rod Brind'Amour provided the screen for Staal's goal 13 years ago.
* Friday marked the sixth straight day to include an overtime contest, marking the seventh such streak in League history and first since an equal run in 2015. There have been four stretches in Stanley Cup Playoffs history of seven or more consecutive days with playoff overtime: April 19-27, 2011 (9 days), April 21-27, 2014 (7 days), May 2-8, 2013 (7 days) and April 13-19, 2001 (7 days).
VETERAN DUO PROPELS SHARKS OVER AVALANCHE IN SERIES OPENER
After collecting 1-3—4 through seven contests in the First Round, Brent Burns (1-3—4) matched those totals in Game 1 against the Avalanche - notching one of his three assists on Kevin Labanc's highlight-reel go-ahead goal - to propel his team to a 1-0 series lead.
* After leading the team with a career-high 83 points during the regular season (16-67—83 in 82 GP) and being named a Norris Trophy finalist on Sunday, Burns factored on four of five goals. In doing so, Burns (17-34—51 w/ SJS) eclipsed Dan Boyle (11-37—48) for the most playoff points by a defenseman in Sharks franchise history.
* Thirty-nine-year-old Joe Thornton (1-1—2) has found the score sheet in eight of his last 10 games dating to April 2 (including 2-4—6 in 7 playoff games). With one helper Friday, Thornton (29-100—129) became the 24th player in NHL history - and third active skater - to record at least 100 career postseason assists.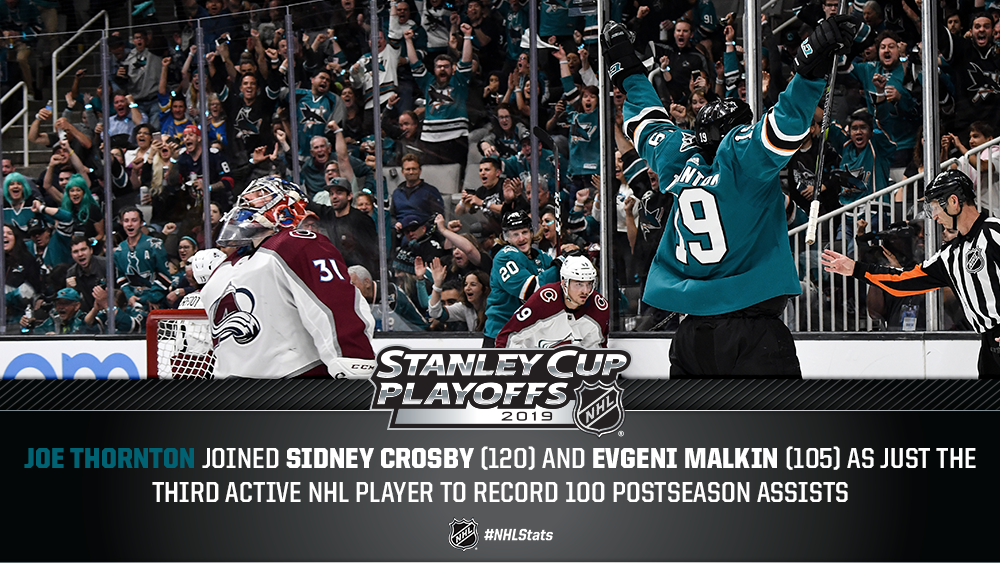 * Thornton (1,566 GP) and Burns (1,043 GP) are among a group of 12 active NHL players with 1,000 or more career regular-season games in search of their first Stanley Cup. Two others are still competing in the 2019 Stanley Cup Playoffs: Jason Spezza (1,065 GP; DAL) and Jay Bouwmeester (1,184 GP; STL).
* Labanc netted his first career game-winning goal in the playoffs, doing so on the heels of a record-setting performance in Game 7 against the Golden Knights. The Staten Island, N.Y., native was selected in the sixth round (171st overall) by San Jose in the 2014 NHL Draft. He then posted back-to-back 100-point seasons with the Ontario Hockey League's Barrie Colts in 2014-15 and 2015-16, finishing as the OHL's top scorer in the latter campaign.
BLUE JACKETS, STARS AIM FOR ROAD SPLITS TO START SECOND ROUND
A pair of Wild Card teams will look to even their Second Round series during a doubleheader that begins Saturday at 3 p.m. ET in St. Louis.
* Teams that take a 2-0 lead in a best-of-seven series own an all-time series record of 321-51 (86.3%), including a 3-1 mark in 2019.
SATURDAY DOUBLEHEADER BEGINS WITH MATINEE IN ST. LOUIS
After opening the second round with the highest U.S. viewership numbers in five years, the Blues, Stars, Bruins and Blue Jackets will contest another doubleheader today:
* After making 27 saves in Game 1, Blues rookie Jordan Binnington will look for the upper hand yet again on Stars netminder Ben Bishop. Both goaltenders were drafted by St. Louis, with Bishop (85th overall in 2005) making 13 appearances for the Blues before being traded to Ottawa eight months after the club selected Binnington with the 87th overall pick in the 2011 NHL Draft (87th overall).
* Bishop has made a habit of rebounding after playoff defeats, owning a 10-3 record and one no-decision (Game 2 of 2015 SCF) following a loss within a postseason (.941 SV%, 1.60 GAA, 2 SO). Additionally, Bishop is 9-2 in 11 career playoff games after allowing three or more goals (.950 SV%, 1.42 GAA, 2 SO) - with one of those defeats coming after a 6-5 overtime victory against the Rangers in Game 3 of the 2015 Eastern Conference Final.
* Acquired five days apart in February, Bruins newcomers Charlie Coyle (5-1—6) and Marcus Johansson (1-2—3) have combined for 6-3—9 through Boston's eight playoff games, equaling their respective and cumulative regular-season point totals with the club (Coyle: 2-4—6 in 21 GP; Johansson: 1-2—3 in 10 GP). Coyle has scored on each of his last three shots and can become the first Bruins player to score on four straight shots in a postseason dating to 1997-98 (the first year of real-time statistics). Sixteen NHL players have done so in that span, including three last year (Mark Scheifele, Jake Guentzel and Alex Killorn).
* Columbus defensemen Zach Werenski (29:06) and Seth Jones (28:01) were the only skaters to log at least 25 minutes of ice time in Game 1 against Boston, marking the fourth such outing in five games this postseason for each of them. Artemi Panarin extended his playoff point streak to five games (2-4—6) on Thursday - part of a cumulative eight-game point streak dating to April 2 (3-7—10) - and has points in 12 of 13 games overall dating to March 24 (5-12—17).