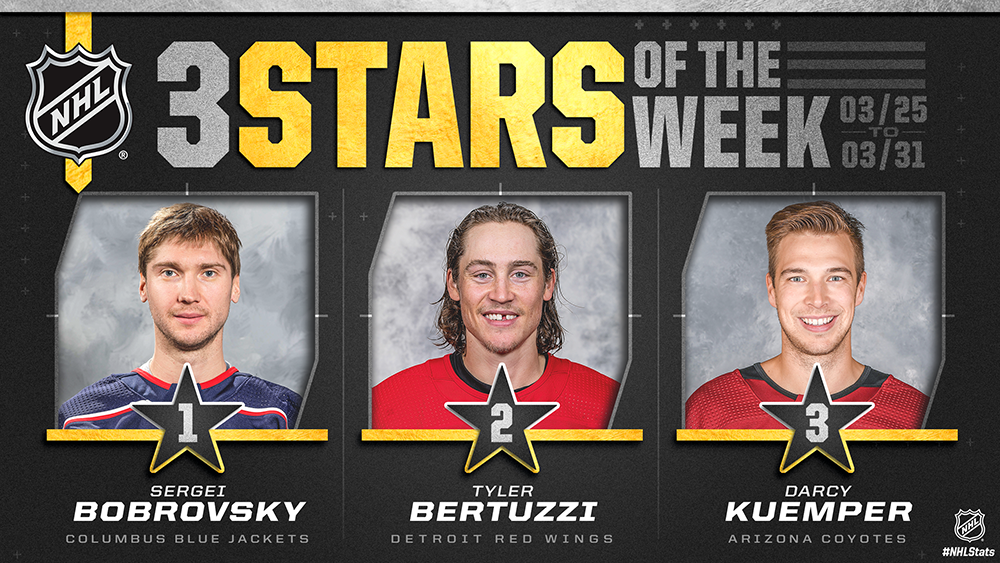 Columbus Blue Jackets goaltender Sergei Bobrovsky, Detroit Red Wings left wing Tyler Bertuzzi and Arizona Coyotes goaltender Darcy Kuemper have been named the NHL's "Three Stars" for the week ending March 31.
FIRST STAR – SERGEI BOBROVSKY, G, COLUMBUS BLUE JACKETS
Bobrovsky went 4-0-0 with a 1.00 goals-against average, .966 save percentage and two shutouts to help the Blue Jackets (45-30-4, 94 points) extend their overall winning streak to five games and move into the first Wild Card spot in the Eastern Conference. Bobrovsky stopped all 26 shots he faced for his 32nd career shutout – and second straight (also March 24 at VAN) – in a 4-0 victory over the New York Islanders March 26. He made 26 more saves in a 6-2 triumph against the Montreal Canadiens March 28, lifting Columbus ahead of Montreal for the final playoff spot in the conference. Bobrovsky added 23 saves in a 5-2 win over the Nashville Predators March 30, followed by 38 stops – for his League-leading ninth shutout of 2018-19 – in a 4-0 victory against the Buffalo Sabres March 31. The 30-year-old Novokuznetsk, Russia, native and two-time Vezina Trophy winner ranks second in the NHL with 36 wins in 60 total appearances this season (2.55 GAA, .914 SV%, 9 SO).
SECOND STAR – TYLER BERTUZZI, LW, DETROIT RED WINGS
Bertuzzi shared the League lead with 3-7—10 in four outings to power the Red Wings (31-38-10, 72 points) to a perfect week and their fifth consecutive victory overall. He collected one assist in a 3-2 win over the San Jose Sharks March 25. Bertuzzi then registered three straight three-point performances, posting 2-1—3 (including his first career overtime goal) in a 5-4 triumph against the Buffalo Sabres March 28, 1-2—3 in a 4-0 victory over the New Jersey Devils March 29 and three assists in a 6-3 win against the Boston Bruins March 31. In doing so, Bertuzzi became the first Detroit player to record three consecutive three-point games since 1992-93, when Steve Yzerman achieved the feat twice (Feb. 3-11 and March 5-10). The 24-year-old Sudbury, Ont., native has notched career highs across the board this season, ranking fourth on the Red Wings with 19-25—44 in 70 contests.
THIRD STAR – DARCY KUEMPER, G, ARIZONA COYOTES
Kuemper stopped 95 of the 97 shots he faced, going 2-0-1 with a 0.65 goals-against average, .979 save percentage and two shutouts for the Coyotes (38-33-8, 84 points) as they pursue a Wild Card berth in the Western Conference. Kuemper earned his 15th career shutout with 31 saves in a 1-0 victory over the Chicago Blackhawks March 26. He then denied 25 shots in a 3-2 shootout loss to the Colorado Avalanche March 29. Kuemper closed the week with another shutout (his fifth of 2018-19), making 39 saves in a 4-0 triumph against the Minnesota Wild March 31. The 28-year-old Saskatoon, Sask., native has recorded a career-high 26 wins in 53 appearances this season, ranking in the top 10 in the NHL in goals-against average (6th; 2.34) and save percentage (9th; .924).