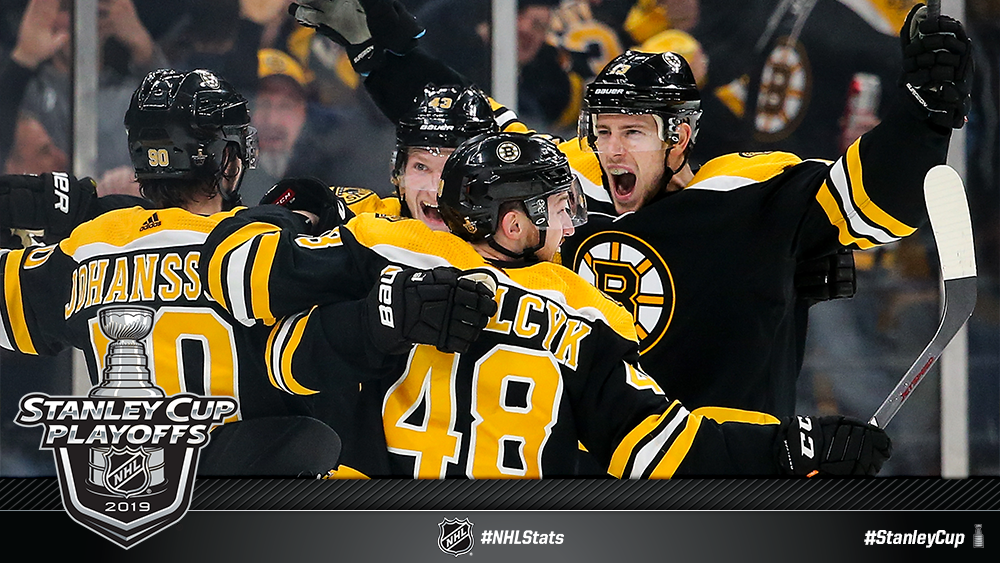 THREE HARD LAPS: QUICK HITS FROM THURSDAY
* After the 2019 First Round finished as the most-watched in seven years, the Blues and Bruins opened the Second Round with wins on home ice as St. Louis edged Dallas in regulation and Boston defeated Columbus in overtime.
* Teams that take a 1-0 lead in a best-of-seven series own an all-time series record 472-217 (68.5%), including a 5-3 mark in the 2019 Stanley Cup Playoffs.
* Eleven of 48 games have required overtime in the 2019 Stanley Cup Playoffs (23%), eclipsing the total from the entire 2018 postseason (10 of 84 GP; 12%).
TARASENKO, BINNINGTON LEAD BLUES TO GAME 1 WIN
Vladimir Tarasenko scored twice and Jordan Binnington made 27 saves – including 16 in the third period – as the Blues defeated the Stars to take a 1-0 lead in their Second Round series. St. Louis improved to 3-0 in its last three contests dating to a come-from-behind win in Game 5 of the First Round (3-2 W at WPG).
* Thirteen of the Blues' 18 postseason games since the beginning of the 2017 Stanley Cup Playoffs have been decided by a one-goal margin (72.2%), with St. Louis improving to 10-3 in those contests. Their win percentage of .769 in one-goal games since 2017 is the highest in the NHL (min. 5 GP).
* Tarasenko recorded his seventh career multi-goal game in the Stanley Cup Playoffs, trailing only Brett Hull (13) for the most in franchise history. He scored his ninth career power-play goal in the postseason to pass Brian Sutter and Al MacInnis for sole possession of fourth place on the Blues' all-time list, behind Hull (27), Bernie Federko (13) and Frank St. Marseille (10).
* Binnington, meanwhile, improved to 5-2 in the 2019 Stanley Cup Playoffs (2.54 GAA, .911 SV%) and established a franchise record for most postseason wins by a rookie goaltender, eclipsing the previous mark of four shared by Jacques Caron and Curtis Joseph.
* Binnington has recorded 29 wins in 37 appearances since his first career NHL start on Jan. 7 (regular season and playoffs combined), the most victories among all goaltenders in the 2019 calendar year.
COYLE SCORES TYING GOAL, OVERTIME WINNER AS BRUINS TAKE GAME 1
Sergei Bobrovsky stopped 29 of the first 30 shots he faced and Columbus scored twice in a span of 13 seconds to erase a 1-0 deficit in the third period, but Charlie Coyle netted the tying goal with 4:35 left in regulation and scored in overtime to give the Bruins a 1-0 series lead.
* Coyle, a native of East Weymouth, Mass., who was acquired by the Bruins on Feb. 20 - five days before the trade deadline - managed his first multi-goal game in more than 14 months (Feb. 10, 2018 w/ MIN). It also stood as his first ever such performance in the postseason, handing the Blue Jackets - one of the busiest clubs on the trade market in February - their first loss of the 2019 playoffs.
* Coyle became the second player in franchise playoff history score a tying goal in the final five minutes of regulation and the overtime winner, joining Patrice Bergeron who did so in Boston's historic Game 7 win during the 2013 Conference Quarterfinals (5-4 OT W vs. TOR). He is the second player to accomplish the feat in the 2019 Stanley Cup Playoffs (also Colorado's Mikko Rantanen in Game 4 of R1 vs. CGY).
* After posting 2-4—6 in 21 regular-season games with Boston, Coyle now leads the team with five goals this postseason (5-1—6 in 8 GP) - one back of the League lead. Since 2012-13, only four other players acquired on or near the Trade Deadline collected as many goals in the postseason. The others: Marian Gaborik (14 G in 2014 w/ LAK), Martin St. Louis (8 G in 2014 w/ NYR), Mark Stone (6 G in 2019 w/ VGK), Paul Stastny (6 G in 2018 w/ WPG), Carl Hagelin (6 G in 2016 w/ PIT) and Thomas Vanek (5 G in 2014 w/ MTL).
* Marcus Johansson, who scored the series-clinching goal in Game 7 against Toronto on Tuesday, assisted on both of Coyle's tallies. Like Coyle, he was also acquired by the Bruins leading up to the 2019 NHL Trade Deadline.
ISLANDERS, SHARKS HOST HURRICANES, AVALANCHE IN GAME 1
The two remaining Second Round series begin tonight when the Islanders host the Hurricanes at Barclays Center and the Sharks welcome the Avalanche to SAP Center.
The Islanders (4 GP) and Avalanche (5 GP) each required no more than five contests to reach the Second Round of the 2019 Stanley Cup Playoffs, while the Hurricanes and Sharks both triumphed in Game 7s to advance. A look at some of the top performers for each team in the First Round:
* Islanders forward Jordan Eberle scored a goal in all four games of their First Round series (4-2—6). Eberle can become the second player in franchise history to score at least one goal in each of the first five games of a postseason; he would join Ray Ferraro, who did so to open the 1993 Stanley Cup Playoffs (8-2—10 in 5 GP).
* Hurricanes defenseman Jaccob Slavin led the team in scoring (0-9—9 in 7 GP), setting a franchise record for assists in a series as Carolina became the 15th team in the expansion era to eliminate the defending Stanley Cup champion in the opening round. Seven of the previous 14 won their next series, with four moving on to the Final and one winning the Cup (1971 Canadiens).
* The Sharks tandem of Logan Couture (6-2—8 in 7 GP) and Tomas Hertl (6-2—8 in 7 GP) combined for three goals in a span of 3:33 to spark San Jose's three-goal comeback in Game 7. Their six goals against Vegas were one shy of the franchise record for most in any series. Erik Karlsson (0-9—9 in 7 GP), meanwhile, set a club record for assists in a playoff series.
* Avalanche teammates Mikko Rantanen (5-4—9 in 5 GP) and Nathan MacKinnon (3-5—8 in 5 GP) finished as the team's top two scorers in the First Round – including one overtime goal apiece. Both players tallied at least one point in Games 2-5, with Rantanen collecting multiple points in each contest (one such shy of tying an Avalanche/Nordiques franchise playoff record).
(NHL Media)