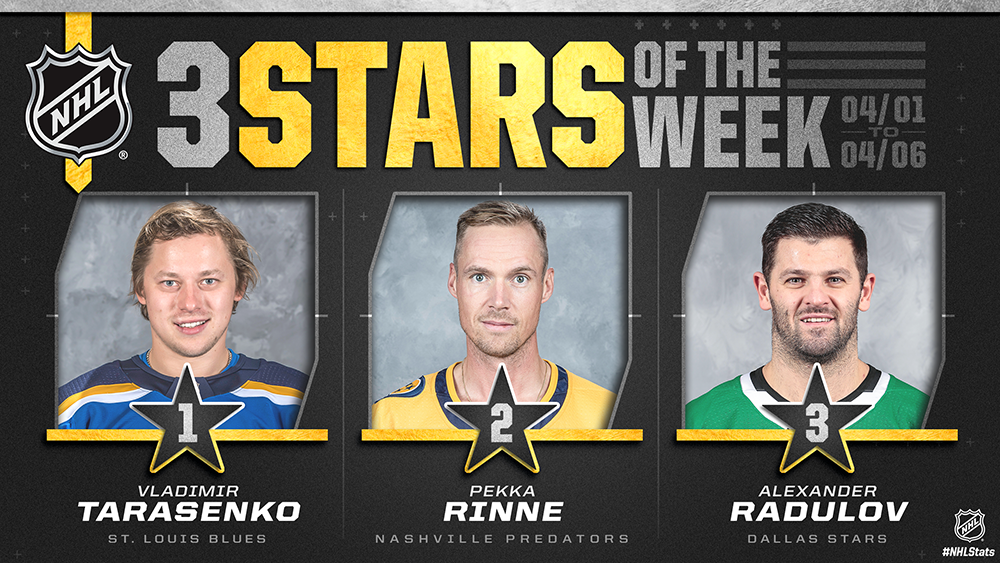 St. Louis Blues right wing Vladimir Tarasenko, Nashville Predators goaltender Pekka Rinne and Dallas Stars right wing Alexander Radulov have been named the NHL's "Three Stars" for the week ending April 7.
FIRST STAR – VLADIMIR TARASENKO, RW, ST. LOUIS BLUES
Tarasenko led the NHL with 3-4—7 in four games to help the Blues (45-28-9, 99 points) earn seven out of eight possible standings points and finish third in the Central Division. He scored once in a 3-2 shootout victory over the Colorado Avalanche April 1, followed by 1-1—2 in a 4-3 shootout loss to the Chicago Blackhawks April 3. Tarasenko added multiple points in each of his next two outings, picking up two assists in a 7-3 triumph against the Philadelphia Flyers April 4 and 1-1—2 in a 3-2 shootout win over the Vancouver Canucks April 6. The 27-year-old Yaroslavl, Russia, native finished the regular season with 33-35—68 in 76 games, making him one of two players with at least 30 goals in each of the past five campaigns (also Alex Ovechkin).
SECOND STAR – PEKKA RINNE, G, NASHVILLE PREDATORS
Rinne went 3-0-0 with a 2.01 goals-against average and .935 save percentage to guide the Predators (47-29-6, 100 points) to a perfect week and their second straight Central Division title. He made 26 saves in a 3-2 win against the Buffalo Sabres April 2, 30 stops in a 3-2 triumph over the Vancouver Canucks April 4 and 31 saves in a 5-2 division-clinching victory against the Chicago Blackhawks April 6. The 36-year-old Kempele, Finland, native closed 2018-19 with a 30‑19-4 record, 2.42 goals-against average, .918 save percentage and four shutouts in 56 outings. Rinne's five consecutive 30-win seasons are tied for the longest active such streak in the NHL, along with Devan Dubnyk and Braden Holtby.
THIRD STAR – ALEXANDER RADULOV, RW, DALLAS STARS
Radulov collected 2-4—6 in three contests as the Stars (43-32-7, 93 points) went 2-1-0 during the final week of the regular season to earn their first playoff berth since 2015-16. Radulov matched a career high with 2-2—4, including the winning goal, in a 6-2 victory against the Philadelphia Flyers April 2. He then registered one assist in each of the next two games, a 6-1 loss to the Chicago Blackhawks April 5 and a 3-0 triumph over the Minnesota Wild April 6. The 32-year-old Nizhny Tagil, Russia, native totaled 29-43—72 in 70 appearances this season, establishing career highs in goals and game-winning goals (7) while matching a personal best in points (also 2017-18, 82 GP).