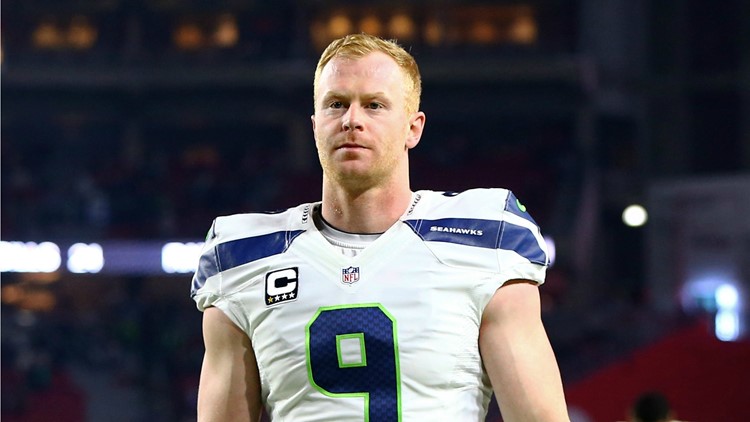 -Jon Ryan has Rider fans wondering if he is coming home. Ryan let it be known on the weekend that he isn't done punting the football and then he might go full circle and come back to the CFL after starting his pro career north of the border.
Should we be surprised at this? Not at all. Those who know Jon know he will exhaust every opportunity he has before calling it a career--a damn good career that has him the proud owner of a Super Bowl ring. He saw the writing on the wall last year in Seattle and couldn't get on with another team as everyone basically had their plan in place. He has taken a year off and the fire still burns. I wouldn't be surprised to see him back in the CFL and I wouldn't be surprised if he is wearing a green uniform when he does so. Its not often a punter is a drawing card in the CFL, but Rider fans will love seeing another homegrown doing their thing for the football team.
--The Stanley Cup playoffs are here. Who ya got? I am flip-flopping like a fish out of water when it comes to making a prediction. Some of these first round matchups are tough. Realistically, we could see four Game 7's in the Western Conference. There isn't a lot separating top to bottom. Tampa has to be the overwhelming favourite for obvious reasons, but I'm sure Washington and Boston will have something to say about that. At the end of the day, I want to say we see a rematch of last year's final, but that's just a wild stab in the dark right now. Who have you got?
--The Oilers season had a nice little bow attached to it with Connor McDavid leaving with what he thought was a broken leg, but isn't. There is debate on the play in which he got hurt after Mark Giordano took McDavid's legs out..When a guy is that fast, I don't know what Giordano is supposed to do, but once again it was a play where a penalty should have been called and wasn't. I don't know if refs are just unable to process McDavid's speed thus they allow players to take liberties with him or or not.
--An NHL record 7,664 goals were scored this year. Is it safe to say we have seen the last of the neutral-zone trap.
--Did you wear a green shirt on Sunday? More importantly, have you signed your organ donation card. If not, you should. If something should ever happen to you and you can save someone else's life or lives like what Logan Boulet did, wouldn't you want to do that. If you haven't signed your card, do so. It is the right thing to do.
-Who is the assclown who jumped into the ring to tackle Bret Hart at the WWE Hall of Fame ceremony Saturday night? Did the guy have a death wish? If you've seen the video, you've seen he wasn't exactly "gently escorted" away. Fortunately, the Hitman was not hurt and was able to continue on with his speech.
Of course, that led to Wrestlemania! Yes, it was a day for a wrestling nerd like me to once again watch the WWE's premier card and yes, I still have seen every one. Some day like the Undertakers streak, mine will end too. That streak now sits at 35 and I hope it gets to 36, 37 and beyond.
As for the card itself, it was wayyy too long. I don't how Vince McMahon expects people to stay energized for a show which if you watched from start to finish went 7 and a half hours. A lot of the matches weren't even that great. The best one was Kofi Kingston vs Daniel Bryan. There were a lot of dog matches too. You are asking a lot from your fanbase to stay engaged and not get restless. . A fanbase that at the end of the night though was likely ecstatic with who ended up winning some of the belts. If people are waiting for the end to come at home, what is it like inside the venue? Maybe some day I will find that out for myself.
--Why on earth would anyone want to watch the Blue Jays right now. They simply can't hit which is too bad because they have wasted some good pitching performances. Those bats are simply atrocious. Then again, maybe all Toronto needs is to take some hacks against a Cubs bullpen that has an ERA of over 8. That is simply unacceptable.
--It was just right that Bob Cole's final game went to a shootout. A lot of credit has to go to Greg Millen for just basically turning off his mic in the final moments and letting Cole do his thing. He is to hockey what Vin Scully was for baseball and what Pat Summerall was for football. His best work left years ago, but to watch the legend finish it off was great to see.
--
-- I simply have lost basically any interest I have in the NBA. That being said, I am still pulling for a Detroit-Toronto first round matchup which would be quite the series considering Pistons coach Dwane Casey was one of the scapegoats for last season's disappointing playoff.
--I didn't see the final of the World Mens Curling Championship, but I saw the score. Was Niklas Edin and Team Sweden that good or did the circus shots that Kevin Koe made this week not happen. His quadruple takeout on Friday night was one of the best shots I've seen.
--That's all I got. Have a great week!