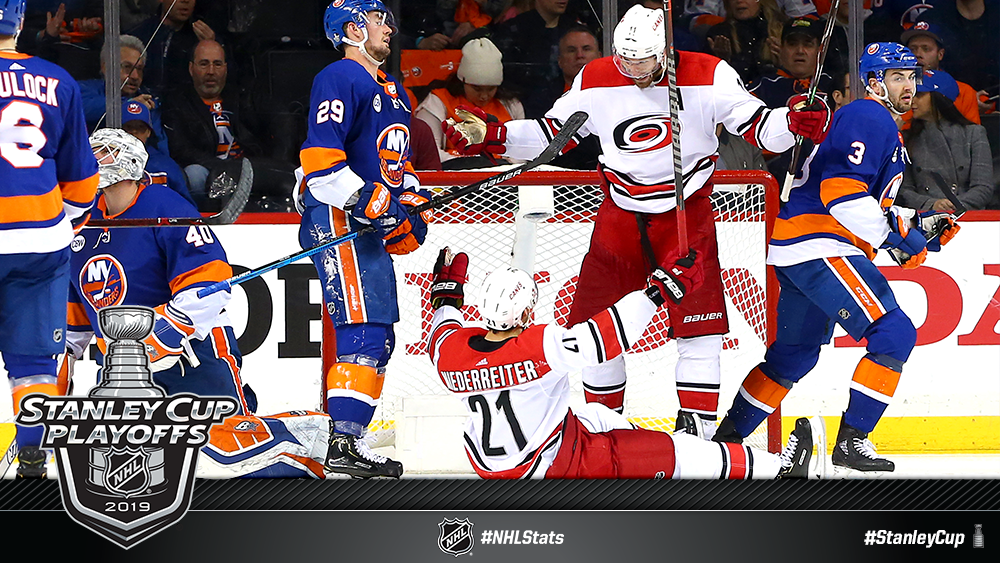 THREE HARD LAPS: QUICK HITS FROM SUNDAY
* Warren Foegele and Nino Niederreiter scored 1:05 apart and 35-year-old Curtis McElhinney shined in a relief effort as the Hurricanes took a 2-0 series lead on the road for the first time in franchise history.
* Tyson Barrie collected three points while Nathan MacKinnon and Mikko Rantanen continued point streaks to help the Avalanche head back to Denver with their series tied 1-1.
* Rookies are shining in the Blues-Stars series as it shifts to Dallas tied at one game apiece.
HURRICANES STORM BACK TO CLAIM 2-0 SERIES LEAD ON THE ROAD
With their fans surging outside in Raleigh, Warren Foegele and Nino Niederreiter each scored in the opening 1:05 of the final frame to help the Hurricanes rally and take a 2-0 lead in their series with the Islanders. They have won four straight games dating to Game 6 of the First Round, marking the second-longest playoff win streak (tied) in Hurricanes/Whalers history, trailing only a seven-game run in 2006 en route to the franchise's first Stanley Cup.
* This marks the first time in franchise history that the Hurricanes/Whalers hold a 2-0 lead in a best-of-seven series after claiming each victory on the road. Overall, this marks the fifth time in franchise history that they have won the first two games in a best-of-seven series. The others: 1987 Division Semifinals (4-2 L vs. QUE), 2002 Conference Quarterfinals (4-2 W vs. NJD), 2006 Conference Semifinals (4-1 W vs. NJD) and 2006 Stanley Cup Final (4-3 W vs. EDM).
* Carolina's quick strikes to open the third period established a franchise mark for fastest two goals to begin a playoff period, surpassing the previous record set by Ray Whitney and current head coach Rod Brind'Amour in the final frame of Game 2 in the 2006 Conference Quarterfinals (1:15) against Montreal.
* Carolina sits two wins shy of the reaching the Eastern Conference Final despite finishing the game without the services of six regulars - including starting goaltender Petr Mrazek, one of three players who left Game 2 with injury.
* Mrazek stopped nine of 10 shots he faced - extending his shutout streak to 135:04 - before Curtis McElhinney entered in relief of Mrazek and stopped all 17 shots directed toward him (with help from the posts and captain Justin Williams). McElhinney, making his first appearance since April 6, became the third-oldest goaltender in NHL history to earn his first postseason victory.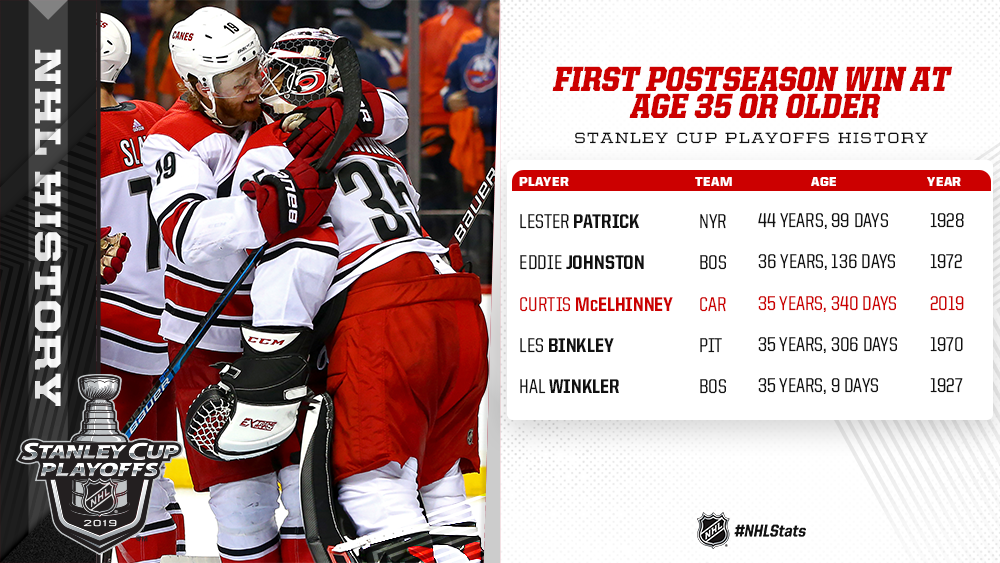 * Niederreiter scored his fourth career playoff game-winning goal. Niederreiter (5th overall in 2010) is one of two players on the Carolina roster that was a first-round pick of the Islanders (also defenseman Calvin de Haan: 12th overall in 2009).
* Foegele sparked the Hurricanes rally with a goal 17 seconds into the third period. A third-round pick (67th overall) in the 2014 NHL Draft, Foegele boosted his postseason totals to 5-2—7 and trails only Erik Cole (6-3—9 in 2002) for the most goals and points by a Hurricanes/Whalers rookie in a single playoff year.
BARRIE'S THREE-POINT OUTING HELPS AVALANCHE EVEN SERIES WITH SHARKS
Tyson Barrie (1-2—3) notched his second career three-point playoff outing, while Nathan MacKinnon (1-1—2) and Mikko Rantanen (0-1—1) each extended their point streaks to help the Avalanche even their Second Round series with the Sharks at one game apiece.
* Colorado won at SAP Center for just the third time in the last 10 years (COL: 3-16-5 including regular season and playoffs). Prior to Sunday, their last victory in San Jose came on Dec. 28, 2015; their other win in that span was Game 1 of 2010 Conference Quarterfinals.
* Barrie, who established franchise records for career goals, assists and points by a defenseman this season, became just the fourth Avalanche/Nordiques blueliner to register multiple three-point outings in the playoffs (also 0-3—3 in Game 5 of 2019 R1).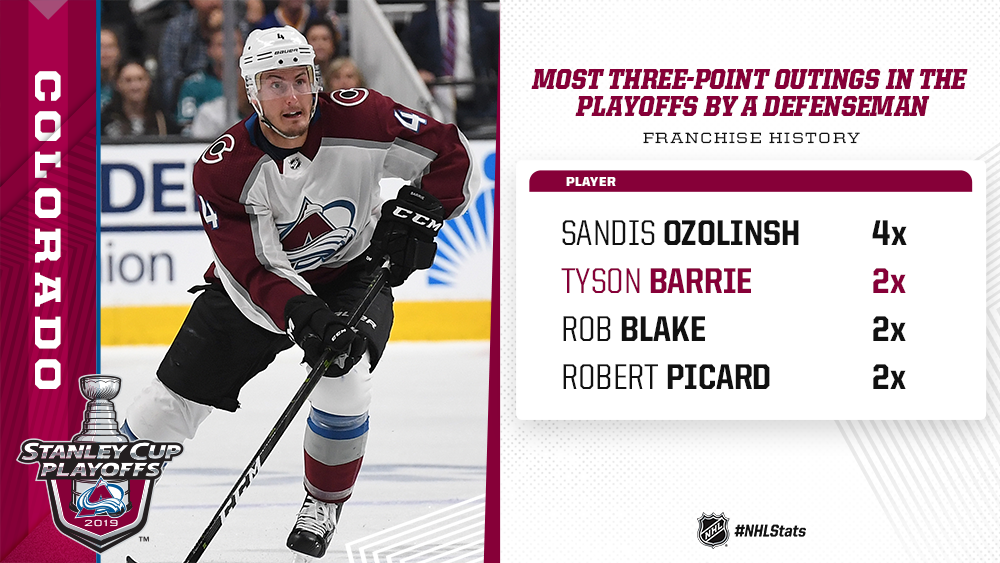 * Rantanen (5-6—11) and MacKinnon (4-7—11) have combined for 22 points while finding the score sheet in each of Colorado's past six contests. They are the first Avalanche players with a playoff point streak of at least six contests since Peter Forsberg (4-6—10 in 7 GP) and Joe Sakic (4-4—8 in 6 GP) each did so during the 2004 Stanley Cup Playoffs.
BURNS OFF TO SIZZLING START IN SECOND ROUND
Brent Burns factored on all three Sharks goals, notching an assist and scoring twice in the final five minutes of regulation, to boost his totals to 3-4–7 in the Second Round against the Avalanche.
* Burns is the third defenseman in NHL history to record seven or more points in the first two games of a playoff series - Denis Potvin (5-3—8) did so with the Islanders in the 1981 Quarterfinals against the Oilers and Gary Suter (1-6—7) followed with the Calgary Flames in the 1988 Division Semifinals against the Los Angeles Kings.
* Overall, Burns leads the team with 11 points in the 2019 Stanley Cup Playoffs (4-7—11 in 9 GP) - tied for the second-most among all players. In 2016, Burns tallied 24 points in 24 games (7-17—24) to help San Jose reach the Stanley Cup Final for the first time - tied with Bobby Orr (5-19—24 in 1972) for the sixth-most points ever by a defenseman in a single postseason.
SNEAK PEEK AT MONDAY'S ACTION
The Second Round series between the Blues and Stars shifts to Dallas after the latter skated to a victory in Game 2 at Enterprise Center.
* Dallas forward Roope Hintz (4-3—7 in 8 GP) sits tied with Carolina's Warren Foegle (5-2—7 in 9 GP) for the most points among rookies in the 2019 Stanley Cup Playoffs. Hintz's four goals equal the highest single-postseason total by a Stars rookie since the club began play in Dallas.
* No stranger to long playoff runs, Hintz helped HIFK reach the championship series in the Finnish Elite League in 2015-16. In the 2017 playoffs, Hintz propelled his club to the Semifinal after leading the postseason in assists (11) and points (14), including a five-point outing (1-4—5) in a 6-5 overtime defeat in the bronze medal game. He then led all rookies in assists during the 2018 Calder Cup Playoffs to help the AHL's Texas Stars reach the Final, tallying 4-8—12 in 22 playoff games.
* Blues rookie Jordan Binnington has recorded 29 wins in 38 starts since making his first career NHL start on Jan. 7 (regular season and playoffs combined). He can match the League record for fewest starts to record his 30th career NHL win (39 GS), a mark set by Frederik Andersen on Oct. 31, 2014 (w/ ANA).
GAME 3 WINNER AFTER A TWO-GAME SPLIT: DID YOU KNOW?
When a best-of-seven series is tied 1-1, the winner of Game 3 owns an all-time series record of 213-103 (67.4%) – including a 1-3 mark in the 2019 Stanley Cup Playoffs.
* The Stars franchise is 14-5 all-time when holding a 2-1 series lead in a best-of-seven (.736), including a 5-4 mark when those series began on the road (.556). When they win Game 3 after splitting the first two games in a best-of-seven, the Stars/North Stars own an all-time series record of 7-3.
* The Blues are 10-9 all-time when holding a 2-1 series lead in a best-of-seven (.526), including a 7-4 mark when those series began at home (.636). When they win Game 3 after splitting the first two games in a best-of-seven, St. Louis owns an all-time series record of 7-7.
* This marks the sixth time that the franchises have split the first two games in a best-of-seven series. The winner of Game 3 has claimed the series in two of the previous five instances (STL in 2016 R2 and MNS in 1991 DF); the Blues rallied to win the 1968 Semifinals, while the North Stars did the same in the 1971 Quarterfinals and 1984 Division Finals.

(NHL Media)