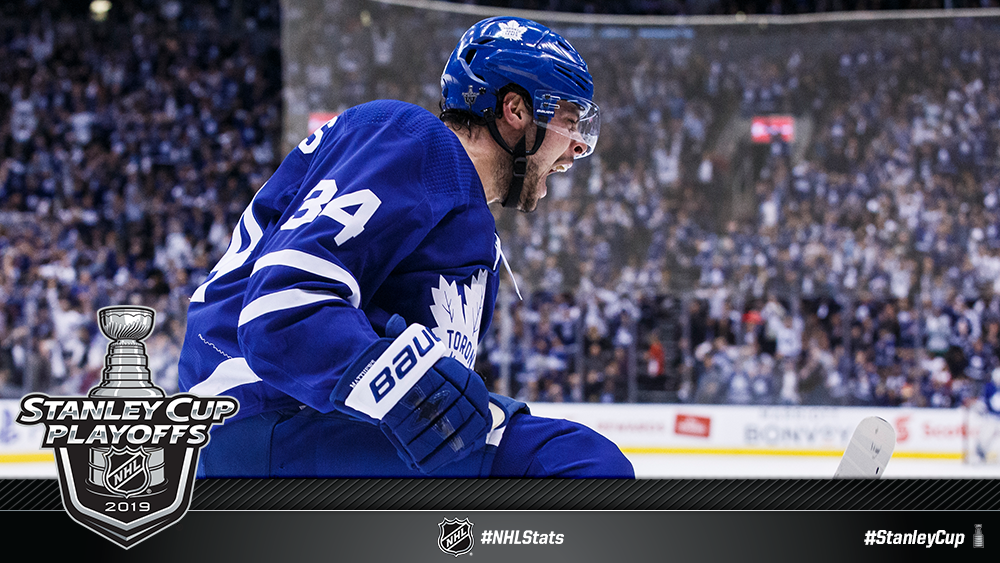 THREE HARD LAPS: QUICK HITS FROM MONDAY
* The Hurricanes blanked the Capitals in Game 3 as playoff hockey returned to North Carolina for the first time in a decade.
* Avalanche defenseman Cale Makar capped a memorable 72 hours with a first-of-its-kind goal in his League debut.
* Mitch Marner's grit and Pekka Rinne's 40-save effort helped the Maple Leafs and Predators emerge victorious in one-goal Game 3s.
HURRICANES BLANK CAPITALS IN FIRST HOME PLAYOFF GAME SINCE 2009
Warren Foegele (2-1—3) and Dougie Hamilton (2-0—2) each scored twice as the Hurricanes outshot the Capitals 45-18 to win the first playoff game in Carolina in a decade and cut their series deficit to 2-1.
* Playing in front of a raucous crowd of 18,783, the Hurricanes earned their first postseason win on home ice since Game 4 of the 2009 Conference Semifinals, when current head coach Rod Brind'Amour assisted on the winning goal in a 4-1 victory against the Bruins.
* Carolina's +27 shot differential was the second-highest in Hurricanes/Whalers franchise playoff history, behind only a +30 mark achieved in Game 2 of the 2002 Conference Semifinals against the Canadiens (46-16 in 4-1 L).
* Foegele became the third rookie in franchise history to record three or more points in a postseason game, joining Brad Shaw (Game 3 of 1990 DSF: 1-3—4 vs. BOS) and Erik Cole (Game 6 of 2002 CSF: 2-1—3 at MTL). He has recorded four goals in his last five outings dating to April 4, Carolina's penultimate game of the regular season (4-2—6).
* Hamilton became the third defenseman in franchise history to record multiple goals in a playoff game, following Dave Babych (Game 4 of 1988 DSF: 2-1—3 vs. MTL) and Sean Hill (Game 6 of 2002 CSF: 2-0—2 at MTL). Hamilton and Foegele became the fifth set of Hurricanes/Whalers teammates to each score multiple goals in a playoff game and first since Brind'Amour (2-0—2) and Ray Whitney (2-0—2) in Game 1 of the 2006 Stanley Cup Final.
CALE MAKAR SCORES IN NHL DEBUT AS AVALANCHE TAKE 2-1 SERIES LEAD
After winning the Hobey Baker Award on Friday, playing in the NCAA national final on Saturday and signing his first NHL contract shortly after the game, defenseman Cale Makar scored in his League debut to help the Avalanche take a 2-1 series lead. The 20-year-old Calgary native did so while facing his hometown team.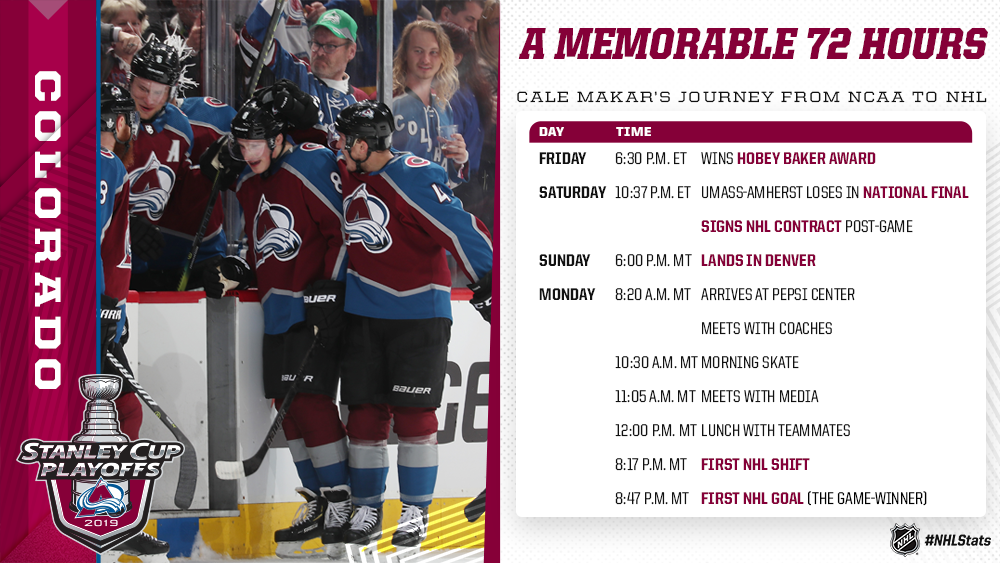 * Makar's goal stood as the game-winner as he became the first defenseman - and seventh player of any position - to score a goal while making his League debut in the Stanley Cup Playoffs. Selected fourth overall in the 2017 NHL Draft, Makar tallied 16-33—49 in 40 games as a sophomore in 2018-19, leading the University of Massachusetts to its first trip to the Frozen Four.
* Sparked by 2-1—3 by Nathan MacKinnon, the Avalanche fired 40 shots on goal in the opening 40 minutes of play – and 56 overall in the game. Colorado's 56 shots on goal were one shy of the franchise record for most in a playoff contest, a mark set during Game 4 of the 1996 Conference Semifinals against Chicago (57).
* After scoring in overtime on Saturday, MacKinnon collected each of his points in the opening 16:02 of Game 3 to match the Avalanche/Nordiques franchise record for most points in a playoff period. Prior to MacKinnon, the last Avalanche player to post three points in a playoff period was Peter Forsberg in Game 5 of the 2004 Conference Quarterfinals.
MARNER LAYS BODY ON LINE TO HELP MAPLE LEAFS TAKE 2-1 SERIES LEAD
A pair of sprawling blocks by Mitch Marner (0-1—1) with less than three seconds on the clock and multi-point performances by Auston Matthews (1-1—2) and Andreas Johnsson (1-1—2) helped the Maple Leafs pull ahead in their series with the Bruins. Toronto owns a 2-1 lead in a Stanley Cup Playoffs series for the third time in the last 15 years (also 2004 CQF vs. OTT and 2017 R1 vs. WSH).
* Johnsson became the second Maple Leafs rookie in the last 32 years to score a winning goal in the Stanley Cup Playoffs, joining Kasperi Kapanen who notched the double-overtime winner in Game 2 of the 2017 First Round in Washington. One of seven 20-goal Maple Leafs in 2018-19, Johnsson's goal gave Mike Babcock the 89th postseason win of his career, tied for seventh-most by a head coach in Stanley Cup Playoffs history.
RINNE BACKSTOPS PREDATORS TO 2-1 SERIES LEAD
Pekka Rinne made 40 saves, Filip Forsberg scored a highlight-reel goal off a long flip pass and team newcomer Mikael Granlund broke a 2-2 deadlock in the final 10 minutes of play as the Predators won their second straight game to take a 2-1 series lead against the Stars.
* Rinne (45-41) tied Tony Esposito for 24th place on the NHL's all-time playoff wins list. Only two goaltenders born outside of North America have recorded more postseason wins than Rinne: Dominik Hasek (65) and Henrik Lundqvist (61).
* Rocco Grimaldi scored for a second straight game - the second such stretch of his career - after also tallying the Predators' first goal in Game 2 while playing with a stick marked with a message in honor of his late grandfather.
SNEAK PEEK AT TUESDAY'S ACTION
Two series could end Tuesday, while two others could be forced to at least a sixth game as the Jets and Sharks look to pull even. The Blue Jackets and Islanders both aim for a sweep, with Columbus aiming for their first-ever series victory and New York vying to clinch a series on the road for the first time in 25 years.
* With the Blue Jackets holding a 3-0 advantage against the Presidents' Trophy-winning Lightning, the series will mirror one of two memorable playoff feats achieved by the Kings in recent years. Either Columbus will defeat the League's No. 1-ranked team after winning the first three games - like the Kings did in 2012 en route to winning the Stanley Cup (4-1 W vs. VAN) - or Tampa Bay will rally off four straight wins to advance - like the Kings did in 2014 en route to winning the Stanley Cup (4-3 W vs. SJS).
* If Columbus wins Tuesday, it would mark the fourth time in League history that a team has swept a best-of-seven series against the team with the best regular-season record.
* Meanwhile, the top comeback team in the NHL in 2018-19 (Tampa Bay) and winners of two of the past three Stanley Cups (Pittsburgh) will try to begin rallies achieved only four times in League history.
* Three players in action tonight have at least one goal in each of the first three games of the 2019 Stanley Cup Playoffs: Vegas' Mark Stone (6-2—8), New York's Jordan Eberle (3-2—5) and Winnipeg's Patrik Laine (3-1—4). Only two players in the past seven years have scored in each of their team's first four games of a postseason: Sean Monahan with Calgary in 2017 (vs. ANA) and Patrick Marleau with San Jose in 2013 (vs. VAN).