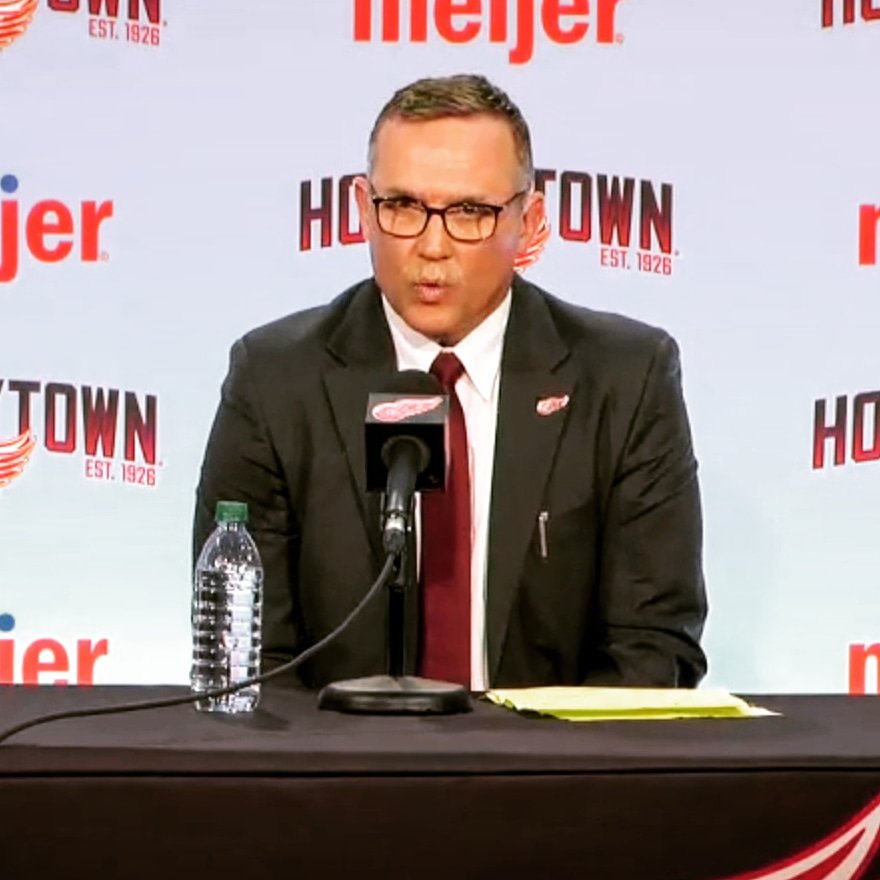 Detroit Red Wings Governor, President and CEO Christopher Ilitch today announced that Steve Yzerman has been named Executive Vice President and General Manager responsible for all hockey operations and that Ken Holland has been promoted to Senior Vice President and will serve as a senior advisor to hockey operations.
"This is a truly exciting day for the Detroit Red Wings, we are thrilled to welcome Steve Yzerman back to Hockeytown," said Ilitch. "Steve has produced tremendous results as a General Manager in the National Hockey League, as well as an executive in international competition. He is a smart, driven, competitive and determined executive with outstanding leadership skills, as demonstrated both over his playing and management careers. Steve and Ken have proven to be two of the most successful general managers of their era, and to have Steve leading our hockey operations and Ken providing valued support is a tremendous advantage for our organization. I believe we took a strong management team and made it even stronger today."
Yzerman returns to the Red Wings as just the 11th individual to serve as General Manager of the team after spending 27 seasons with the organization as a player (1983-06) and within the hockey operations department (2006-10). From 2010-18, Yzerman served as Vice President and General Manager of the Tampa Bay Lightning, transitioning to an advisory role prior to the 2018-19 season. Under his guidance, the Lightning have become one of the NHL's model franchises for building a Stanley Cup contender through drafting and development. Yzerman drafted or signed a core of players which includes Tyler Johnson, Alex Killorn, Nikita Kucherov, Ondrej Palat, Brayden Point and Andrei Vasilevskiy and secured the likes of Victor Hedman, Steven Stamkos and Kucherov with long-term, team-friendly contracts. Yzerman also bolstered the team with several high-profile trades, including Ryan McDonagh, J.T. Miller and Mikhail Sergachev, culminating in a 2018-19 campaign which saw the Lightning tying the NHL record for wins in a season (62), matched by only the 1995-96 Red Wings team.
"I'm extremely honored to be named General Manager of the Red Wings," said Yzerman. "I'm very grateful to the Ilitches, both for their support when I left to become General Manager of the Lightning, and for their kindness in welcoming my family and me back to the organization. I'd also like to thank Ken Holland. I was fortunate to learn the management side of the game from Jim Devellano, Ken and others in the Red Wings organization for four seasons after I retired, and I'm very happy to have the opportunity to work alongside them once again. It was very humbling to be approached about returning home to become General Manager, and I'm looking forward to building on the exciting young core Ken has already put in place."
Since 2013-14, no team has won more games (300) or scored more goals (1,554) than the Lightning, and the franchise ranks fifth overall in victories since his first season as general manager, compiling a 402-238-64 mark over that span. Tampa Bay has qualified for the playoffs in six of its nine seasons since Yzerman joined the organization, highlighted by a trip to the 2015 Stanley Cup Final. Additionally, Yzerman won the 2015 NHL General Manager of the Year Award. The Lightning have made four appearances in the Eastern Conference Final since 2010-11, including three times in a four-season span (2014-15 to 2017-18). Tampa Bay logged 82 playoff games with Yzerman as general manager (2010-18), and their 47-35 mark in those games is fourth-best in the league over that stretch.
Prior to his time with Tampa Bay, Yzerman spent four seasons as Vice President/Hockey with the Red Wings and won his first Stanley Cup (2008) as a member of the management team after leading Detroit to three as a player (1997, 1998, 2002). Yzerman has also worked extensively with Hockey Canada, first serving as General Manager for Canada at the 2007 IIHF World Championship (gold) and the 2008 IIHF World Championship (silver). He also helped Canada capture back-to-back gold medals at the 2010 and 2014 Winter Olympics, under the leadership of Yzerman as Executive Director and Holland as Associate Director.
Holland recently completed his 36th season with the Red Wings and his 22nd as General Manager. Under Holland's watch, the franchise won four Presidents' Trophies, 10 division championships, five regular-season conference titles and reached at least 100 regular-season points a league-high 13 times over the last 18 seasons. The Red Wings have won four Stanley Cup championships (1997, 1998, 2002 and 2008) with Holland in the organization, with the most recent three coming in his role as General Manager, and additional appearances in the Stanley Cup Final in 1995 and 2009. Since Holland was appointed to his current position in July 1997, the Red Wings have more combined regular-season and playoff wins (1,044) than any other franchise in the NHL.
"I am very excited to welcome Steve Yzerman back to the Red Wings," said Holland. "I'd like to thank the Ilitches for their unwavering loyalty and their kindness to my family and me since I first joined the organization as a player in 1983. My friendship with Steve goes back over 30 years, and it's an honor to welcome him back as my successor. I've seen firsthand how he has grown into a successful General Manager, since he originally joined our front office in 2006. This is an exciting day for the Red Wings, and I'm excited for the opportunity to work with Steve again."
The Red Wings also qualified for the playoffs in each of Holland's first 19 seasons as General Manager, comprising the majority of a 25-season streak of consecutive playoff appearances which stands as the third-longest in NHL history. In 2018-19, Holland became the Red Wings' all-time winningest General Manager after passing Jack Adams on Feb. 2, at Ottawa, which also moved him into six place all-time in wins by a general manager (trailing only David Poile, Glen Sather, Lou Lamoriello, Harry Sinden and Cliff Fletcher). Over recent seasons, Holland has focused on finding talent through the NHL Entry Draft, and the Red Wings drafted an NHL-high 21 players between the 2017 and 2018 Entry Drafts, with an additional 19 picks currently owned for the 2019 and 2020 Entry Drafts.
Holland joined the Red Wings in 1983-84 and spent two seasons as a goaltender, primarily in the minor leagues, before retiring to become a Western Canada amateur scout for the team from 1985-87. He was elevated to Director of Amateur Scouting for seven seasons, spanning the years that the Red Wings added mainstays and future Stanley Cup champions such as Nicklas Lidstrom, Sergei Fedorov, Vladimir Konstantinov, Slava Kozlov, Martin Lapointe, Chris Osgood, Darren McCarty and Tomas Holmstrom. Holland was promoted to Assistant General Manager from 1994-97 before taking over as General Manager before the 1997-98 campaign.
(Detroit Red Wings)