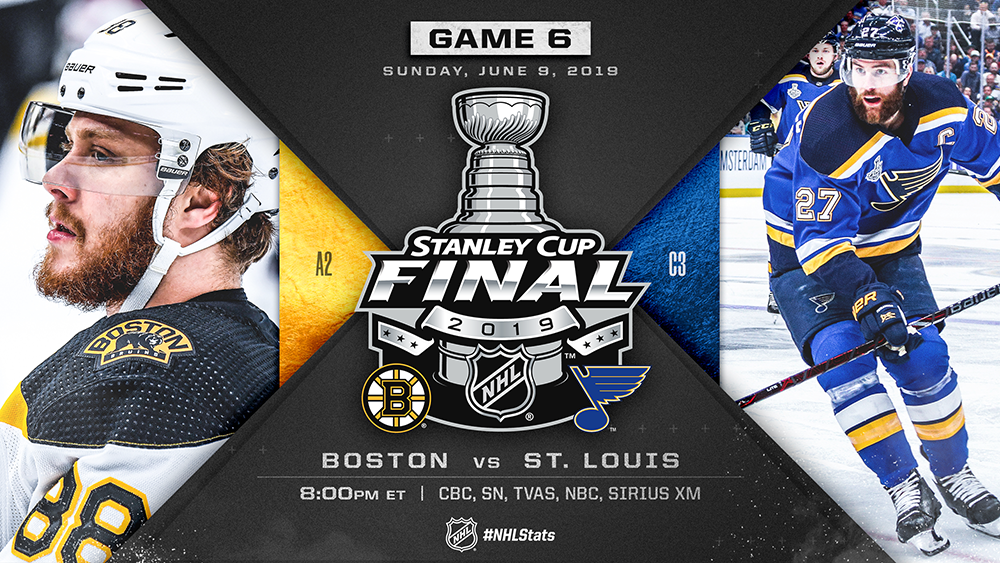 BLUES RETURN HOME AIMING TO WIN FIRST STANLEY CUP IN 52-YEAR HISTORY
A victory by the Blues tonight would end the longest wait in NHL history - 51 seasons - for a team to win its first championship. The Kings currently hold that distinction after winning the Cup for the first time in their 44th season (2011-12).
* The Blues can become the second team in as many years to win the Stanley Cup for the first time, following the Capitals in 2017-18 - their 43rd season. The last time there were consecutive first-time Cup winners was a three-season stretch that saw the Lightning (2004), Hurricanes (2006) and Ducks (2007) claim their first titles.
* Overall, St. Louis holds a 30-26 record in potential series-clinching games, with more than half those wins taking place on home ice (17 of 30; 56.7%). The Blues own an all-time record of 17-9 as hosts in potential series clinching games (.654), including a 3-0 mark in 2019.
* Despite owning a 6-6 record at Enterprise Center this postseason, the Blues can become the third club in NHL history to record four series-clinching victories at home in one playoff year. The 1988 Oilers and 2007 Ducks are the only clubs to do so.
BRUINS AIM TO FORCE GAME 7, REPLICATE RALLY ACHIEVED IN 2011
The Bruins hit the road looking to force a Game 7 in the Stanley Cup Final for the 17th time in history - and first since their Cup-clinching victory in 2011 against Vancouver. Boston also aims to become the ninth team in NHL history to overcome a 3-2 series deficit in the Final - another feat last achieved by them in 2011.
* The 2011 Bruins joined the 2009 Penguins, 2004 Lightning, 2001 Avalanche, 1971 Canadiens, 1964 Maple Leafs, 1950 Red Wings and 1942 Maple Leafs as the only teams to win the Cup after facing a 3-2 series deficit in the Final.
* Boston actually faced series deficits of 2-0 and 3-2 in the 2011 Final before 43-year-old Mark Recchi assisted on three goals in Boston's 5-2 home win in Game 6. The series shifted back to Vancouver for Game 7, where then-rookie Brad Marchand registered 1-2—3 and Tim Thomas posted a 37-save shutout in a 4-0 victory to give Boston its sixth and most-recent Stanley Cup.
* Overall, the Bruins face a 3-2 deficit in a best-of-seven series for the 25th time in franchise history. They own an all-time series record of 4-20 in the 24 prior instances (including the 2011 series noted above). A look back at the other three times the Bruins rallied to win after losing three of the first five games in a best-of-seven:
2019 First Round (BOS 4, TOR 3)
* The Bruins outshot the Maple Leafs 41-24 in a 4-2 victory in Game 6 before returning home for Game 7. In that decisive contest, Joakim Nordstrom (1-1—2) and Sean Kuraly (1-1—2) led the way as Boston earned its NHL-record 15th Game 7 win.
* The Bruins can become the seventh team in NHL history to overcome a 3-2 deficit in a best-of-seven series multiple times in a postseason. The 2014 Kings were the last to do so, erasing 3-2 series deficits in the First Round (vs. SJS) and Second Round (vs. ANA) before winning the Stanley Cup. The last team to have one of those comebacks come in the Final was the 1971 Canadiens - they trailed 3-2 in the Quarterfinals (vs. BOS) and in the Final (vs. CHI).
1994 Conference Quarterfinals (BOS 4, MTL 3)
* The Canadiens tied Game 6 after falling behind 2-0, but Bruins defenseman Al Iafrate scored the winning goal in the third period to force Game 7. Back at home for the decisive contest, current Bruins general manager Don Sweeney assisted on the opening goal as Boston built a 4-0 lead en route to a 5-3 win against its longtime rival.
1941 Semifinals (BOS 4, TOR 3)
* Bobby Bauer tied Game 6 with 9:21 remaining in regulation and Herb Cain scored the eventual winner 81 seconds later as Boston earned a come-from-behind victory at Maple Leafs Gardens to force Game 7. Two days later, Mel Hill scored the series-clinching goal with 5:43 remaining in regulation as the Bruins earned a second straight comeback win. Boston went on to sweep Detroit in the Final, capturing the third Stanley Cup in franchise history.
* Overall, teams with a 3-2 advantage under the best-of-seven format own a 315-87 series record (.784) in NHL history, including a 32-8 clip in the Stanley Cup Final and 5-4 mark in 2019.
* The Blues are ahead 3-2 in a best-of-seven series for the 14th time in franchise history (and the third time this year). St. Louis is 11-2 in the previous 13 instances (.846), winning Game 6 on six occasions. Their only series losses in this scenario came in the 1996 Conference Semifinals (vs. DET) and 2003 Conference Quarterfinals (vs. VAN).
SCHWARTZ, PIETRANGELO PACE BLUES IN POTENTIAL SERIES-CLINCHING GAMES
Jaden Schwartz has collected nine career points in potential series-clinching games (4-5—9 in 10 GP), tied with Alex Pietrangelo (1-8—9 in 11 GP) for the highest such total among current Blues. Schwartz scored a hat trick in the Blues' first such contest of the 2019 Stanley Cup Playoffs (3-2 W vs. WPG).
* Overall, five St. Louis players are averaging at least one point per game this postseason when the Blues can eliminate an opponent (3 GP): Ryan O'Reilly (0-4—4), Schwartz (3-0—3), Tyler Bozak (1-2—3), Pietrangelo (0-3—3) and Robert Thomas (0-3—3).
* Jordan Binnington, who would set an NHL rookie record with his 16th win, is 3-0 with a 1.17 goals-against average and .947 save percentage when St. Louis can clinch a series. Binnington can become the 14th different rookie goaltender in NHL history to earn a Stanley Cup-clinching win; Ken Dryden (1971 w/ MTL), Patrick Roy (1986 w/ MTL), Cam Ward (2006 w/ CAR) and Matt Murray (2016, 2017 w/ PIT) are the only ones to do so in the expansion era (since 1967-68).
KREJCI CLUTCH FOR BRUINS WHEN FACING ELIMINATION
David Krejci leads current Bruins with 20 points in 20 career games when Boston has faced elimination (3-17—20 in 20 GP), the second-highest such total in franchise history behind Ray Bourque (6-30—36 in 34 GP).
* Three other Bruins have recorded at least 10 career points when facing elimination: Patrice Bergeron (7-11—18 in 20 GP), Brad Marchand (6-8—14 in 15 GP) and Zdeno Chara (2-10—12 in 29 GP). Marchand leads all Boston players with two goals and three points in elimination games during the 2019 Stanley Cup Playoffs (2-1—3 in 2 GP).
* Marchand (3-1—4), Bergeron (2-0—2) and Krejci (1-1—2) have combined for 6-2—8 when facing elimination in the Stanley Cup Final (3 GP).
* Tuukka Rask is 5-5 in 10 career games when facing elimination (2.64 GAA, .899 SV%), including a 2-0 mark during the 2019 Stanley Cup Playoffs (1.50 GAA, .947 SV%).
RASK ENTERS GAME 6 LOOKING TO CONTINUE STELLAR PLAY ON THE ROAD
Tuukka Rask enters Game 6 looking to continue his stellar play on the road during the 2019 Stanley Cup Playoffs as Boston looks to avoid losing three consecutive games for the first time since March 10-14 (0-3-0). Rask has yet to suffer three straight losses this season, last doing so in the 2018 Conference Finals against the Lightning.
* Rask is 22-18 in 40 career playoff road games (2.00 GAA, .936 SV%, 5 SO), including a 7-3 mark in 10 games as a visitor this postseason (1.81 GAA, .947 SV%, 2 SO).
* Rask's career road save percentage of .936 in the postseason is the best among goaltenders since 1955-56 when shots on goal became an official NHL statistic (min. 30 GP on road). His career 2.00 goals-against average as a visitor in the playoffs is the second-lowest in NHL history (min. 30 GP) behind only Turk Broda (1.87 GAA).
(NHL Media)