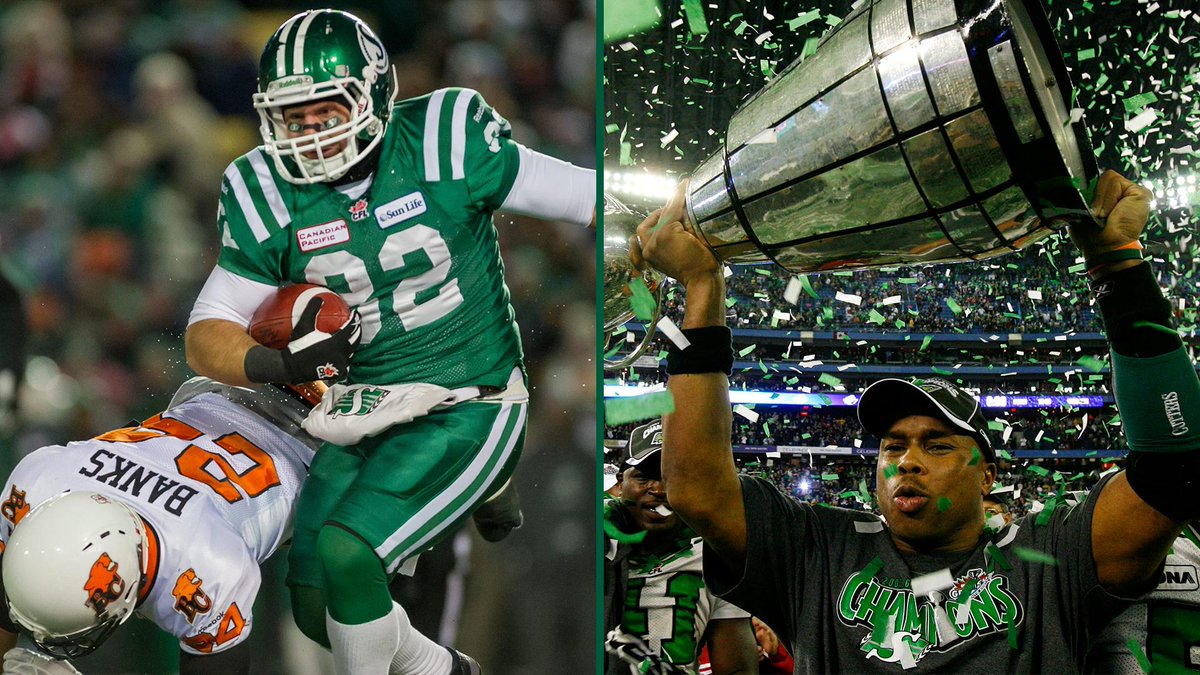 Picture: Saskatchewan Roughriders
The Saskatchewan Roughrider Plaza of Honour Committee has announced two new members will be inducted into the Plaza of Honour as the class of 2019. This year, Neal Hughes and Kerry Joseph will have their names forever etched into Saskatchewan Roughriders history.
The 33rd annual Plaza of Honour presented by SaskTel has inducted 129 individuals who have made major contributions to the proud tradition of the Saskatchewan Roughrider Football Club. The club has also inducted the 1966, 1989 and 2007 Grey Cup championship teams.
The SaskTel Plaza of Honour event is known as one of Saskatchewan's most prestigious sports receptions and has contributed over $6 million to the Saskatchewan Roughrider Football Club.
This year's event is set for Thursday, August 22nd at Mosaic Stadium. The sit-down dinner and reception will take place on field at Mosaic Stadium. A first for the Plaza of Honour and for Mosaic Stadium.
Those who buy tables for the event will also be seated with a past or present Roughrider.
For information on tickets contact the Saskatchewan Roughrider Ticket Office at 1-888-474-3377 or any committee member.
Born July 2, 1980 in Regina, Saskatchewan.

Attended the University of Regina (1999-2003).

Signed with the Riders as an undrafted free agent in April, 2004.

Played eleven CFL seasons at fullback for the Roughriders.

Made CFL debut July 8, 2004; 100th career game September 17, 2011.

Played 140 regular-season games with the Green and White.

Played in 14 playoff games.

Played in four Grey Cup games: 2007, 2009, 2010, 2013.

Two-time Grey Cup champion: 2007, 2013.

Totaled

70 carries for 277 rushing yards and eight touchdowns; 46 catches for 505 receiving yards and six touchdowns; 18 kickoff returns for 246 yards; one punt return for 21 yards.

Ranks third all-time in Rider special teams tackles with 100.

Added 17 special teams tackles in the playoffs and four in the Grey Cup.
Born October 4, 1973 in Greenwood, South Carolina.

Attended McNeese State (1992-95).

Selected first overall by Saskatchewan in the Ottawa Renegades 2006 CFL dispersal draft.

Spent three seasons with the Roughriders.

Played 40 regular-season games.

Ranks ninth in franchise history with 8,097 passing yards and ranks eighth with 50 touchdown passes.

Added 1,365 rushing yards and 18 touchdowns.

Played in five playoff games and one Grey Cup game.

Selected CFL Most Outstanding Player in 2007.

Selected CFL All-Star in 2007.

Selected West Division All-Star in 2007.

Won the 2007 Grey Cup.