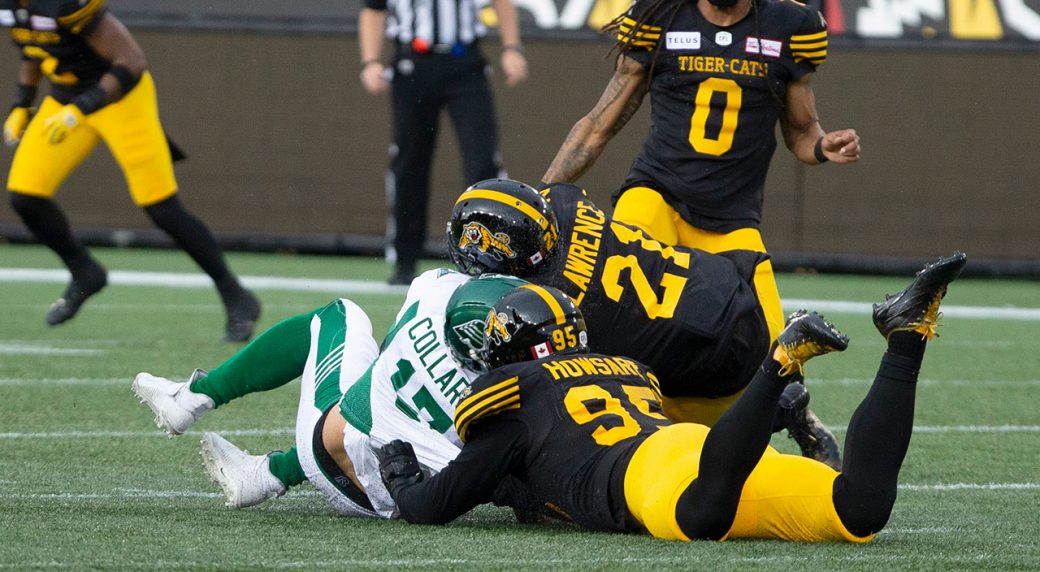 - The Canadian Football League (CFL) released the following statement:
On play #4 game of CFL game #10, our regular season opener in Hamilton on Thursday, June 13, Hamilton Tiger-Cat Simoni Lawrence made direct contact to the head of Saskatchewan Roughrider quarterback Zach Collaros after Collaros had "given himself up" by starting his feet first slide. This dangerous and reckless hit has no place in our game.
After a careful review of the play, which was called for unnecessary roughness on the field and assessed a 25-yard penalty, and a hearing with Lawrence, we are imposing a two-game suspension.
We want to put this supplemental discipline in its proper context by making the following important points.
1. Player safety is the top priority for CFL. This point was stressed yet again as recently as June 12, the day before the game in question, in a league memo to all clubs which clearly stated: "Any player who performs an illegal act that creates a substantial and unnecessary risk of injury to an opposing player in a reckless and dangerous manner and outside of the acceptable standards of play will be subject to a suspension."
2. In our recent discussions with the Canadian Football Players Association (CFLPA) that led to a new collective bargaining agreement (CBA), and in its public statements, the players association has said many times that player health and safety is also the players' top priority.
3. Several individual players have continued to echo that sentiment on social media, during and since those CBA talks, including this past weekend.
4.We all need to walk all of this talk in a meaningful way now, at the outset of our season, by sending and supporting a clear and unequivocal message on player safety.
5. The precise circumstance that occurred on this play was identified this Spring by our Rules Committee, which includes the leadership of the CFLPA, as one that requires urgent and strong action. It passed a rule change that increased the focus on such a play and the scope of what is considered a penalty. Our supplemental discipline needs to mirror this emphasis.
6. We want to stress that this discipline is the result of this player's actions on this play and this play alone. In fact, he has never been previously fined or suspended for dangerous play since joining the league in 2012. In addition, he has expressed contrition for his actions and concern for his opponent and former teammate's health and well-being. However, dangerous and reckless play must be disciplined, not simply for the sake of punishment alone, but to deter such play in the future . All of us, league and players, need to take and support strong action to promote and protect player health and safety, and we need to work together.
Randy Ambrosie
Commissioner
CFL