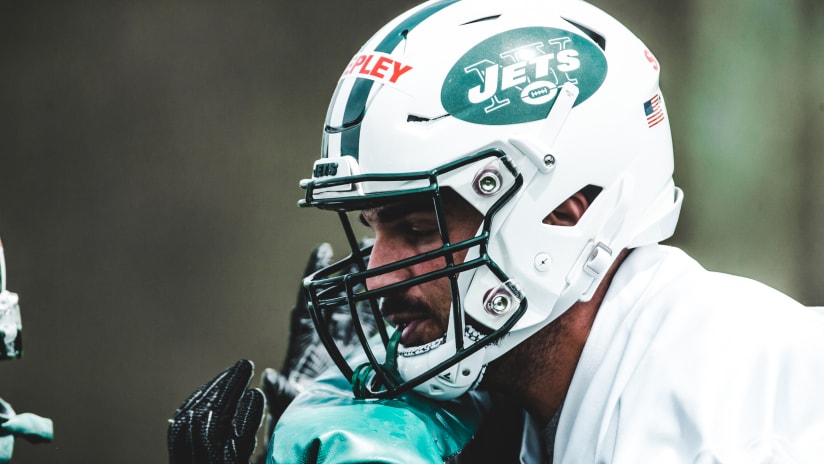 Every few years, the Jets become a temporary home for players sharing a common background.
A decade ago, three players born in the Pacific — Sione Po'uha (Tonga), Ropati Pitoitua (Samoa) and Josh Mauga (Hawai'i) — were stout islands in the Jets defense. Two offseasons back, Australian punters were the rule, as Lachlan Edwards and Tom Hackett briefly vied for the Green & White job, which Edwards won and still holds.
This rookie minicamp the accent was on Canadians in the trenches. Third-round DL Nathan Shepherd, we know about and hope to continue to hear about. Undrafted free agent guard Dakoda Shepley played right tackle and right guard for the University of British Columbia. And tryout Mark Korte played LT at the University of Alberta.
"I know a few of the players here," Shepley told me last week during the Jets' rookie minicamp. "I trained with Bentley Spain [another tryout, from North Carolina], and Mark is from the same conference, and he just got drafted fourth overall in the CFL Draft yesterday. He's going to try and make the team, and if not, he's got a pretty nice Plan B."
Oh, those Canadians, always so polite and modest. While talking up Korte's spot in the draft, not once did Shepley say, oh, by the way, I was taken fifth overall. But it's true. Korte was the first-round pick of the Ottawa Redblacks while Shepley was tabbed next by the Saskatchewan Roughriders.
But while Korte has yet to be asked back by the Jets, Shepley is under contract and is starting out at right guard.
"It's a heavy playbook so far, more than I'm used to, but I mean, it's not unmanageable," Shepley said. "I'm dealing with it pretty good. I think the coaches are happy with how I'm progressing. I'm a visual learner, so being on the field and having the walkthrough really helped me. Overall I think I'm solid so far."
Shepley checks in at 6'5", 290. He also was tops among O-linemen at the National CFL Combine with 27 reps in the 225-pound bench press and a 5.27 time in the 40. Both figures would've come in seventh among all guards at this year's NFL Combine. He also did 31 bench reps at Eastern Michigan's pro day, which would've tied for fifth among all offensive linemen at the NFL Combine.
Some might think the Canadian rules could make Shepley's NFL transition tougher. It's complicated north of the border. As he explained, British Columbia high schools play under American rules, but Simon Fraser University (where Nathan Shepherd started his college career) is the only Canadian college in the NCAA (Division II).
And since Shepley played his high school ball in Ontario, he's had about eight years of Canadian football and none of American ball, which for offensive linemen mean he's always had his defensive opponents lined up a yard off the ball before every snap.
"No, it's all football to me," he countered. "A lot of people think the line of scrimmage will make a big difference, but for me, I haven't noticed it yet. As a guard, you're not really lined up on the ball anyways, you're behind it, so you still have that yard."
Shepley returned home at the end of the minicamp, but he and his fellow rookies are due back to join the veterans for OTAs after Mother's Day. At that time he'll find himself a member of a new exclusive group on the Green & White, who already have a veteran guard by the name of Dakota (Dozier). And he'll continue on his personal Plan A:
"There's still a lot of work to be done. ... I feel like I've got a job and now I'm only on probation. I still need to earn my spot."
(New York Jets.com)