WEDNESDAY'S RESULT
Washington 3 Vegas 2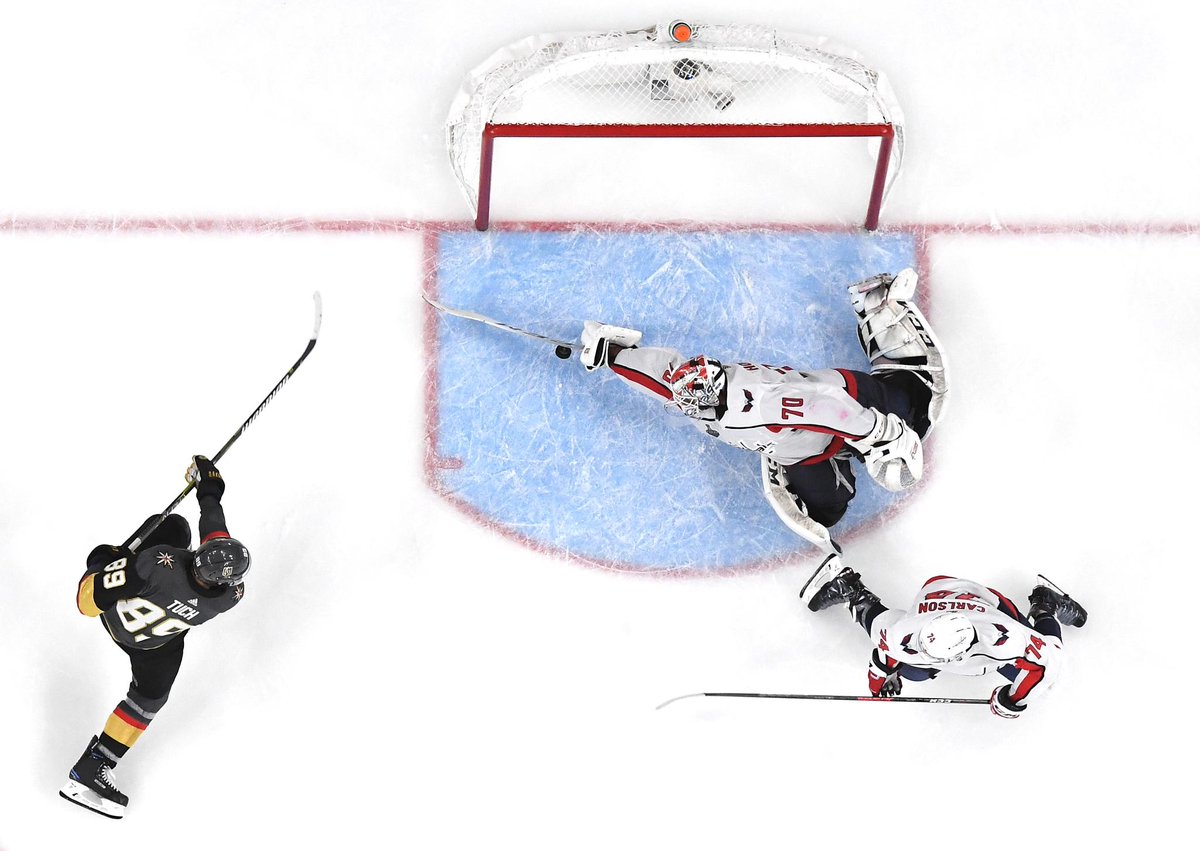 Braden Holtby made 37 saves, including a sensational stop in the final minutes of regulation, to help the Capitals earn their first-ever win in the Stanley Cup Final and even their series against the Golden Knights at 1-1.
Teams winning Game 2 have gone on to hoist the Stanley Cup 74.4% of the time since the Final went to the best-of-seven format in 1939 (58-of-78 series), but only five times in the past nine years.
CAPITALS NEAR NHL RECORD WITH ANOTHER ROAD WIN
The Capitals improved to 9-3 as visitors during the postseason, outscoring opponents 43-28. Only four teams in NHL history have earned more road wins in a single playoff year:
* Washington has gone 20 games (regular season and playoffs) without consecutive losses as visitors, last doing so Feb. 22 – March 8 (0-4-0).
* The Capitals handed the Golden Knights their second loss on home ice this postseason (7-2) and first in regulation at T-Mobile Arena since March 28 vs. ARI (3-2 L).
* ICYMI: Nearly 14,500 fans packed Capital One Arena in Washington, D.C., to watch Game 2 of the Stanley Cup Final.
ORPIK ENDS DROUGHT WITH WINNING GOAL
Capitals defenseman Brooks Orpik snapped a 220-game goal drought (regular season and playoffs) – the longest active such streak in the NHL – with his tally midway through the second period. Orpik, the only Washington player with Stanley Cup Final experience entering the series, went 181 regular-season and 39 playoff games since scoring his last goal (Feb. 26, 2016 vs. MIN).
Orpik recorded his third game-winning goal in 1,128 career NHL appearances (982 in the regular season, 146 in the playoffs). His two other such tallies: May 11, 2013 at NYI (w/ PIT) and Feb. 20, 2016 vs. NJD.
ELLER STEPS UP IN KUZNETSOV'S ABSENCE
Washington forward Lars Eller registered 1-2—3 after teammate Evgeny Kuznetsov, the League's top postseason scorer (11-14—25 in 21 GP), left the game due to injury. It marked Eller's third career three-point performance in the playoffs (71 GP), all in Game 2s this year (also SR vs. PIT: 0-3—3 and CF at TBL: 1-2—3).
Eller also stepped up in place of Nicklas Backstrom earlier this postseason, collecting 2-3—5 during his four-game absence May 7-15. He has 6-11—17 in 21 playoff contests this year, nearly matching his 50-game total prior to 2018 (6-17—23).
OVECHKIN MOVES WITHIN ONE GOAL OF FRANCHISE RECORD
Capitals captain Alex Ovechkin scored his 13th goal of the playoffs (13-11—24 in 21 GP), one shy of the single-year franchise record established by John Druce in 1990 (14-3—17 in 15 GP).
Ovechkin, who ranks second in the League in points this postseason, paces all players with 9-8—17 on the road (12 GP), the most by anyone since 2016 (Brent Burns: 6-11—17 in 12 GP).
WASHINGTON VICTORY GUARANTEES LACK OF SWEEP
With Washington's victory, there will not be a sweep in the Stanley Cup Final for a record 19th consecutive season (since 1998 DET: 4-0 W vs. WSH). The longest prior such streak (since the Stanley Cup Final went to the best-of-seven format in 1939) was seven straight series, from 1953-59 and 1961-67.
TEAMS COMBINE FOR 15 GOALS IN OPENING TWO GAMES
The Golden Knights (8) and Capitals (7) totaled 15 goals in Games 1 and 2, the most combined goals in the opening two contests of the Stanley Cup Final since 1982 (21 – NYI: 12, VAN: 9).
GOLDEN KNIGHTS AGAIN SCORE EARLY
The Golden Knights scored the opening goal of the game – all in the first period – for the ninth time in as many contests at T-Mobile Arena this postseason. Six of those have been recorded in the opening 8 minutes of the game:
First Round
Game 1 vs. LAK: 3:23 of 1st (Shea Theodore)
Game 2 vs. LAK: 14:47 of 1st (Alex Tuch)
Second Round
Game 1 vs. SJS: 4:31 of 1st (Cody Eakin)
Game 2 vs. SJS: 17:59 of 1st (William Karlsson)
Game 5 vs. SJS: 19:57 of 1st (James Neal)
Conference Finals
Game 3 vs. WPG: 0:35 of 1st (Jonathan Marchessault)
Game 4 vs. WPG: 2:25 of 1st (William Karlsson)
Stanley Cup Final
Game 1 vs. WSH: 7:15 of 1st (Colin Miller)
Game 2 vs. WSH: 7:58 of 1st (James Neal)
(NHL Media)