TUESDAY RESULTS
Washington 4 Pittsburgh 3
Winnipeg 7 Nashville 4
JETS RALLY FROM THREE-GOAL DEFICIT TO WIN GAME 3 THRILLER
Trailing 3-0 through 20 minutes, the Jets erupted for seven goals – including four in the second period led by a pair from Dustin Byfuglien (2-1—3) – en route to a Game 3 victory and a 2-1 lead in their Second Round series.
* The Jets rallied from a deficit of at least three goals to win a game in regulation (regular season or playoffs) for the fifth time in franchise history and first since the Thrashers did so on Nov. 27, 2009 at CAR (6-4 W). Winnipeg became just the fifth team in the last eight years to accomplish the feat in the Stanley Cup Playoffs.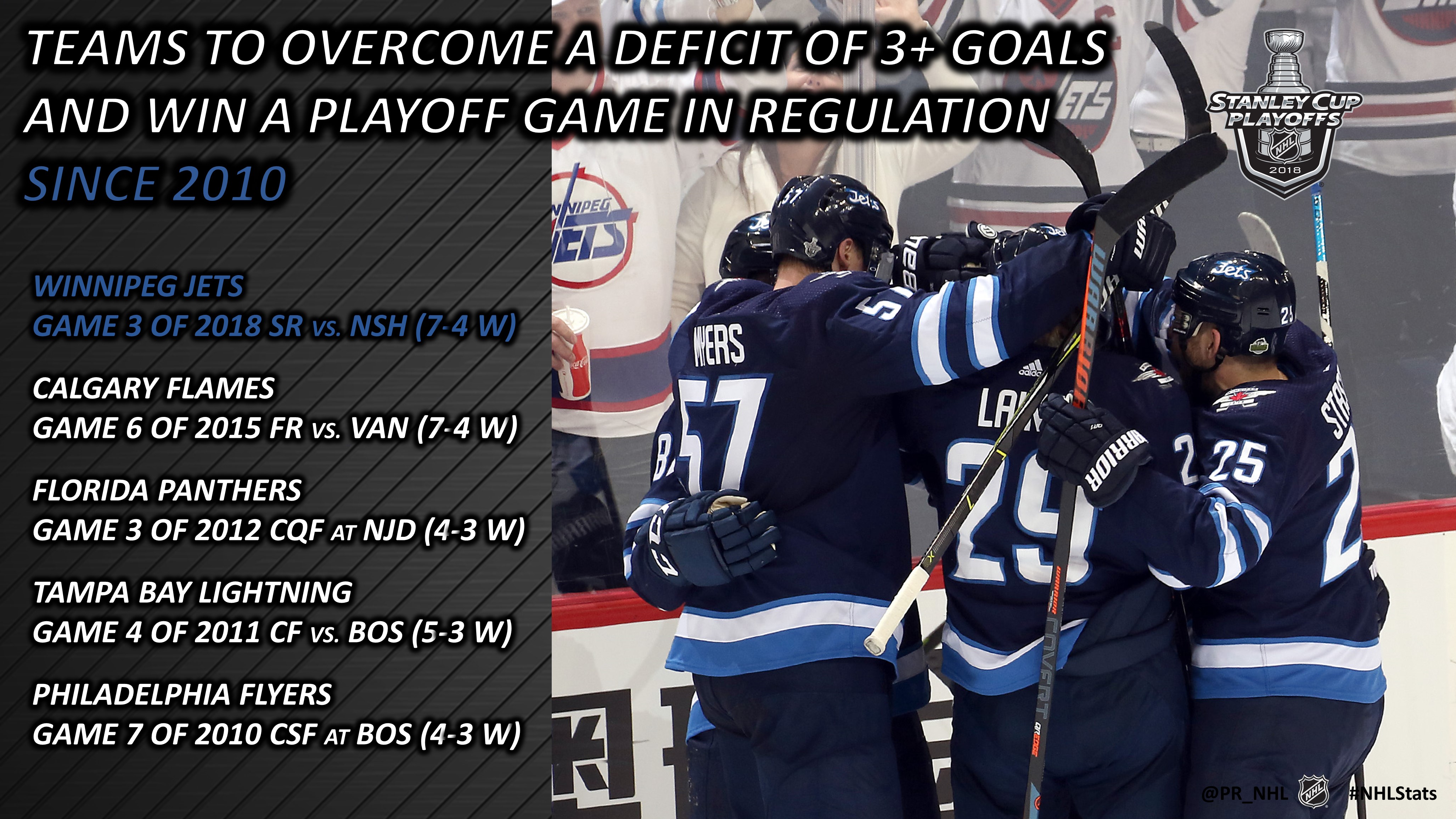 * The Jets have won 13 consecutive games at Bell MTS Place dating to March 2 (regular season and playoffs), including a 4-0 mark in the postseason. Winnipeg is the only team in the 2018 Stanley Cup Playoffs without a loss on home ice.
* Mark Scheifele (0-2—2) was one of five Jets players to collect multiple points on Tuesday and has posted at least two points in five consecutive games (7-4—11). He became the first player to record multiple points in five straight team games within a postseason since Sidney Crosby recorded an equal run in the 2010 Stanley Cup Playoffs (w/ PIT).
LIGHTING THE LAMP
Game 3 between the Predators and Jets was the fourth contest of the 2018 Stanley Cup Playoffs to feature at least 10 combined goals (54 GP). The last postseason to feature more such instances through the first 54 games was in 2010 (5x). Elias adds it also marked the seventh time this postseason that a team has recorded seven or more goals in a game – the most through 54 postseason games in the last 20 years (since 1998).
OVECHKIN SCORES LATE WINNER, CAPITALS REMAIN PERFECT ON THE ROAD
Washington overcame deficits of 2-1 and 3-2 before Alex Ovechkin (1-1—2) scored the go-ahead goal with 1:07 remaining in regulation to lift the Capitals to a 2-1 lead in their Second Round series.
* The Capitals improved to 4-0 on the road in the 2018 Stanley Cup Playoffs. Washington and Vegas (3-0) are the only teams in the 2018 postseason without a road loss.
* Ovechkin (58:53) scored the second-latest regulation game-winning goal in franchise playoff history, behind only Joel Ward (59:58) in Game 1 of the 2015 Second Round at NYR (2-1 W). Ovechkin's goal was the latest regulation game winner in the Stanley Cup Playoffs since San Jose's Joe Thornton scored at 19:04 of the third period in Game 2 of the 2016 Second Round vs. NSH (3-2 W).
* Ovechkin extended his goal streak to four games (5-2—7) and is tied for first in the 2018 Stanley Cup Playoffs with eight goals overall (8-5—13). He scored his seventh career game-winning goal in the postseason (all w/ WSH) to move into sole possession of first place on the franchise's all-time list.
* Nicklas Backstrom (0-3—3) collected his second career three-assist game in the Stanley Cup Playoffs (also Game 3 of 2009 CQF at NYR). He is the franchise's all-time leader in postseason assists with 58.
* John Carlson (1-0—1) shares the League lead among defensemen with 2-8—10 in the 2018 Stanley Cup Playoffs. The franchise record for most points in a postseason by a defenseman is 12, a mark set by Kevin Hatcher (5-7—12) and Scott Stevens (1-11—12) in 1988 and matched by Carlson (5-7—12) in 2016.
GUENTZEL, CROSBY CONTINUE TORRID PACE
Jake Guentzel (1-1—2) and Sidney Crosby (1-1—2) posted their fifth and sixth multi-point games, respectively, of the 2018 Stanley Cup Playoffs.
* Guentzel extended his point streak to seven games (7-8—15) and leads the NHL with 8-11—19 overall in the 2018 Stanley Cup Playoffs. Only four U.S.-born players in NHL history have concluded a postseason leading the League outright in points: Cecil Dillon in 1933 (w/ NYR), Brian Leetch in 1994 (w/ NYR), Jamie Langenbrunner in 2003 (w/ NJD) and Dustin Brown in 2012 (w/ LAK).
* Crosby sits third in the 2018 Stanley Cup Playoffs with 8-9—17 and boosted his career playoff totals to 65-116—181. He leapfrogged Ray Bourque (41-139—180) for sole possession of 13th place on the NHL's all-time postseason points list and moved into a tie with Larry Robinson for 12th place on the League's all-time playoff assists list.
* Guentzel and Crosby became the first pair of teammates to combine for at least 36 points through their team's first nine games of a postseason since 1988, when Edmonton's Mark Messier had 7-13—20 and teammates Wayne Gretzky (5-12—17) and Jari Kurri (8-9—17) each posted 17 points.