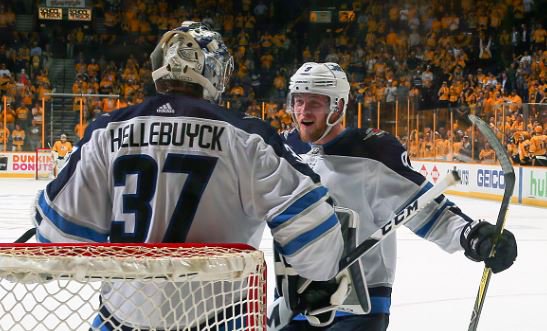 --The hopes of the Stanley Cup staying in Canada this year remain. The Winnipeg Jets are into the Western Conference final after a Game 7 5-1 victory in Nashville. This one was over early as both Tyler Myers and Paul Stastny scored very weak goals on Pekka Rinne who was pulled for Jusse Saros before the midway mark of the first. The Jets host Vegas in Game 1 of the West final Saturday. The Lightning and Capitals begin the East final in Tampa tonight.
--The WHL season can end tonight in Everett. A win by the Swift Current Broncos and they will move on to the Mastercard Memorial Cup. If a Game 6 is needed, it goes Sunday night in Swift Current with Game 7 on Monday.
-- The Kamloops Blazers have announced that three-time Memorial Cup winner Don Hay is retiring as head coach. Hay will remain with the Western Hockey League team in an advisory role.
He leaves the bench with a WHL-record 750 wins in over 20 seasons with the Blazers, Tri-City Americans and Vancouver Giants. He coached Canada to a world junior hockey titles 1995 and also had stints as a head coach in the NHL with the Phoenix Coyotes (1996-97) and Calgary Flames (2000-01).
--The Saskatchewan Roughriders held a pre-season conference call on Thursday and several things came out of it. Perhaps the biggest nugget of information was that running back Trent Richardson won't be at camp due to what head coach and general manager Chris Jones says are personal issues. Jones also said the plan is to once again have Duron Carter play on both sides of the ball.
--
David Price is cutting down on screen time. The Boston Red Sox ace was diagnosed this week with carpal tunnel syndrome. He insists that while video games may have contributed to the condition, they're not the origin of the swelling in his left thumb, index finger and middle finger. He has not pitched since May 3rd but is scheduled to return Saturday in Toronto.