SUNDAY RESULT
Washington 6 Tampa 2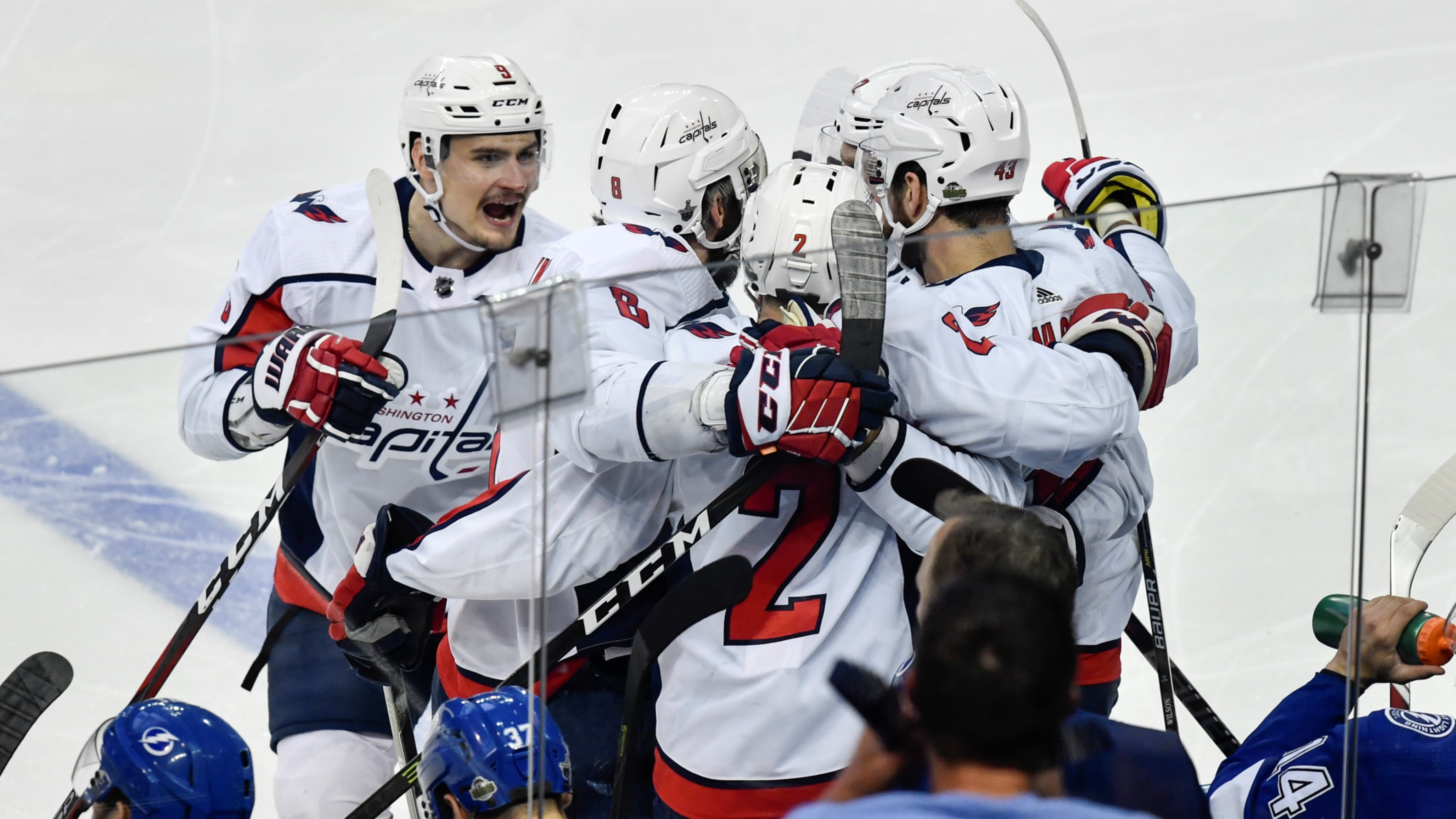 OVECHKIN, KUZNETSOV PROPEL CAPITALS TO 2-0 SERIES LEAD
Alex Ovechkin (1-1—2) and Evgeny Kuznetsov (1-2—3) each posted multi-point efforts as the Capitals took a 2-0 series lead in the Eastern Conference Final. Washington won the first two games of a best-of-seven series on the road for the third time in franchise history.
* The Capitals hold an all-time series record of 0-2 when winning Games 1 and 2 as visitors, losing in six games to the Penguins (1996 CQF) and Lightning (2003 CQF). Overall, NHL clubs are 71-20 in 91 all-time best-of-seven series when taking a 2-0 lead on the road.
* The Capitals earned their League-leading seventh road win of the 2018 Stanley Cup Playoffs to match a club record set during the 1998 postseason, when the team went 7-3 on the road in reaching the Stanley Cup Final.
* Ovechkin joined Winnipeg's Mark Scheifele as the second player to post eight multi-point games in the 2018 Stanley Cup Playoffs, contributing to the increase in offense – with goals per game at 6.0 through 70 GP – that has seen at least six goals scored in every game this round (20 GF in 3 GP).
* At 19 points apiece, Ovechkin (10-9—19) and Kuznetsov (8-11—19) sit two points shy of matching the Capitals franchise record for points in a single postseason, established by Ovechkin himself in 2009 (11-10—21 in 14 GP). The only other Capitals player with 10+ goals in one playoff year is John Druce (14 in 15 GP in 1990).
* Kuznetsov extended his point streak to five contests (3-7—10), a run that includes three multi-point performances and a series-clinching goal in overtime (Game 6 of Second Round in Pittsburgh).
HISTORY FAVORS CAPITALS, WITH ROOM FOR A LIGHTNING COMEBACK
This marks the first time since 2014 that a Conference Finals series has not been tied after Game 2. In 2014, the New York Rangers took a 2-0 series lead (also on the road) against the Montreal Canadiens and eventually won in six games.
In the conference era (since 1974-75), teams that hold a 2-0 series lead in the Conference Finals/Semifinals own an all-time series record of 39-2. The only two instances of a team winning a Conference Finals/Semifinals series in which they lost the first two games came in 1984, when the New York Islanders rallied past the Canadiens in six games, and 1991, when the Pittsburgh Penguins won four straight to defeat the Boston Bruins.
CARLSON, HEDMAN COLLECT ASSISTS FOR FRANCHISE RECORDS
Washington's John Carlson (0-2—2) established and matched franchise records for points and assists, respectively, by a defenseman in a single postseason. Carlson, who ranks second among NHL blueliners with 3-11—14 in 2018 (14 GP), also moved into third place on the franchise's career playoff points list among defensemen, behind Calle Johansson (12-42—54 in 95 GP) and Scott Stevens (9-44—53 in 67 GP). Carlson trails only Winnipeg's Dustin Byfuglien (5-10—15) for the scoring leading among defenseman in 2018.
* Tampa Bay's Victor Hedman, who last month was named a Norris Trophy finalist for the second consecutive season, extended his point streak to seven contests (0-8—8) to establish a Lightning playoff record for the longest such run in franchise history. He eclipsed the previous benchmark set by Martin St. Louis during the 2004 postseason (4-7—11 in 6 GP). Hedman is the second defenseman in as many postseasons to record a point streak of at least seven games (Nashville's Ryan Ellis: 4-5—9 in 7 GP). The last defenseman to post a point streak longer than seven games was Larry Murphy in 1995 with Pittsburgh (2-13—15 in 9 GP).
SNEAK PEEK AT MONDAY'S ACTION
Ahead 1-0, the Jets host the Golden Knights at Bell MTS Place for Game 2 of the Western Conference Final. Winnipeg has earned 37 home wins in 2017-18 (32 in regular season and five in playoffs) and sits five victories shy of matching the NHL record for the most combined home wins in a single season – Philadelphia set the record with 42 combined home wins in 1975-76 and Detroit matched it in 1995-96.
(NHL Media)