FRIDAY'S RESULTS
Tampa 4 Boston 3 (OT) (Dan Girardi OTW)
Vegas 5 San Jose 3
GOLDEN KNIGHTS SURVIVE THIRD-PERIOD SURGE, WIN GAME 5
The expansion Golden Knights are one win away from reaching the Western Conference Final following a dramatic Game 5 victory in Las Vegas. Forwards Alex Tuch (2-0—2), Erik Haula and James Neal combined to give the Golden Knights a 4-0 lead, but the Sharks rallied with three third-period goals in a span of 6:09 to cut their deficit to one before an eventual defeat.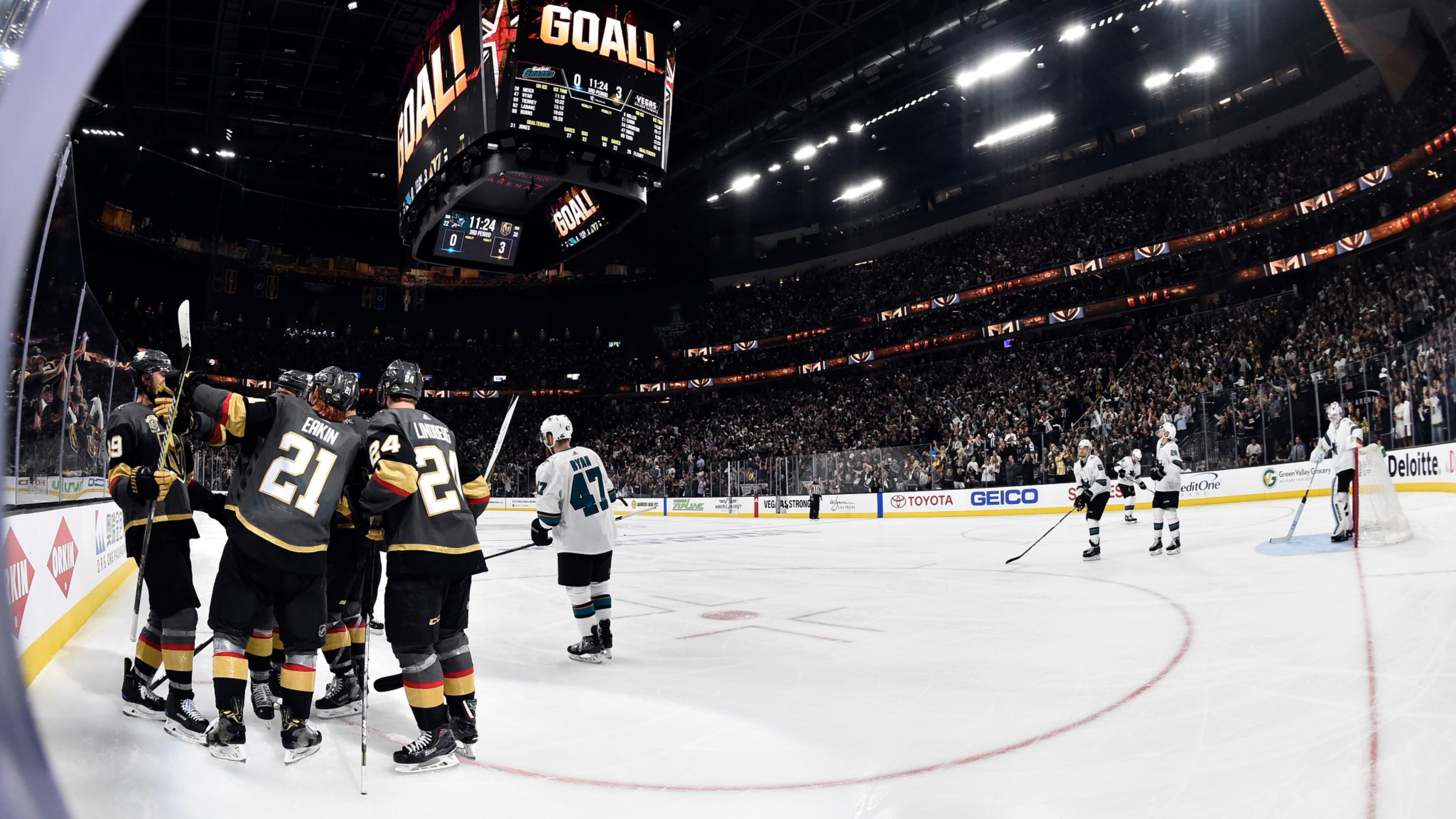 * The Golden Knights can become just the third team in NHL history to win multiple series in its inaugural season. The first postseason in League history saw the Toronto Arenas win the 1918 NHL Final, a two-game total-goals series, by a 10-7 margin against the Montreal Canadiens before defeating the Pacific Coast Hockey Association's Vancouver Millionaires to win the Stanley Cup. In 1968, the Blues defeated the Flyers and North Stars to emerge from the all-expansion West Division and advance to the Stanley Cup Final.
* Vegas owns a 7-2 record through its first nine postseason games. Only two clubs in NHL history have required fewer than 14 games to record their eighth all-time playoff win: Florida needed 11 games to win each of their first two series en route to the 1996 Stanley Cup Final, while Buffalo won eight of their first 13 playoff games from 1973 to 1975.
* Haula and Tuch both starred in NCAA Division 1 hockey – at the University of Minnesota and Boston College, respectively – before joining the professional ranks with the Wild. Haula, a seventh-round selection (182nd overall) in the 2009 NHL Draft, had a career-best campaign in 2017-18 (29-26—55) while Tuch, selected 18th overall in 2014, led Vegas rookies with 15-22—37.
* San Jose has overcome a 3-2 series deficit to win once in 12 tries (1-11), accomplishing the feat during the 1995 Conference Quarterfinals against the Flames – the club's third all-time playoff series.
GIRARDI NETS OT WINNER, LIGHTNING TAKE COMMANDING SERIES LEAD
Steven Stamkos (1-1—2) tied the game with 7:04 remaining in the third period and Dan Girardi scored his first career playoff overtime goal as the Lightning captured Game 4 to take a commanding 3-1 lead in their Second Round series against the Bruins.
* Tampa Bay has won all five series in which they have held a 3-1 advantage, including the First Round this year against New Jersey. Boston, meanwhile, owns a 7-16 record in Game 5 after losing three of the first four games, but they have never come back to win the series (0-23).
* The Lightning improved to 15-8 in 23 all-time playoff overtime games, including a 12-4 record on the road. Tampa Bay's .652 winning percentage in playoff overtime games ranks second in NHL history behind the Islanders (.673; 22-16 in 49 GP), while their .750 winning percentage in such contests on the road s the best all time (min. 5 GP).
* Forwards Brayden Point and Nikita Kucherov each scored to give the Lightning a 2-0 lead before the 10-minute mark of the first period. Boston then pulled ahead with three straight goals, marking the eighth time this postseason that a team surrendered a lead of at least two goals. Tampa Bay became just the second team this postseason to lose such a lead but win the game – the Golden Knights also posted a 4-3 overtime victory in Game 3 against the Sharks after leading 3-1.
* Kucherov recorded his 53rd career playoff point (28-25—53 in 54 GP) to surpass Vincent Lecavalier (24-28—52 in 63 GP) into sole possession of second place in franchise history behind Martin St. Louis (33-35—68 in 63 GP).
PASTRNAK CONTINUES TO PROVIDE OFFENSIVE SPARK
David Pastrnak scored Boston's first goal of the contest and sits second in the 2018 Stanley Cup Playoffs with 6-14—20 in 11 GP, trailing Jake Guentzel (10-11—21 in 10 GP). Only four players recorded more than 19 points during the entire 2017 postseason: Guentzel (13-8—21) and his Pittsburgh teammates Evgeni Malkin (10-18—28), Sidney Crosby (8-19—27) and Phil Kessel (8-15—23).
* Pastrnak boosted his all-time postseason totals to 8-16—24 in 17 GP and became just the eighth player in NHL history to collect at least 24 points through his first 17 career playoff contests or fewer.
SNEAK PEEK AT SATURDAY'S ACTION
A pair of pivotal Game 5s take the spotlight tonight as the Pittsburgh Penguins and Washington Capitals battle for an edge in their series, followed by the Winnipeg Jets visiting the Nashville Predators. The Penguins are 14-9 all-time in Game 5 after splitting the first four games while the Capitals are 7-8, but both clubs are 5-1 in their last six such contests. The Jets, who are in this scenario for the first time, will face a Predators team that owns a 2-6 record in Game 5s when the series is tied.