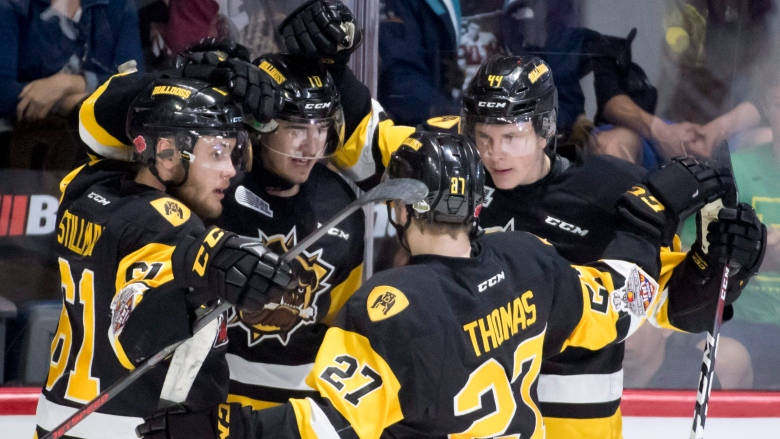 Photo: Jonathan Hayward/Canadian Press
--The Hamilton Bulldogs defeated Acadie-Bathurst 3-2 at the Mastercard Memorial Cup. If Regina beats Swift Current tomorrow, they will advance to play Hamilton in the semi-final with the Titan going to the final. If Swift Current wins, the Quebec champs will go to the final with the Bulldogs playing the winner of a Swift Current-Regina tiebreaker game on Thursday.
--
The San Jose Sharks and left wing Evander Kane have reportedly agreed to terms on a long-term contract extension. The deal is apparently seven years worth 49 million dollars. The 26 year old was traded to the Sharks at the trade deadline. He is eligible to be a free agent July 1.
--Jake Harty's season is over before it started. It is believed the Riders receiver, who signed as a free agent, suffered a torn ACL Sunday during training camp.
--ESPN released its Fame 100 list on Tuesday. That list consists of the 100 most famous athletes in the world is compiled based on how often an athlete's name is searched online, earnings from endorsements and social media followers. Cristiano Ronaldo, Lebron James and Lionel Messi are the top 3. No NHL or MLB player made the list.
-- NFL owners gave temporary approval Tuesday for a proposal designed to make the kickoff safer. The new rule will be in place for the 2018 season but will be evaluated next spring based on injury numbers and other factors.
The primary changes include:
The elimination of running starts for kickoff coverage teams
A requirement that eight of the 11 men on the return team must be aligned in the "setup zone" within 15 yards of the ball
No blocking within the "setup zone" until after the ball touches the ground if it is not first caught
The elimination of two-man wedge blocks
Kickoff team must have five men lined up on either side of the ball, a move that will limit schemes designed to get free runners in coverage down the field.
If the numbers don't improve to the league's liking, more dramatic changes -- including the elimination of kickoffs -- would be on the table for 2019.