MONDAY RESULTS
Tampa Bay 4 Boston 2
Vegas 4 San Jose 3 (OT) (William Karlsson-OTW)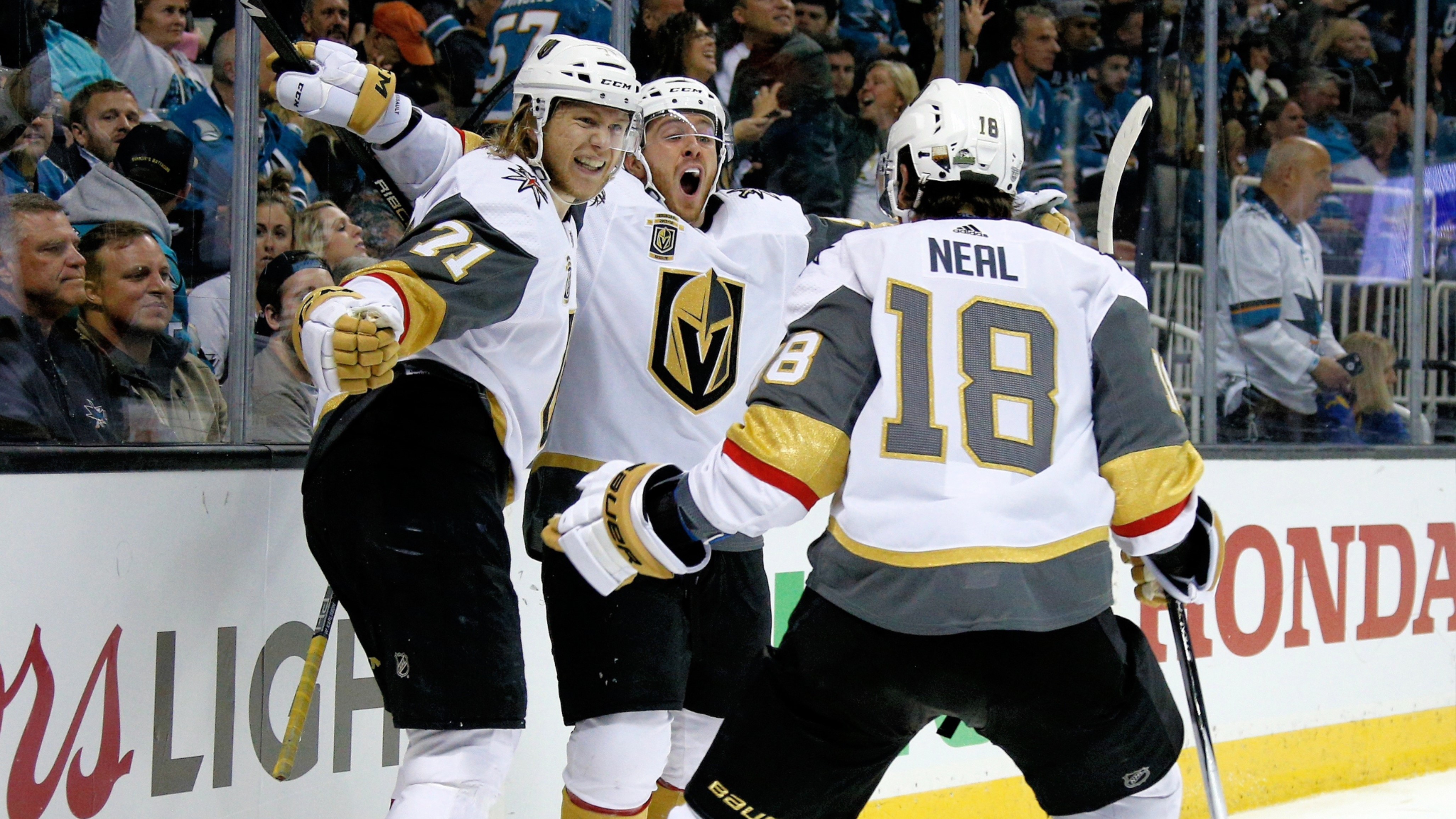 KARLSSON SEALS GOLDEN KNIGHTS VICTORY WITH OT GOAL
Despite surrendering the game-tying goal with 1:57 remaining in regulation, William Karlsson (1-1—2) scored 8:17 into overtime to lift the Golden Knights to victory and a 2-1 lead in their best-of-seven series vs. the Sharks.
* Vegas is the second team in as many days to surrender a game-tying goal in the final two minutes of regulation and win, following Nashville's effort in Game 2 of their series vs. Winnipeg on Sunday evening.
* Elias notes that the Golden Knights are the first team in the 2018 postseason to surrender a multi-goal lead in the third period and win. Six different teams accomplished the feat in 2017, highlighted by the Predators, who did so twice (Game 6, CF vs. ANA to advance to the Stanley Cup Final and Game 1, SR at STL).
* Reilly Smith (1-1—2) and Karlsson combined for a highlight-reel play on the Golden Knights' third goal in a 4:46 span of the second period to extend their point streaks to six (1-8—9) and five (4-5—9) games, respectively. Smith and Karlsson are just the second set of teammates in NHL history to each post a point streak of at least five games in their team's first Stanley Cup Playoffs appearance. Dave Lowry (5-5—10 in 7 GP) and Jason Woolley (2-5—7 in 5 GP) also did so for the Panthers during their run to the Stanley Cup Final in 1996.
* Smith matched Pittsburgh's Jake Guentzel (6-7—13 in 6 GP) – whose active streak dates to April 15 – for the longest point streak of the playoffs. In 2017, Nashville's Ryan Ellis (4-5—9) and Filip Forsberg (5-3—8) paced the postseason with respective seven-game stretches.
POINT'S IMPRESSIVE PERFORMANCE POWERS LIGHTNING IN GAME 2
Brayden Point (1-3—4) collected his first career four-point game in the playoffs as the Lightning edged out the Bruins in Game 2 to pull even in their Second Round series.
Point (22 years, 48 days), who established a career high with 32-34—66 in 82 GP this season, is just the third player – and the youngest in Lightning franchise history – to collect at least four points in a playoff game, joining Tyler Johnson (2-2—4 in Game 2 of the 2016 FR vs. DET) and Vincent Lecavalier (1-3—4 in Game 2 of the 2011 CF at BOS).
* Through 52 games in the 2018 Stanley Cup Playoffs, there have been 11 instances of a player recording at least four points in a game. This marks just the second time in the last 20 years and the first time since 2006 that 11 such performances have occurred through the first 52 games of the postseason.
* With Tampa Bay and Boston's series tied at one game apiece, all four Second Round matchups featured a 1-1 series score after two games. It is just the fourth postseason that this has occcured since 1975, when the playoffs first saw four second-round matchups contested. The others: 1991 (PIT-WSH, MTL-BOS, STL-MNS and EDM-LAK), 1986 (MTL-HFD, TOR-STL, WSH-NYR and EDM-CGY) and 1984 (NYI-WSH, MTL-QUE, STL-MNS and CGY-EDM).
(NHL Media)