THURSDAY RESULT
Tampa 4 Washington 2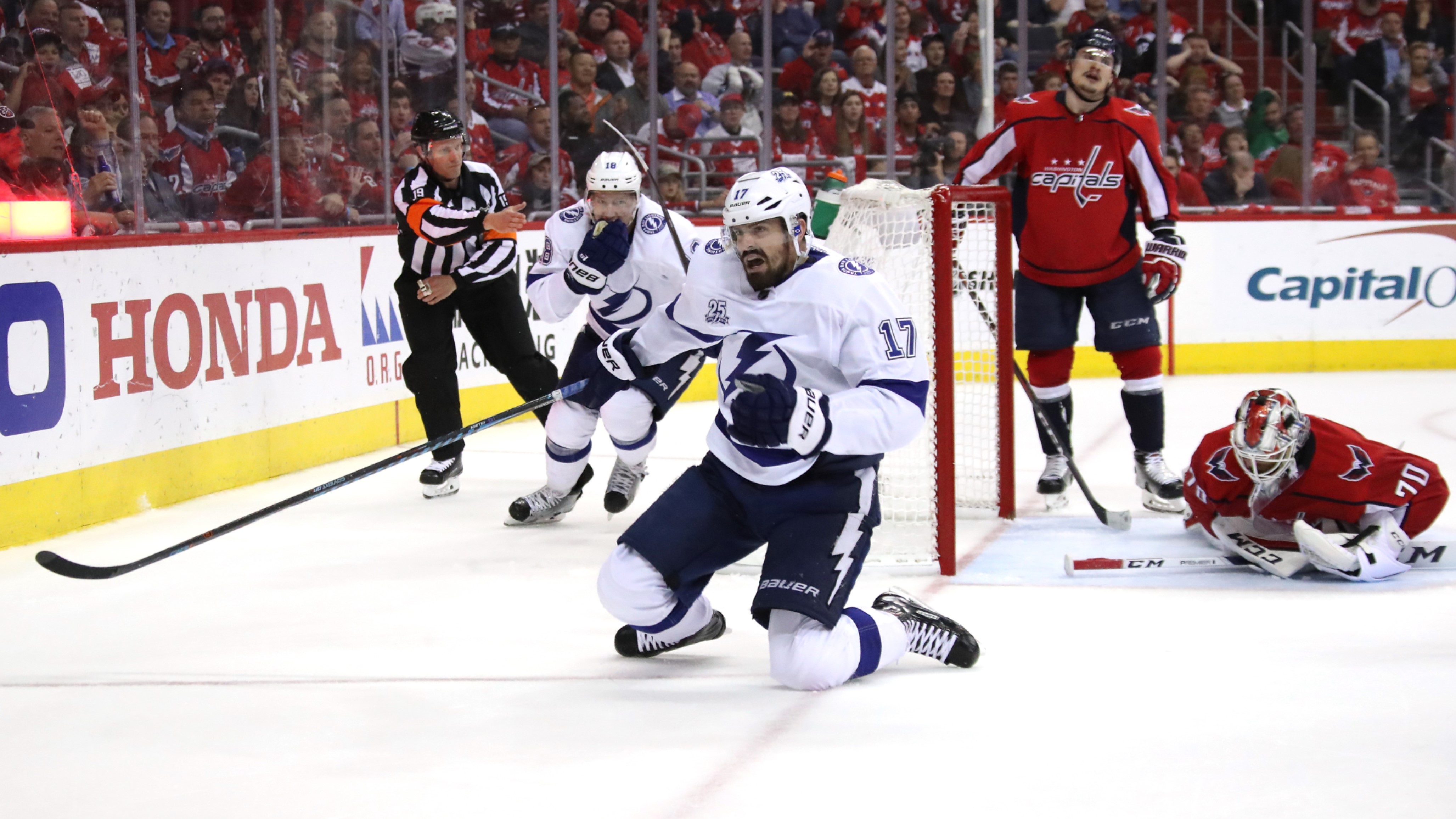 KILLORN BREAKS TIE, LIGHTNING EVEN EASTERN CONFERENCE FINAL
Alex Killorn broke a 2-2 with 8:03 remaining in the third period as the Lightning won Game 4 and evened the Eastern Conference Final at two games apiece. Tampa Bay improved to 7-0 in seven all-time road playoff games in Washington.
* The Eastern Conference Final marks the sixth series in the last 10 years – and second of the 2018 Stanley Cup Playoffs – in which the road team has won each of the first four games. The others: WSH-CBJ (2018 FR), EDM-ANA (2017 SR), NSH-ANA (2016 FR), LAK-ANA (2014 SR) and MTL-BOS (2011 CQF).
* Overall, this marks the 26th best-of-seven series in Stanley Cup Playoffs history in which the road team has won each of the first four games – and third such occurrence in the Conference Finals/Semifinals (since 1974-75). The others: CGY-SJS (2004) and NJD-PHI (1995).
* The Lightning, who shared the League lead with 25 road wins during the regular season, improved to 5-1 as visitors in the playoffs. Road teams are 40-34 this postseason (74 GP); the NHL record for road wins in a single playoff year is 47, set in 2012 (86 GP).
* Tampa Bay went 1-for-2 on the power play, marking its ninth straight game with at least one power-play goal. The Lightning share the League lead with 16 power-play goals this postseason (16-for-52, 30.8%), including six against the Capitals (6-for-14, 42.9%).
* Steven Stamkos scored his 11th career power-play goal in the Stanley Cup Playoffs (all w/ TBL) to surpass Martin St. Louis for the most in Lightning history. He has registered one power-play goal in each game during the Eastern Conference Final (4-2—6 in 4 GP).
* Andrei Vasilevskiy made 36 saves for the second straight game, including nine in the third period. Vasilevskiy, who led the NHL with 18 road victories during the regular season, improved to 5-1 as a visitor during the 2018 Stanley Cup Playoffs (1.99 GAA, .941 SV%).
OVECHKIN, KUZNETSOV CONTINUE TO SPARK CAPITALS' OFFENSE
Alex Ovechkin collected an assist on Evgeny Kuznetsov's second-period goal to record his second postseason with at least 20 points (10-10—20). Only three other Russian-born players in NHL history have produced multiple postseasons with at least 20 points: Sergei Fedorov (4x), Evgeni Malkin (3x) and Valeri Kamensky (2x).
* With the goal, Kuznetsov (10-11—21 in 16 GP) matched the Capitals record for points in a single playoff year, established by Ovechkin in 2009 (11-10—21 in 14 GP).
SNEAK PEEK AT FRIDAY'S ACTION
Vegas looks to take a 3-1 lead, while Winnipeg attempts to even the series when they face off in Game 4 of the Western Conference Final. The Golden Knights, who shared third in the NHL with 29 home wins during the regular season, own a 5-1 record at T-Mobile Arena in the playoffs.
* Golden Knights forward Jonathan Marchessault (8-9—17), who has scored two goals in each of the last two contests and has collected 6-3—9 during a five-game point streak, sits one point shy of matching the NHL record for most by a player in his team's first postseason appearance, set by the Islanders' Jude Drouin (6-12—18) in 1975 and matched by the Sharks' Igor Larionov (5-13—18) in 1996.
* Jets forward Mark Scheifele, who registered his 10th and 11th road goals in Game 3 to set a single-year NHL postseason record, has scored in six straight games as a visitor dating to the First Round (11-2—13). He leads the playoffs with 14 goals overall; the last player with more goals in a single postseason was the Penguins' Sidney Crosby in 2009 (15).