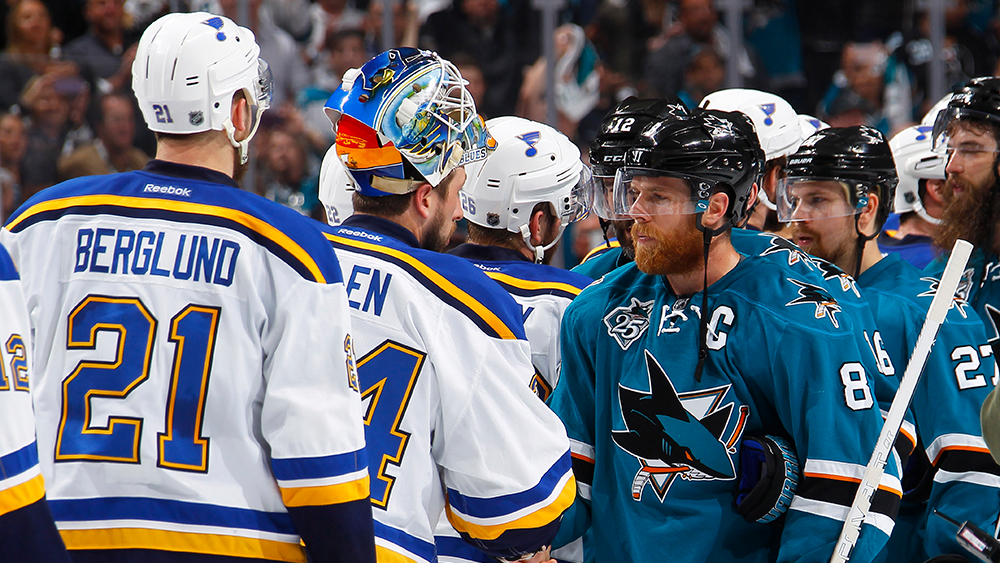 SHARKS AND BLUES SET TO CLASH IN GAME 1 OF WESTERN CONFERENCE FINAL
After both clubs survived a seven-game series in the Second Round, the Sharks and Blues will face off in Game 1 of the Western Conference Final at SAP Center in San Jose. Both teams are in pursuit of their first Stanley Cup.
* Since the conference format was adopted for the 1981-82 season, teams that win Game 1 of the Conference Finals own a series record of 46-26 (63.9%).
* San Jose holds a 3-2 edge in five all-time head-to-head postseason series, including a six-game triumph in the 2016 Conference Finals when they reached the Stanley Cup Final for the first time in franchise history.
* In the 2016 Western Conference Final, the Sharks grabbed home-ice advantage by splitting the first two games in St. Louis and went on to win all three games at SAP Center to clinch the series in six games. Sharks center Joe Pavelski led all scorers in the series with 4-5—9, finding the score sheet in all six games.
* Pavelski was followed by teammate Logan Couture (1-6—7), who notched three points in the series-clinching Game 6 win (1-2—3). It was the third time in the 2016 Stanley Cup Playoffs that Couture notched three points in a series-clinching win, part of a postseason run that saw him lead all skaters with 10-20—30 in 24 games.
* With his performance in Game 6 against the Blues, Couture became just the third player in NHL history to record at least three points in three series-clinching wins within a postseason, joining Wayne Gretzky (1985, 1988 and 1993) and Jari Kurri (1985).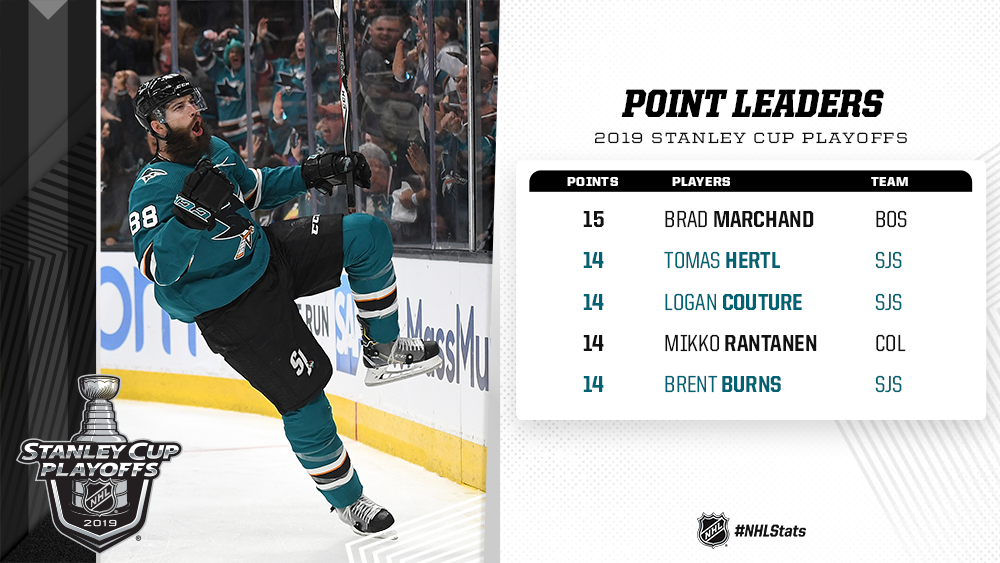 * While Burns sits tied for second in playoff scoring, Blues blueliner and captain Alex Pietrangelo has collected 2-9—11 this postseason (13 GP). Pietrangelo sits one point shy of matching the franchise record for points by a defenseman in a playoff year, a mark attained four times in St. Louis history: Joe Micheletti (1-11—12 in 1981), Jeff Brown (2-10—12 in 1990 and 3-9—12 in 1991) and Al MacInnis (4-8—12 in 1999).
* The Western Conference Final features each of the top three goal-scorers of the 2019 postseason, with Hertl and Couture sharing the League lead, one ahead of Blues forward Jaden Schwartz (8-3—11 in 13 GP). After scoring 11 times in 69 games during the regular season, Schwartz now needs five to equal the single-year franchise playoff record of 13 goals, achieved by Brett Hull in 1990 (12 GP).
SEASONED VETERANS CONTINUE PURSUIT OF FIRST STANLEY CUP . . .
A trio of players with 1,000 or more regular-season games to their credit will hit the ice in the Western Conference Final with their sights set on hoisting the Stanley Cup for the first time: Sharks teammates Joe Thornton (1,566 GP) and Brent Burns (1,043 GP) as well as Blues defenseman Jay Bouwmeester (1,184 GP).
* Overall, seven players with at least 900 regular-season games played are still in the running to win the Stanley Cup this year. The others: Marc-Edouard Vlasic (965 GP), Joe Pavelski (963 GP), Alexander Steen (963 GP) and David Backes (928 GP).
* Thornton (413-1,065—1,478 in 1,566 GP), who leads all active players in career assists and points, is in search of his first Stanley Cup while skating in his 21st NHL season. Only two players in NHL history won their first Stanley Cup after appearing in at least 1,500 regular season games: Ray Bourque (1,612 GP) and Dave Andreychuk (1,597 GP). Bourque is the only player in League history to win his first championship after reaching the 1,400-point milestone.
.JORDAN BINNINGTON LOOKS TO ADD TO IMPRESSIVE ROOKIE SEASON
Blues rookie goaltender Jordan Binnington has played a crucial role in St. Louis' playoff run since bursting onto the scene on Jan. 7 – with his club sitting last in the Western Conference, nine points out of the postseason picture.
* Binnington's 24-5-1 regular-season record helped the Blues become the seventh team since 1967-68 to reach the playoffs after ranking last overall at any point after New Year's Day (min. 20 GP). He then helped them become the first of those seven teams to win a series.
* Binnington, who has started all 13 games for the Blues this postseason, has yet to face the Sharks in his career. Chad Johnson (1-1-0) and Jake Allen (0-0-1) guarded the St. Louis crease in the three games against San Jose in 2018-19.
* Binnington, the ninth rookie goaltender in Blues history to start a playoff game, already owns the franchise rookie records for playoff games played/started (13) and wins (8). Only 12 rookie netminders in NHL history have recorded at least nine wins in a postseason, including only one in the past 12 years – Matt Murray posted a 15-6 record with the 2016 Penguins, tying an NHL rookie record for one playoff year.
* No stranger to big moments, Binnington captured the OHL championship with the Owen Sound Attack in 2010-11 and was later named the Most Outstanding Goaltender at the Memorial Cup - weeks before the Blues selected him in the third round (87th overall) of the 2011 NHL Draft.
THIS AND THAT
* A California-based team has reached at least the Western Conference Final in 13 of the past 16 campaigns, with San Jose accounting for five of those instances (also 2004, 2010, 2011 and 2016).
* St. Louis is looking to advance to the Stanley Cup Final for the first time since qualifying in each of its first three years of existence (1968-70). The Blues are one of two teams without a Cup despite reaching the Final on three occasions (Canucks: 0-3).
* Only 40 players between the Blues (13), Sharks (12), Bruins (11) and Hurricanes (4) have skated in either the Conference Finals or Stanley Cup Final.
* While St. Louis has the most players with experience in the Conference Finals or Stanley Cup Final, they have the fewest combined games played in those rounds. Overall, the 40 players have a combined 471 games played past the second round (San Jose: 171, Boston: 148, Carolina: 80, St. Louis: 72).
* Of the 7,917 players in NHL history to play in at least one game, only 2,695 (34.0%) have appeared in at least one game in the round prior to the Stanley Cup Final.