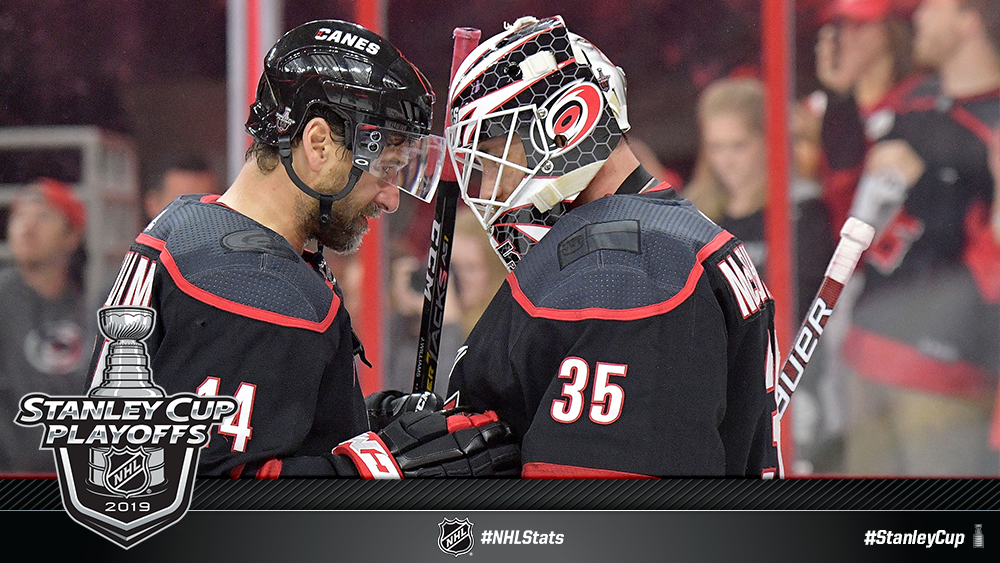 THREE HARD LAPS: QUICK HITS FROM WEDNESDAY
* Carolina took a commanding 3-0 lead in its Second Round series with New York, while Dallas evened its matchup with St. Louis at 2-2.
* Teams that take a 3-0 lead in a best-of-seven series own an all-time series record of 188-4 (97.9%) – including a 2-0 mark in the 2019 Stanley Cup Playoffs. The Islanders are one of the four teams in NHL history to overcome a 3-0 deficit and win a postseason series, doing so in the 1975 Quarterfinals against the Penguins.
* When a best-of-seven series is tied 2-2, the winner of Game 5 owns an all-time series record of 207-57 (78.4%) – including a 2-2 mark in the 2019 Stanley Cup Playoffs.
HURRICANES PUSH ISLANDERS TO BRINK OF ELIMINATION
With a red-clad crowd of 19,066 watching at PNC Arena, captain Justin Williams scored the go-ahead goal with 9:45 remaining in regulation to break a 2-2 deadlock and lift the Hurricanes to a 3-0 series lead against the Islanders. Carolina holds a 3-0 lead in a best-of-seven series for the second time in franchise history - they won the first three games in the second round against the Devils in 2006 (4-1 series win) en route to winning the first Stanley Cup in franchise history.
The Hurricanes, who hosted a second-round game for the first time in a decade, extended their overall win streak to five contests and improved to 4-0 at home in the 2019 Stanley Cup Playoffs. Carolina won each of its first four home games in a postseason for the second time in franchise history (also 4-0 in 2002). Their overall win streak is the second-longest in Hurricanes/Whalers playoff history behind only a seven-game run in 2006.
* Carolina moved within one win of reaching the Conference Finals for the fourth time in as many postseason appearances (also 2002, 2006 and 2009). Only two teams have reached the Conference Finals in four consecutive postseason appearances (regardless of when those occurred) since the round was introduced in 1982: Detroit (1995, 1996, 1997, 1998) and Colorado (1999, 2000, 2001, 2002) each did so in consecutive years.
* The Hurricanes can become the second Wild Card team to clinch a berth in the Conference Finals since the division-focused playoff format was introduced in 2014; they would join the Predators (No. 2 Wild Card), who did so in 2017 en route to the franchise's first-ever appearance in the Stanley Cup Final.
* Williams scored his 38th career goal in the Stanley Cup Playoffs and moved within one of reaching 100 career postseason points (38-61—99 in 150 GP). Seventeen of his 38 career playoff goals have given his team the lead (44.7%), including four of his nine postseason tallies in a Hurricanes uniform.
* Justin Faulk, the all-time Hurricanes/Whalers leader in regular-season goals by a defenseman, scored his first career goal in the Stanley Cup Playoffs (1-3—4 in 10 GP) – doing so in highlight-reel fashion after receiving an alley-oop pass from Warren Foegele. In 2018-19, Faulk (85-173—258 in 559 GP) became the all-time franchise leader in regular-season points by a defenseman, surpassing Dave Babych (44-196—240 in 349 GP).
* Foegele has collected eight points in the 2019 Stanley Cup Playoffs (5-3—8 in 10 GP), one shy of matching the franchise record for most in a postseason by a rookie (Erik Cole: 6-3—9 in 2002; 23 GP).
* Teuvo Teravainen scored his fourth and fifth goals of the 2019 Stanley Cup Playoffs (5-2—7 in 10 GP). He established a career high for most in a postseason, besting the four he had in 2015 en route to capturing the Stanley Cup with Chicago (4-6—10 in 18 GP).
35-YEAR-OLD McELHINNEY EARNS WIN AFTER MAKING HISTORY
Hurricanes goaltender Curtis McElhinney became the oldest goaltender in NHL history to make his first career playoff start, eclipsing the mark set by Pittsburgh's Les Binkley in Game 1 of the 1970 Quarterfinals - a 28-save victory against the Oakland Seals.
* McElhinney, who was claimed on waivers by Carolina two days before its 2018-19 season opener, became the third goaltender in franchise history to earn a win in his first career postseason start; he joined Kevin Weekes in Game 5 of the 2002 Conference Quarterfinals and Cam Ward in Game 3 of the 2006 Conference Quarterfinals.
STARS EVEN SERIES AFTER SHUFFLING FORWARD LINES
With a shuffled set of forward lines for Game 4, the Stars received two assists apiece from Tyler Seguin, Alexander Radulov and Mats Zuccarello during a string of four straight goals to tie their series with the Blues at 2-2. Defenseman John Klingberg and rookie forward Roope Hintz each scored in the second period as Dallas handed St. Louis its first road loss of the 2019 Stanley Cup Playoffs.
* The Stars finds themselves tied 2-2 in a best-of-seven series for the 24th time in franchise history. They own an all-time series record of 10-1 when winning Game 5 in those 2-2 scenarios (90.9%), including a series victory over the Predators last round. Their only series loss when winning Game 5 after splitting Games 1-4 was suffered against the Blues during the 1972 Quarterfinals.
* Klingberg scored his second game-winning goal of the 2019 Stanley Cup Playoffs (2-6—8 in 10 GP). The only other defenseman in Stars/North Stars history to score multiple winning goals in a postseason is Lou Nanne (1971 w/ MNS).
* Hintz scored his fifth goal of the 2019 Stanley Cup Playoffs (5-3—8 in 10 GP), tied for the League lead among rookies (w/ Carolina's Warren Foegele). Hintz's five goals are the most in a postseason by Stars/North Stars rookie since Minnesota's Brian Bellows had an equal amount in 1983 (5-4—9 in 9 GP).
* The 22-year-old Hintz (Tampere, Finland) also became the fourth Finnish-born rookie in NHL history to score five or more goals in a postseason.
* Ben Bishop (27 saves), who suffered a 4-3 loss in Game 3, improved to 12-3 (one no decision) following a loss within a postseason. A third-round pick by the Blues in the 2005 NHL Draft (85th overall), Bishop also improved to 11-2 in 13 career playoff appearances after allowing three or more goals.
* Jason Spezza, another 35-year-old who excelled Wednesday, scored his second goal this postseason (2-2—4 in 8 GP). Spezza (1,065 GP) is among a group of 12 active NHL players with 1,000 or more career regular-season games in search of his first Stanley Cup; three others are still competing in the 2019 Stanley Cup Playoffs: Joe Thornton (1,556 GP), Jay Bouwmeester (1,184 GP) and Brent Burns (1,043 GP).
SNEAK PEEK AT THURSDAY'S ACTION
Pivotal Game 4s go tonight in Columbus and Denver as the Bruins and Avalanche look to even their series with the Blue Jackets and Sharks, respectively.
* Teams that hold a 3-1 advantage in a best-of-seven series own an all-time series record of 277-29 (90.5%), including a 1-1 mark in 2019. Columbus has never held a 3-1 series lead; San Jose is 10-1 all-time in that scenario (6-1 as the higher seed).
* Blue Jackets goaltender Sergei Bobrovsky has stopped 208 of 222 shots faced this postseason – including 99 of 105 against the Bruins – to push his club to within two victories of the Eastern Conference Final. A two-time Vezina Trophy winner as the League's top goaltender, Bobrovsky is one of two undrafted netminders to claim the award since it was first awarded under its current guidelines in 1981-82 (also Ed Belfour). Only one undrafted player in the last 43 years has claimed the lone individual postseason award, the Conn Smythe Trophy as playoff MVP: Wayne Gretzky.
* Boston trailed three times in its First Round series with the Toronto Maple Leafs, pulling even at 1-1, 2-2 and 3-3 before winning Game 7. Overall, the Bruins have overcome a 2-1 deficit in a best-of-seven series to win on nine occasions (9-25) - including twice in 2011 when they won the Stanley Cup (CQF vs. MTL and SCF vs. VAN) - but have never advanced after losing three of the first four games (0-24).
* San Jose targets a second straight win in Colorado and a 3-1 series lead. The Sharks are 10-4 all-time when leading 2-1 in a playoff series (4-1 when starting at home) and 10-1 when holding a 3-1 series advantage. Meanwhile, the Avalanche are 6-7 in best-of-seven series when facing a 2-1 deficit - including a rally against San Jose in the 2002 Conference Semifinals (4-3 W) - but have never overcome a 3-1 series deficit to advance (0-4).
* Avalanche scoring leader Nathan MacKinnon (5-7—12) will put his seven-game playoff point streak on the line as he aims to help Colorado even the series. There have been 12 postseason point streaks of eight or more games in Avalanche/Nordiques franchise history, including nine since the club relocated to Denver in 1995-96 – the last such streak occurred in 2002 (Peter Forsberg: 6-7—13 in 8 GP) and the franchise record of 10 has been achieved twice (Marian Stastny: 3-10—13 in 1982 w/ QUE and Joe Sakic: 12-5—17 in 1996 w/ COL).