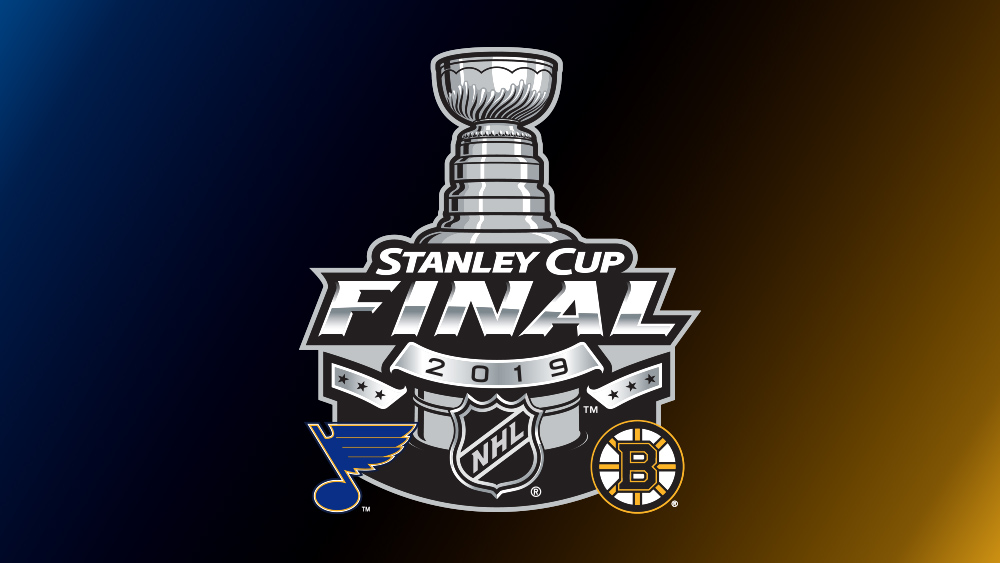 STANLEY CUP FINAL BEGINS TONIGHT IN BOSTON
A rematch 49 years in the making takes center stage when the Blues and Bruins face off at TD Garden in Boston for Game 1 of the Stanley Cup Final.
* Since the Final went to the best-of-seven format in 1939, the team that has won Game 1 has gone on to capture the Stanley Cup 77.2% of the time (61 of 79 series). In 2018, the Capitals rallied for a series victory and the franchise's first-ever Stanley Cup after losing Game 1 of the Final, winning in five games.
* The winner of Game 1 in any best-of-seven series owns an all-time series record of 476-219 (68.5%), including a 9-5 mark in the 2019 Stanley Cup Playoffs.
* The Bruins are 6-12-1 in their previous 19 Stanley Cup Final openers (5-11 in Game 1 of best-of-seven Final), going on to capture five of their six Stanley Cups after winning Game 1 (they lost Game 1 in 2011). Boston's six Cups are tied for the fourth-most in NHL history.
* The Blues set their sights on capturing the franchise's first-ever win in the Stanley Cup Final (0-12). St. Louis aims to become the second franchise in as many years to win its first Cup - a streak last achieved from 2004-2007 when the Lightning, Hurricanes and Ducks each won for the first time.
* Overall, Boston owns an all-time record of 53-49 in Game 1 of best-of-seven series (38-19 at home), while St. Louis is 32-30 (12-18 on road).
STANLEY CUP FINAL STORYLINES
Something has to give in Game 1 of the 2019 Stanley Cup Final as neither Boston or St. Louis has trailed in its last three games. A look at some storylines entering Monday's opener:
* Vladimir Tarasenko aims to extend his point streak to seven games (3-5—8 in 6 GP), which would match the third-longest playoff point streak in Blues history.
* Bruins forward David Krejci also enters the Final with points in each of his last six contests (2-5—7 in 6 GP). This marks the third time in the last 27 years that a Final will begin with at least one player from each team on a point streak of at least six games. The others: 2009 (Valtteri Filppula w/ DET; Sidney Crosby w/ PIT) and 2001 (Patrik Elias and Petr Sykora w/ NJD; Ray Bourque w/ COL).
* Bruins forward Patrice Bergeron (39-60—99) sits one point shy of hitting career milestones for playoff goals (40) and playoff points (100). Bergeron can become the sixth Bruins player to record at least 100 playoff points (and second to hit the mark this postseason after Krejci).
* Blues forward Jaden Schwartz (12-4—16) is one goal shy of tying Brett Hull (13 in 1990) for the most goals in a single postseason by a Blues player and two back of matching San Jose's Logan Couture (14) for the most in the 2019 playoffs.
* Bruins goaltender Tuukka Rask and Boston each take a seven-game winning streak into the Final. Rask's streak is the second-longest ever by a Bruins goaltender in a postseason - behind a 10-0 run by Gerry Cheevers in 1970 - while Boston's is the third-longest in franchise playoff history.
* Blues goaltender Jordan Binnington needs one win to become the fifth rookie in NHL history to record at least 13 wins in a postseason.
* The Bruins enter the Final with an NHL-best power-play percentage of 34.0% (17-for-50). Since 1977-78, only one team has finished a postseason with a power-play success rate of at least 30.0% after a minimum of 50 opportunities: the 1981 Islanders (37.8%, 31-for-82).
(NHL Media)