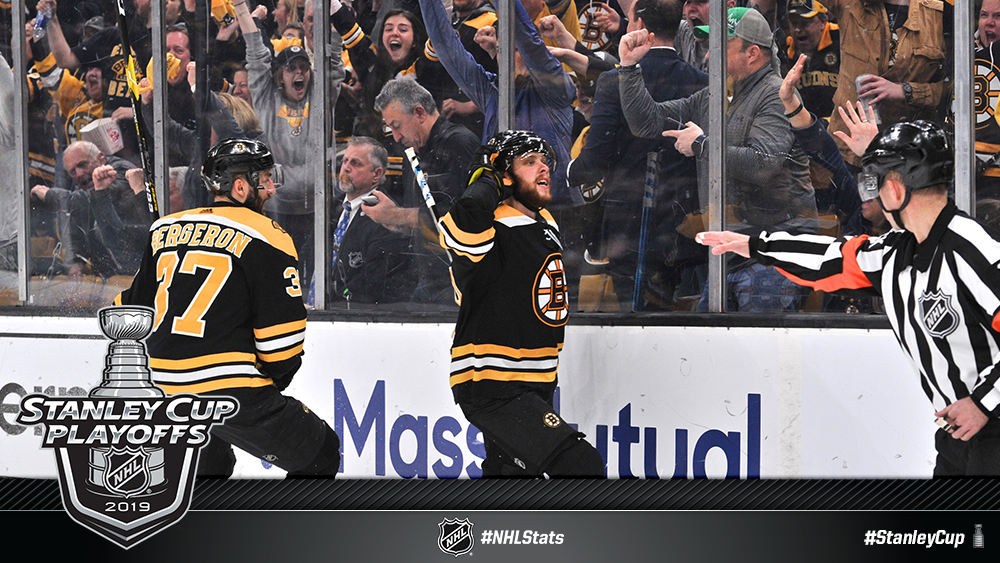 THREE HARD LAPS: QUICK HITS FROM SATURDAY
* The Bruins and Sharks each captured victories in Game 5 to push their opponents to the brink of elimination and inch closer to a berth in the Conference Finals.
* David Pastrnak continued his point-per-game pace in the playoffs as Boston survived a frantic six-goal third period, including four in a span of 3:25 that saw Columbus overcome a multi-goal deficit, to leave TD Garden with a 3-2 series lead.
* Boston and San Jose are the only remaining teams in the 2019 Stanley Cup Playoffs to rank among the top 10 in the NHL standings this season – the Bruins finished third and the Sharks ranked sixth.
BRUINS OUTLAST BLUE JACKETS IN FINAL FRAME TO TAKE 3-2 SERIES LEAD
After fans at TD Garden were gifted with six goals in the final frame, including four in a span of 3:25 that witnessed Columbus overcome a two-goal deficit, David Pastrnak (2-0—2) scored with 1:28 remaining in regulation to lift the Bruins to a Game 5 victory and 3-2 series lead. The frenetic finish included a cross-crease stop by Tuukka Rask and a sprawling shot block by Charlie McAvoy, both with less than 20 seconds on the clock.
* After recording two points in Game 4, Pastrnak's two-goal showing Saturday boosted his career playoff totals to 14-21—35 (30 GP). His average of 1.17 points per game is the third-highest through 30 career playoff games in Bruins history, behind Barry Pederson (1.70) and Bobby Orr (1.20). In fact, only two active NHL players had a higher points-per-game average through 30 career postseason games.
Pastrnak's Game 5 heroics put Boston within one victory of a matchup with Carolina in the Eastern Conference Final - a franchise they have faced four times before in the postseason. The Bruins last made a trip to the Conference Finals in 2013 when they eventually lost to the Blackhawks in the Stanley Cup Final.
* Brad Marchand (1-2—3) factored on both Pastrnak goals, the latter being the sixth-latest winner in club history. Marchand (5-8—13 in 12 GP) is tied with Colorado's Nathan MacKinnon (6-7—13 in 10 GP) and Mikko Rantanen (5-8—13 in 10 GP) for the League lead with 13 points. Marchand, who established a career-high with 36-64—100 in 2018-19, is the highest-scoring player from the regular season remaining in the 2019 Stanley Cup Playoffs.
* Saturday's contest marked the second time in Bruins playoff history that the club surrendered a multi-goal lead in the third period and won in regulation. They also did so in Game 3 of the 1989 Division Semifinals at Buffalo.
HERTL, PAVELSKI SPARK SHARKS IN GAME 5
Just moments after Tomas Hertl gave the Sharks a third-period lead with his second goal of the contest, captain Joe Pavelski ignited the SAP Center crowd with his first public appearance since leaving Game 7 of the First Round with an injury, as San Jose rode the momentum to a Game 5 victory. The Sharks moved within one win of advancing to the Conference Finals for the fifth time in franchise history and first since their run to the Stanley Cup Final in 2016.
* Hertl (8-4—12 in 12 GP) pulled within one of teammate Logan Couture (9-3—12 in 12 GP) for the most goals in the 2019 Stanley Cup Playoffs. Only two other postseasons in franchise history have featured multiple players with at least eight goals: Pavelski (14) and Couture (10) each hit double digits in 2016, while Pavelski (9) and Patrick Marleau (8) teamed up for the feat in 2010.
* Saturday's victory marked San Jose's third comeback win of the 2019 Stanley Cup Playoffs, trailing only Dallas and Carolina (4 each) for the most among all 16 postseason clubs. The Hurricanes reached the Conference Finals with a win Friday, while the Stars can join them with a victory Sunday.
* The Sharks earned their second win of the 2019 postseason when scoring two or fewer goals (also Game 6 of R1). During the 2018-19 regular season, San Jose failed to win a contest in which it scored two or fewer goals, posting a 0-17-3 record in such contests.
SERIES SCENARIOS: GAME 5 WINNER AFTER A 2-2 SPLIT
When a best-of-seven series is tied 2-2, the winner of Game 5 owns an all-time series record of 207-57 (78.4%), including a 2-2 mark in the 2019 Stanley Cup Playoffs.
* The Bruins hold an all-time record of 13-3 (.813) when winning Game 5 after splitting the first four games in a best-of-seven series. When simply leading 3-2, they own an all-time series record of 21-5 (.808).
* The Sharks hold an all-time record of 5-2 (.714) when winning Game 5 after splitting the first four games of a series; that record includes a series win against Colorado in 2010 and a series defeat against them in 1999. When simply leading 3-2, they own an all-time series record of 9-3 (.750).
* Columbus is 0-2 when trailing 3-2 in a best-of-seven series, while Colorado is 2-10. The Avalanche rallied from a 3-2 series deficit to win in the 2002 Conference Semifinals against San Jose and 2001 Stanley Cup Final against New Jersey.
SNEAK PEEK AT SUNDAY'S ACTION
The series is on the line Sunday when Dallas hosts St. Louis in Game 6. The Stars/North Stars have won six of the previous 13 playoff series against the Blues, earning the series-clinching victory on home ice four times – with each of those four home wins coming before the club moved to Dallas in 1993-94 (Game 6 of 1991 Division Finals, Game 3 of 1985 Division Semifinals, Game 7 of 1984 Division Finals and Game 6 of 1971 Quarterfinals).
* The Stars sit one victory shy of reaching the Conference Finals/Semifinals for the ninth time in franchise history – a feat they achieved four times as the North Stars and four times since relocating to Dallas (but not since 2008).
* The Stars won their only potential series-clinching game in the First Round, with defenseman John Klingberg scoring in overtime on home ice to eliminate the Predators in Game 6. That goal boosted the franchise's all-time record to 30-22 in potential series-clinching games, including a 16-8 mark on home ice.
* Stars goaltender Ben Bishop owns a career record of 6-3 when his team has a chance to advance (1.42 GAA, .952 SV%, 4 SO), with his four series-clinching shutouts one shy of the NHL record.
* The Blues have won three of their last five games when facing elimination in the playoffs (all since 2016), including once in Dallas when they won Game 7 of the 2016 Second Round. Jaden Schwartz scored the game-winning goal the last time St. Louis fended off elimination, in Game 5 of the 2017 Second Round against the Nashville. Schwartz now leads the team with seven goals this postseason, third in the NHL behind Sharks teammates Logan Couture (9) and Tomas Hertl (8).
(NHL Media)