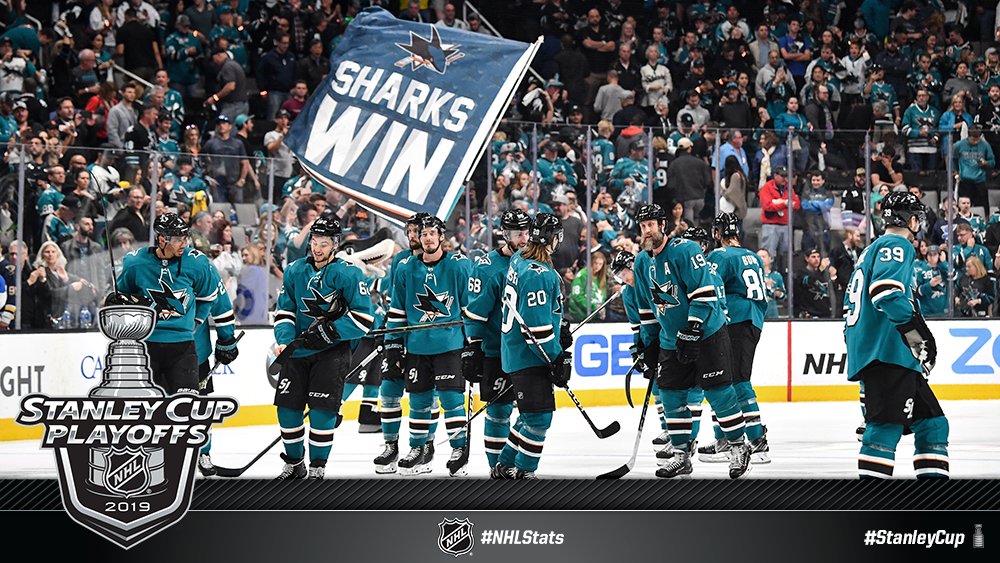 THREE HARD LAPS: QUICK HITS FROM SATURDAY
* The Sharks opened the Western Conference Final in winning fashion and took a 1-0 series lead for the third time this postseason.
* Sharks forwards Logan Couture and Timo Meier each collected three points, while defensemen Brent Burns and Erik Karlsson both found the score sheet to join rare company.
* The Hurricanes look to pull even in the Eastern Conference Final when they take on the Bruins in Game 2 this afternoon.
COUTURE, MEIER HELP SHARKS TAKE 1-0 LEAD IN WESTERN CONFERENCE FINAL
Logan Couture and Timo Meier each collected 2-1—3 to help the Sharks open the Western Conference Final with a win. San Jose improved to 7-2 at SAP Center in the 2019 Stanley Cup Playoffs and moved within one home win of matching its franchise record for most in a postseason (8-4 in 2016).
* Couture scored his League-leading 10th and 11th goals of the 2019 Stanley Cup Playoffs (11-6—17 in 15 GP) and leapfrogged Bruins forward Brad Marchand (5-10—15 in 14 GP) for the most points among all players this postseason. Couture led the 2016 playoffs with 10-20—30 in 24 games, helping San Jose reach the Stanley Cup Final for the first time.
* Couture's 11 goals are the second-most ever by a Sharks player in a playoff year, one more than he scored in 2016 and three shy of the franchise record set by captain Joe Pavelski in 2016 (14-9—23 in 24 GP). Couture became the sixth active NHL player to reach the 10-goal mark in multiple postseasons.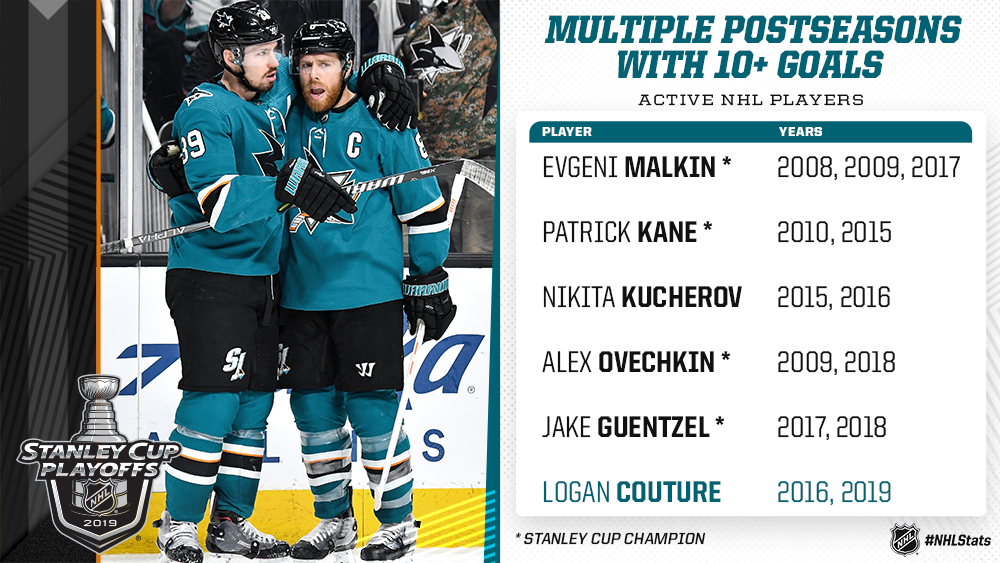 * Meier recorded his first career multi-goal game in the Stanley Cup Playoffs – scoring the winner in highlight-reel fashion – and posted his second three-point outing of the postseason. Meier led the Rouyn-Noranda Huskies to a QMJHL championship in 2015-16 before being named to the Memorial Cup All-Star Team. One of 13 Swiss players to skate in 2018-19, Meier helped his country win a silver medal at the 2018 IIHF World Championship.
VETERANS PAVELSKI, THORNTON CLIMB ALL-TIME LISTS
* Joe Pavelski (1-1—2) scored his 48th career goal in the Stanley Cup Playoffs to pass Chris Drury (47) for sole possession of sixth place on the NHL's all-time list among players of U.S. nationality.
* Pavelski, who had two points in his return to the Sharks lineup in Game 7 of the Second Round, moved within one point of becoming the 97th player in NHL history to record 100 points in the Stanley Cup Playoffs (48-51—99 in 130 GP). Logan Couture, meanwhile, sits two points back of the benchmark (45-53—98 in 111 GP) while Bruins teammates David Krejci (36-62—98 in 122 GP) and Patrice Bergeron (37-58—95 in 126 GP) also are within striking distance.
* Joe Thornton (0-1—1) recorded the 1,608th point of his NHL career (regular season and playoffs combined) and tied Bryan Trottier for the 16th-highest such total in League history.
SHARKS TANDEM OF BURNS, KARLSSON CONTINUE TO FIND SCORE SHEET
Sharks teammates and former James Norris Memorial Trophy winners Brent Burns (5-10—15) and Erik Karlsson (0-13—13) each collected an assist on Saturday and have combined for 28 points through 15 games this postseason.
* Burns and Karlsson became the first defensive tandem to combine for 28 or more points through the first 15 team games in a postseason since 1995 when Detroit's Paul Coffey (5-12—17 in 15 GP) and Nicklas Lidstrom (4-11—15 in 15 GP) did so. Coffey and Lidstrom finished that postseason with a combined 34 points as the Red Wings reached the Stanley Cup Final.
* Burns has 15 points through 15 playoff games for the second time in his career (also 2016). Only four other blueliners have done so in last 20 years: Dustin Byfuglien (5-10—15 in 2018), Kris Letang (3-13—16 in 2013), Lidstrom (4-13—17 in 2007) and Chris Pronger (4-11—15 in 2006).
* Burns became the seventh different defenseman in NHL history to record 15 or more points in a postseason at age 34 or older. He is the second to do so with the Sharks, following Dan Boyle in 2011 (4-12—16 in 18 GP). Burns set a franchise playoff record for points by a defenseman in 2016 (7-17—24 in 24 GP).
* After becoming the third defenseman in NHL history to lead his team in points for three consecutive campaigns (16-67—83 in 2018-19), Burns now sits at 98 points this season including the 2019 Stanley Cup Playoffs (21-77—98 in 97 GP). He can become the 10th different defenseman in NHL history to record 100 combined points in a season and first since 1993-94, when three blueliners did so: Brian Leetch (34-79—113 in 107 GP), Sergei Zubov (17-91—108 in 100 GP) and Ray Bourque (22-79—101 in 85 GP).
* Karlsson recorded his 50th career point in the Stanley Cup Playoffs (6-44—50 in 63 GP). He became the 16th defenseman in NHL history to record 50 points in 63 or fewer playoff games and first since Zubov in 1998 (59 GP).
* Did You Know? Burns and Karlsson were the ninth pair of defensemen to skate as teammates after winning the James Norris Memorial Trophy. Burns and Karlsson can become the fifth different set of Norris Trophy-winning teammates to capture at least one Stanley Cup; they would join Chris Chelios and Nicklas Lidstrom in 2002 and 2008 (w/ DET), Doug Harvey and Tom Johnson in 1960 (w/ MTL), Rob Blake and Ray Bourque in 2001 (w/ COL) as well as Scott Niedermayer and Chris Pronger in 2007 (w/ ANA).
HURRICANES EYE SPLIT IN BOSTON AS EASTERN CONFERENCE FINAL RESUMES
The Hurricanes and Bruins are set to square off in Game 2 of the Eastern Conference Final at TD Garden Sunday, after Boston stormed back in the third period to claim the series opener Thursday.
* There have been 71 instances in NHL history of a best-of-seven Conference Finals/Semifinals being tied 1-1, with the winner of Game 3 owning an all-time series record of 54-17 (76.1%).
* Since the conference format was adopted during the 1981-82 season, teams that take a 2-0 lead in the Conference Finals own a series record of 30-2 (93.8%).
* Carolina's Sebastian Aho (5-5—10 in 12 GP) has a goal in each of his last three contests (3-2—5). Only two players in Hurricanes/Whalers franchise history have posted a longer goal streak in the playoffs: Bates Battaglia (2002: 4-4—8 in 4 GP) and Ray Sheppard (1999: 5-1—6 in 4 GP).
* The three forwards who won a Cup with Boston in 2011 - David Krejci, Patrice Bergeron and Brad Marchand - each found the score sheet in Game 1 to boost their career totals in the Conference Finals.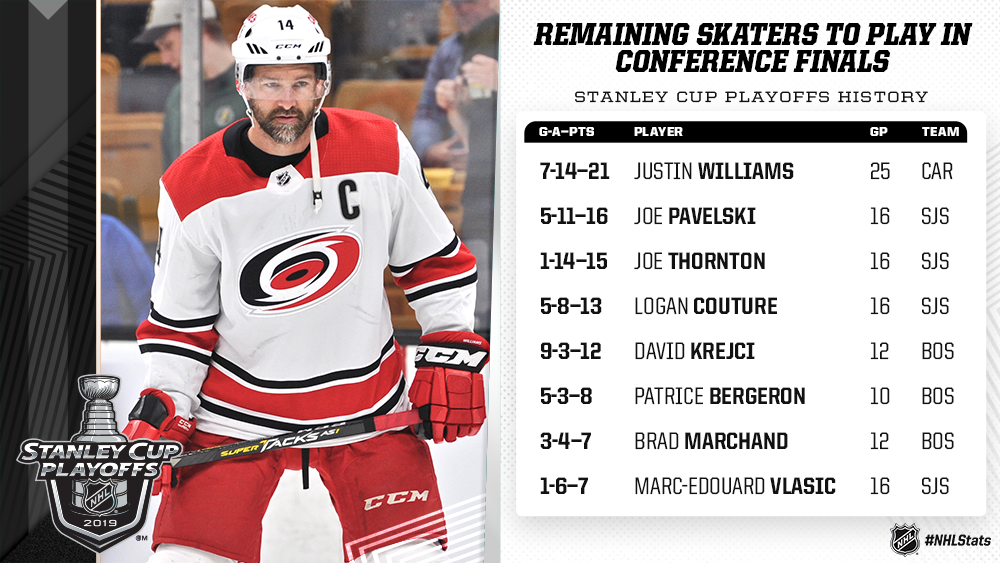 (NHL Media)