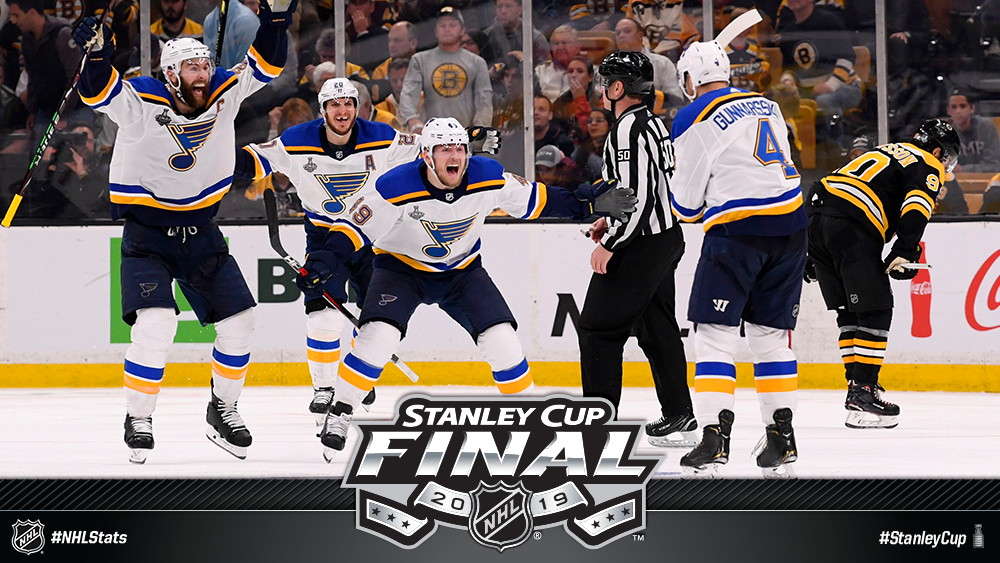 THREE HARD LAPS: GAME 2 OF THE FINAL
* Carl Gunnarsson scored in overtime as the Blues earned their first Stanley Cup Final victory.
* Jordan Binnington improved to 6-2 following a loss in the 2019 Stanley Cup Playoffs, registering his 13th win overall - the second-most ever by a rookie in a postseason.
* Vladimir Tarasenko extended his point and goal streaks to eight and four games, respectively - one shy of matching franchise playoff records in both categories.
GUNNARSSON LIFTS BLUES TO FIRST STANLEY CUP FINAL VICTORY
Defenseman Carl Gunnarsson (1-1—2), who had 0-3—3 in 56 career playoff appearances entering Game 2, scored at 3:51 of overtime to help the Blues even the Stanley Cup Final at 1-1. St. Louis earned its first Stanley Cup Final win 18,858 days after playing its first regular season game on Oct. 11, 1967.
* The Blues, who trailed 1-0 and 2-1 in the first period, posted the 32nd comeback win of the 2019 Stanley Cup Playoffs (82 GP) and second in as many games during the Stanley Cup Final. Both St. Louis and Boston have accounted for four of those wins, with the Blues' other three such victories all coming in the First Round vs. WPG (Games 1, 2 and 5).
* Gunnarsson - who hit the post late in the third period - became the third player in NHL history to score his first career playoff goal in overtime of the Stanley Cup Final. The others: Chicago's Cy Wentworth in Game 3 of the 1931 series at MTL (7 GP) and Montreal's Brian Skrudland in Game 2 of the 1986 series at CGY (17 GP).
* Gunnarsson became the sixth defenseman in Blues history to score a playoff overtime goal (regardless of round). The others: Jeff Brown in Game 2 of the 1993 DF at TOR, Igor Kravchuk in Game 3 of the 1996 CSF vs. DET, Bryce Salvador in Game 5 of the 2001 CQF vs. SJS, Barret Jackman in Game 2 of the 2014 R1 vs. CHI and current teammate Joel Edmundson in Game 1 of the 2017 R1 at MIN.
* Gunnarsson also registered his first multi-point performance since Oct. 18, 2015 at WPG (1-1—2) - a span of 253 games (regular season and playoffs) - and first such effort in the postseason. He has 11 total multi-point games in 581 career regular season contests.
* The Blues improved to 37-33 (.529) in their 70 total playoff overtime games, including a 12-17 record as visitors and 2-2 clip overall this year. Their other 2019 win came in Game 7 of the Second Round vs. DAL, when St. Louis native Pat Maroon scored at 5:50 of the second extra session for the franchise's seventh series-clinching overtime goal.
* St. Louis improved to 3-1 in Game 2s this postseason, including a perfect 3-0 clip on the road. The Blues now own a 29-34 record in the franchise's 62 total Game 2s in best-of-seven series (including a 10-22 mark as visitors).
* This marks the 29th Stanley Cup Final that has been tied 1-1 since the series went to the best-of-seven format in 1939 (29-of-80 series, 36.3%). This is the second straight such occurrence and fourth in the past seven years, following 2013 (CHI-BOS), 2015 (CHI-TBL) and 2018 (WSH-VGK).
* When the Stanley Cup Final is tied 1-1, the winner of Game 3 holds an all-time series record of 22-6 (78.6%) since 1939.
* Did You Know?: The Blues and Bruins contested the 91st overtime game in the Stanley Cup Final (since 1918) and first since Game 3 of the 2016 series between the Sharks and Penguins. In that contest, Joonas Donskoi scored at 12:18 of the extra period to also propel San Jose to its first Stanley Cup Final victory.
BINNINGTON REBOUNDS YET AGAIN, CLIMBS ROOKIE WINS LIST
Jordan Binnington turned aside 21 of the 23 shots he faced (all in regulation) to improve to 6-2 following a loss in the 2019 Stanley Cup Playoffs (1.84 GAA, .935 SV%).
* Only five goaltenders in NHL history have posted more wins after defeat within a single postseason: Nikolai Khabibulin in 2004 (8-0), Ron Hextall in 1987 (8-2), Miikka Kiprusoff in 2004 (8-3), Marc-Andre Fleury in 2009 (7-2) and Henrik Lundqvist in 2014 (7-4).
* Binnington, who played 28 games with Boston's AHL affiliate last season, earned his 13th win this postseason - the second-most by a rookie in a playoff year.
* With a 13-8 record in 21 career playoff appearances, Binnington now holds sole possession of sixth place on the Blues' career playoff wins list, one back of tying Brian Elliott for fifth place (14-17 in 33 GP).
TARASENKO EXTENDS POINT, GOAL STREAKS
Vladimir Tarasenko scored St. Louis' second tying goal to extend his point streak to eight games (5-5—10) and goal streak to four contests (4-2—6). With 10-5—15 overall this postseason, Tarasenko now sits two goals back of matching Jaden Schwartz (12-6—18 in 21 GP) for the team lead.
* A five-time 30-goal scorer during the regular season, Tarasenko also sits one shy of matching franchise playoff records for longest goal streak and longest point streak.
* With the lone assist on Tarasenko's goal, Schwartz now has 7-6—13 in 11 road games this postseason, the second-most such points by a Blues player in a playoff year. Doug Gilmour holds the franchise record after netting 9-6—15 in 10 such games during the 1986 Stanley Cup Playoffs.
GAME 2 QUICK HITS
* The Bruins - who saw their winning streak end at eight contests - scored a power-play goal for the sixth straight game, the fourth such run in franchise history following seven-game stretches in 1958, 1988 and 1999. Boston has 19 total power-play goals this postseason, tied for the franchise's second-most within a single playoff year behind only 1991 (24).
* Blues defenseman Robert Bortuzzo scored for the second time in his past seven games after failing to find the back of the net in his first 30 career playoff outings. Bortuzzo's first playoff goal stood as the winner in Game 2 of the Western Conference Final at SJS.
* The Bruins scored 4:44 after the opening face-off, their fifth goal within the first five minutes of a game this postseason. Boston fell to 4-1 in those contests.
(NHL Media)