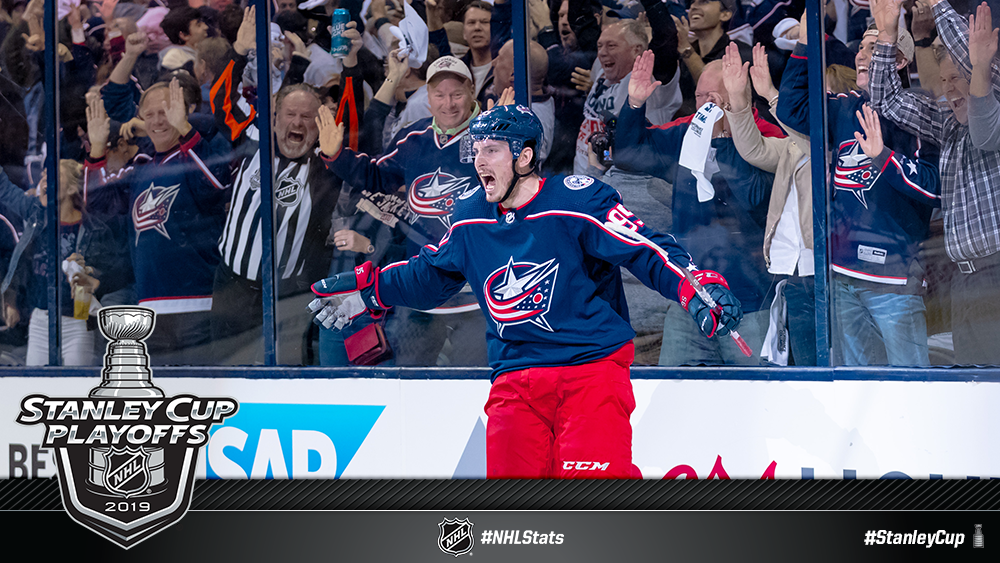 THREE HARD LAPS: QUICK HITS FROM TUESDAY
* The Blue Jackets and Sharks both took 2-1 series leads. When a best-of-seven series is tied 1-1, the winner of Game 3 owns an all-time series record of 213-103 (67.4%) – including a 1-3 mark in the 2019 Stanley Cup Playoffs.
* Logan Couture netted his first career playoff hat trick and leads all players with nine goals this postseason.
* Matt Duchene's fifth goal of the Stanley Cup Playoffs stood as the game-winner as the Blue Jackets improved to 3-0 on home ice in the 2019 Stanley Cup Playoffs.
BLUE JACKETS THRILL HOME CROWD, TAKE 2-1 SERIES LEAD
With the cannon firing off and the fans on their feet in the franchise's first-ever home game beyond the opening round of the playoffs, it was first-year Blue Jackets forward Matt Duchene who netted the game-winning goal to help Columbus take a 2-1 advantage in its Second Round series with Boston.
* The Blue Jackets improved to 3-0 at Nationwide Arena during the 2019 Stanley Cup Playoffs and have now won eight of their last nine home games dating back to March 9. Their only loss over that span came at the hands of the Bruins in their regular-season home finale on April 2 (6-2 L).
* Duchene's five goals in the 2019 Stanley Cup Playoffs are the most ever recorded by a Blue Jackets player in a single postseason (5-4—9 in 7 GP). In fact, his five tallies are more than he recorded in 23 regular-season games with Columbus (4-8—12).
* After spending his first eight full NHL seasons with the Avalanche (2009-10 to 2016-17), Duchene is skating for his third team since the start of the 2017-18 season (also COL and OTT). He is one of four skaters in the 2019 Stanley Cup Playoffs who weren't with their current team last season and have contributed five or more goals. The others: Vegas forwards Mark Stone (6) and Max Pacioretty (5) as well as Boston forward Charlie Coyle (5).
COUTURE NETS FIRST PLAYOFF HAT TRICK AS SHARKS TAKE SERIES LEAD
After former Shark Matt Nieto tied the game in the third period, Logan Couture (3-0—3) replied 65 seconds later and added an empty netter for his first career playoff hat trick to help San Jose snap Colorado's run of eight consecutive wins at Pepsi Center and take a 2-1 advantage in their Second Round series.
* Couture leads all skaters in goals and is tied for the most points this postseason with 9-3–12 in 10 GP. Only two other players in Sharks franchise history have scored nine goals through the team's first 10 postseason contests: Patrick Marleau (9-5–14 in 2006) and Joe Pavelski (9-6–15 in 2010).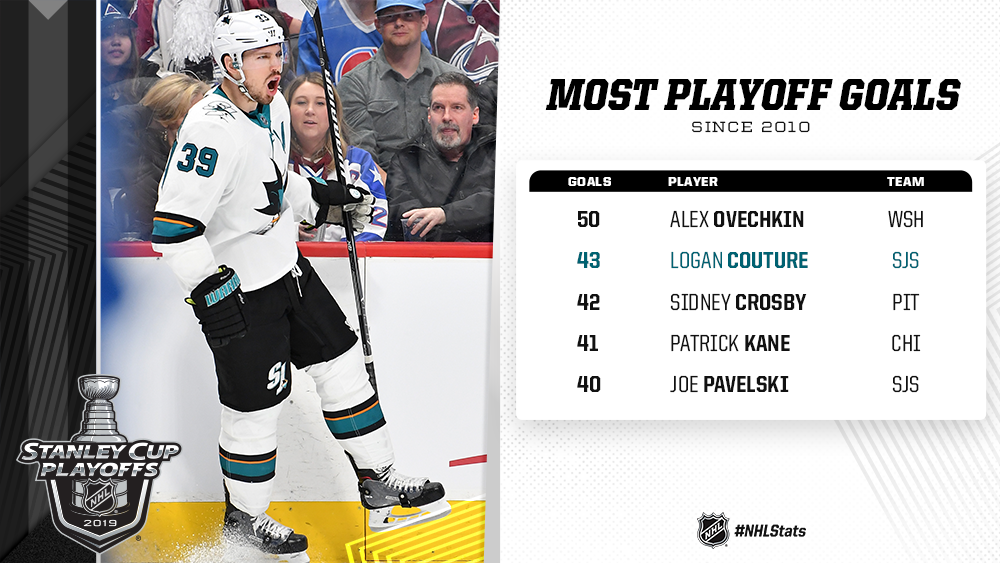 * Additionally, Couture has collected 43-50–93 in 106 GP since making his playoff debut in 2010, including 10-20–30 (24 GP) in San Jose's run to the Stanley Cup Final in 2016. Since the 2010 postseason, only five players have collected more playoff points than Couture, all of whom have won a Stanley Cup. Alex Ovechkin (50) is the only player to score more playoff goals than Couture in that same span.
SNEAK PEEK AT WEDNESDAY'S ACTION
The Hurricanes and Blues enter Wednesday's contests with their sights set on taking commanding series leads against the Islanders and Stars, respectively. It will mark the first time in 10 years that Carolina has hosted a second-round game.
* The Hurricanes, who return to PNC Arena after winning Games 1 and 2 on the road, look to take a 3-0 lead in a best-of-seven series for the second time in franchise history (also 2006 CSF vs. NJD). With a win in Game 3, Carolina would become the 16th team in NHL history to take a 3-0 lead in the series immediately following a seven-game victory - all 15 of the teams who have previously done so went on to win the series.
* The Islanders find themselves in a 2-0 deficit in a best-of-seven series for the 12th time in franchise history and hold an all-time record of 3-8 in those circumstances. The last time New York rallied from a 2-0 hole to win a series was during the 1984 Conference Finals, when they defeated the Guy Lafleur-led Canadiens in six games.
* The Blues look to continue their road success when they visit the Stars at American Airlines Center for Game 4. St. Louis, which has won each of its first four road contests to begin the 2019 Stanley Cup Playoffs, can establish a franchise record for the longest road win streak in a single postseason. The last team to open the playoffs with more than four consecutive road wins was the 2012 Kings, who captured victories in their first 10 road contests en route to the franchise's first Stanley Cup.
* The Stars enter Game 4 in a familiar predicament. The club also dropped Game 3 in the First Round against the Predators to fall behind in the series (1-2), before stringing together three consecutive victories and winning the matchup in six contests. Dallas is led in points by its captain, Jamie Benn (2-6—8 in 9 GP), who has spent his entire 10-season career with the Stars and is the only player in franchise history to win the Art Ross Trophy (2014-15).
(NHL Media)