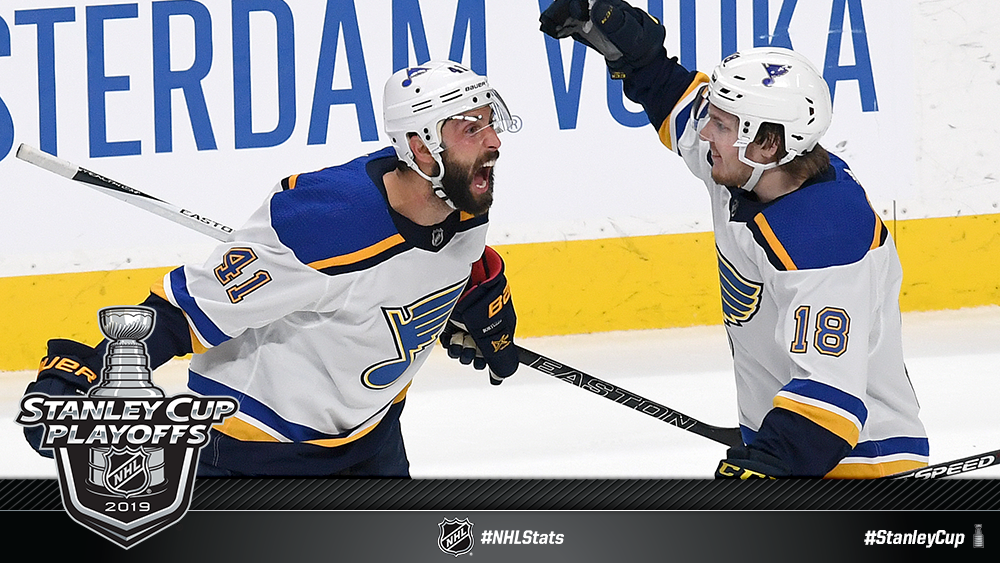 THREE HARD LAPS: QUICK HITS FROM MONDAY
* Robert Bortuzzo's first career postseason goal stood as the game winner as the Blues evened the Western Conference Final with the Sharks at one game apiece.
* Logan Couture continued his torrid scoring pace with two quick second-period goals to reach 100 career postseason points.
* When a best-of-seven Conference Finals/Semifinals is tied 1-1, the winner of Game 3 owns an all-time series record of 54-17 (76.1%).
UNLIKELY HERO BORTUZZO HELPS BLUES EVEN SERIES
After Logan Couture (2-0—2) erased a 2-0 deficit with a pair of goals 1:59 apart in the second period, Robert Bortuzzo's first career postseason goal stood as the game winner and helped the Blues pull even in the Western Conference Final. The series will now shift to Enterprise Center in St. Louis for Game 3 on Wednesday.
* St. Louis, which matched its franchise record for road victories in a single postseason, evened a best-of-seven series after losing the opener for the 14th time in franchise history. When a best-of-seven Conference Finals/Semifinals is tied 1-1, the winner of Game 3 owns an all-time series record of 54-17 (76.1%).
* Bortuzzo, who was a physical force all night with five hits, scored just his 15th career goal (regular season and playoffs combined) in his 366th game. He has been part of a winning team in the past, recording eight assists in 18 postseason games as a member of the OHL champion Kitchener Rangers in 2007-08.
* Jaden Schwartz (1-0—1) opened the scoring for St. Louis to continue his offensive resurgence in the postseason. Schwartz has notched 9-4—13 in 15 GP, two goals shy of matching his regular-season goal total (11-25—36 in 69 GP). He now sits one marker shy of becoming just the fourth player in franchise history to score 10 goals in a single playoff year.
* Ryan O'Reilly (0-1—1) has collected at least one point in each of his last seven road contests to establish a Blues playoff record for the longest such run in franchise history (3-5—8 in 7 GP).
* Jordan Binnington turned aside all 11 shots he faced in the third period to preserve the Game 2 victory and improve to 9-6 in his first-ever postseason. After establishing a rookie single-season franchise record for wins (24-5-1), he sits one shy of becoming the 10th rookie goaltender in NHL history to earn at least 10 victories in a single postseason.
COUTURE NETS QUICK GOALS TO REACH 100-POINT MILESTONE
Logan Couture (2-0—2) scored two second-period goals in a span of 1:59 to boost his career playoff totals to 47-53—100 and become the 11th active NHL player to collect at least 100 postseason points. Since making his playoff debut in 2010, only three players have accumulated more points than Couture.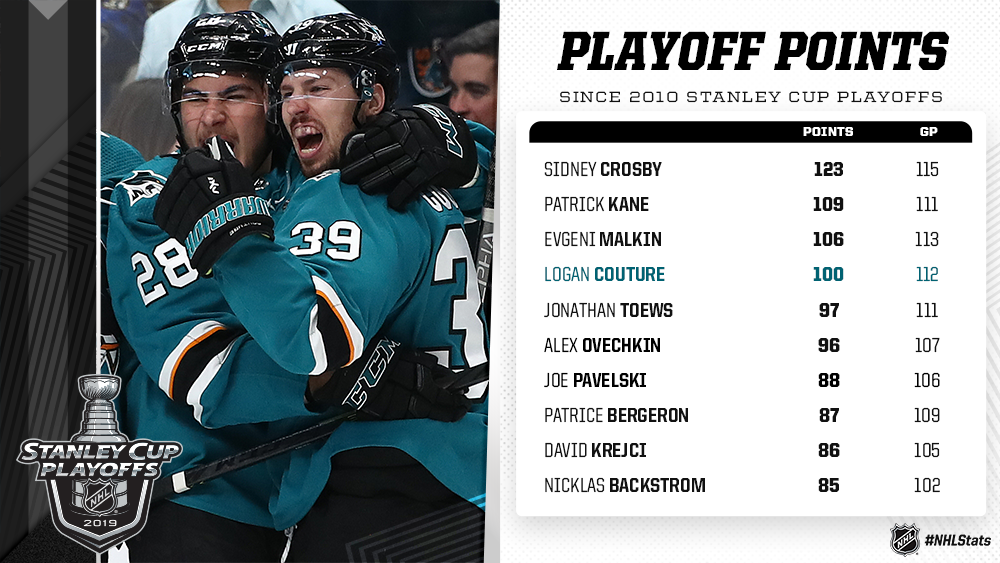 * Couture, who netted his fourth multi-goal game of the 2019 Stanley Cup Playoffs, paces all players in goals and points with 13-6—19 this postseason. His 13 goals are one shy of captain Joe Pavelski for the highest single-postseason total in Sharks history (14 in 2016) and six back of the NHL record of 19 accomplished by Reggie Leach (1976 w/ PHI) and Jari Kurri (1985 w/ EDM).
* Couture, who recorded 10-20—30 in 24 GP during the club's first-ever run to the Stanley Cup Final in 2016, sits one point shy of becoming the first player in team history to collect at least 20 points in a single playoff on multiple occasions.
EASTERN CONFERENCE FINAL SHIFTS TO RALEIGH FOR GAME 3
After the Bruins took a 2-0 series lead with a pair of victories on home ice, the Eastern Conference Final shifts to PNC Arena in Raleigh, North Carolina for Game 3 – the Hurricanes are the only team in the 2019 Stanley Cup Playoffs who remain undefeated in front of their hometown crowd (5-0).
* The Hurricanes also had to overcome a two-game deficit to advance past the First Round against the Capitals. Only the 2011 Bruins (CQF and SCF) and 2009 Penguins (CSF and SCF) have overcome a 2-0 deficit to win multiple series in a playoff year – both went on to capture the Stanley Cup.
* Teuvo Teravainen (5-2—7), Warren Foegele (4-3—7) and Sebastian Aho (2-5—7) have all found the score sheet in each of Carolina's five home games throughout the 2019 Stanley Cup Playoffs, tied for the franchise's fourth-longest home point streak in playoff history. Cory Stillman posted the longest such streak for the franchise when he notched 5-11—16 in 13 GP during the Hurricanes' run to their first-ever Stanley Cup in 2006.
* Boston will look to snap Carolina's five-game home winning streak and take a 3-0 lead in the series. The Bruins hold an all-time series record of 19-1 when taking a 3-0 series lead, with their lone loss coming to the Flyers in the 2010 Conference Semifinals in a series in which they also captured Games 1 and 2 at TD Garden.
* After completing the 2018-19 regular season with a 49-24-9 record (107 points), Boston (10-5 during the postseason) sits one victory shy of registering at least 60 combined wins in a single year (regular season and playoffs) for the eighth time in franchise history and just the fourth time in 40 years. The others: 2008-09 (60), 2010-11 (62) and 2013-14 (61).
(NHL Media)