SATURDAY'S RESULTS
Nashville 5 Colorado 4
Tampa Bay 5 New Jersey 3
Boston 7 Toronto 3
San Jose 3 Anaheim 2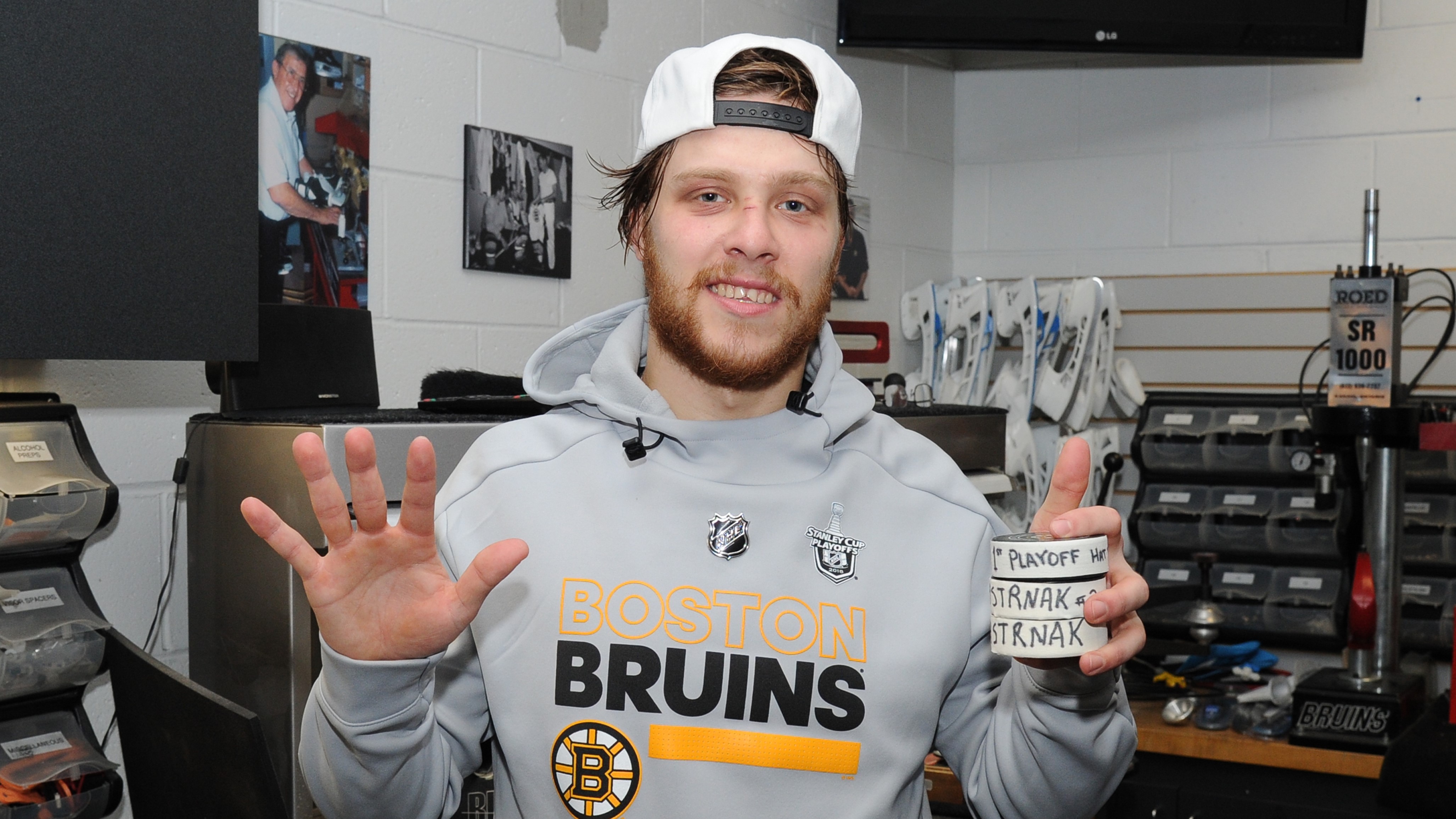 PASTRNAK POSTS SIX POINTS TO POWER BRUINS PAST MAPLE LEAFS
David Pastrnak (3-3—6) factored on six of Boston's seven goals to power the Bruins to a 2-0 lead in their First Round series with the Maple Leafs.
* Pastrnak became the third player in franchise history to record six points in a playoff game, joining Phil Esposito and Rick Middleton. He became the first Bruins player to score a hat trick in the postseason since David Krejci in Game 4 of the 2013 Conference Quarterfinals (3-0—3 at TOR).
* Pastrnak became just the fifth player on any team in the past 20 years (since 1998) to record six points in a playoff game and first since Philadelphia's Claude Giroux in Game 2 of the 2012 Conference Quarterfinals (3-3—6 at PIT).
INSIDE THE NUMBERS: PASTRNAK'S SIX-POINT NIGHT
In addition to tying a franchise record for points in a playoff game, David Pastrnak also established and matched NHL records on Saturday night:
* Pastrnak (21 years, 324 days) became the youngest player in NHL history to record at least six points in a playoff game, eclipsing the mark set by Edmonton's Wayne Gretzky (22 years, 81 days) in Game 3 of the 1983 Division Finals (4-3—7 at CGY).
* Pastrnak, who posted 1-2—3 in Game 1, matched the NHL record for most points by a player through his team's first two games of a postseason (9), a mark set by Boston's Phil Esposito in the 1969 Stanley Cup Playoffs vs. TOR (4-2—6 in Game 1, 1-2—3 in Game 2).
LIGHTNING, KUCHEROV ERUPT IN SECOND PERIOD
Nikita Kucherov (1-2—3) factored on three of four second-period goals to guide the Lightning to a 2-0 lead in their First Round series with the Devils. Tampa Bay scored four goals in a single period during the Stanley Cup Playoffs for the first time in franchise history.
* Kucherov scored his 24th career playoff goal (all w/ TBL), trailing only Martin St. Louis (33) for the most in franchise history. His 24 goals in the Stanley Cup Playoffs are the most among all players since making his League debut in 2013-14, one more than Penguins forward Evgeni Malkin and Lightning teammate Tyler Johnson (both w/ 23).
BALANCED SCORING LIFTS PREDATORS PAST AVALANCHE
Five different skaters scored to lift the Predators to a 2-0 lead in their First Round series with the Avalanche. Nashville, which earned a 5-2 win in Game 1, scored at least five goals in consecutive postseason games for the first time in franchise history.
* Ten different Nashville players collected at least one point in Game 2, with balanced scoring continuing to be a common theme for the Predators. The Presidents' Trophy winners finished first in the League standings with their leading scorer recording fewer than 70 points with the club (Filip Forsberg: 26-38—64), becoming just the seventh team in the NHL's expansion era (since 1967-68) to do so and first since the Rangers in 2014-15 (Rick Nash: 42-27—69).
* The Predators improved to 11-2 in postseason games at Bridgestone Arena since the beginning of the 2017 Stanley Cup Playoffs, tied with the Penguins for the most postseason home wins in that span. Nashville has won 12 consecutive games vs. COL dating to April 5, 2016 (regular season and playoffs), including seven victories on home ice.
COUTURE PROPELS SHARKS TO SECOND WIN IN ANAHEIM
Logan Couture collected 1-1—2 to propel the Sharks to a 2-0 lead in their First Round series with the Ducks.
* San Jose took a 2-0 series lead on the road for the fourth time in franchise history. The other instances: the 1995 Conference Quarterfinals at CGY (4-3 series win), 2013 Conference Quarterfinals at VAN (4-0 series win) and 2016 First Round at LAK (4-1 series win).
* Couture boosted his career postseason totals to 31-40—71 (all w/ SJS), the third-most goals and fourth-most assists and points in franchise playoff history. He established single-postseason franchise records for assists and points in the Sharks' run to the 2016 Stanley Cup Final (10-20—30).
TOP TWO SELECTIONS IN 2017 NHL DRAFT JOIN RARE COMPANY
Devils forward Nico Hischier scored his first career playoff goal on Saturday, while Flyers forward Nolan Patrick did so on Friday.
* It marked the fourth time since the NHL Draft was introduced in 1963 where both top two selections scored playoff goals in the same season they were drafted. The other instances: 1982 (Dale Hawerchuk w/ WIN, Doug Smith w/ LAK), 1983 (Gord Kluzak w/ BOS, Brian Bellows w/ MNS) and 1987 (Pierre Turgeon w/ BUF, Brendan Shanahan w/ NJD).
SNEAK PEEK AT SUNDAY'S ACTION
The Jets and Golden Knights look to take 3-0 series leads on Saturday, while the Flyers and Penguins shift to Philadelphia with their series even at 1-1. Elias notes that when a best-of-seven Stanley Cup Playoffs series is tied 1-1, the winner of Game 3 holds an all-time series record of 206-100 (67.3%)
(NHL Media) .