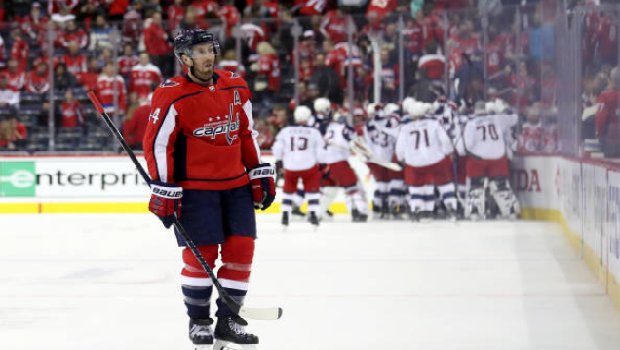 --Are the Washington Capitals ready to bow out in the first round again? They might be. For the second straight game, the Caps lost in overtime on home ice so they will head to Columbus down 2-0 in their Eastern Conference semi-final. Former Brandon Wheat King Matt Calvert scored in OT to give the Jackets a 5-4 win. Elsewhere, Pittsburgh beat Philly 5-1, Minnesota crushed Winnipeg 6-2 and Vegas beat L-A 3-2 putting the Knights into a position for a first round sweep.
--The Jets loss might have been costly. Defenceman Tyler Myers was lost to the team after suffering what appeared to be an ankle injury during an awkward fall with Marcus Foligno of the Wild. Jets head coach Paul Maurice says more on Myers' status will be known Monday.
--Rangers goalie Henrik Lundqvist said he would not play for his native Sweden at the World Hockey Championship. Using his Twitter account, Lundqvist, who had a career low 2/98 GAA, revealed he has had an MCL injury in his knee for the last 5-6 months.
--Texas Rangers right-hander Bartolo Colon flirted with a perfect game and no-hitter against the reigning World Series champion Houston Astros before the dream came to a crashing halt in the eighth inning.
The 44 year old had perfect game through seven innings on Sunday night in Houston before surrendering a leadoff eighth-inning walk to Carlos Correa to allow his first baserunner of the game.
Colon, who is the last active Montreal Expos player to be in the majors, then saw his no-hit bid disappear when Astros outfielder Josh Reddick hammered a double in the following at-bat.
--During Chief Wahoo's final season - after being officially discontinued following the 2018 campaign because it was deemed "no longer appropriate for on-field use" by commissioner Rob Manfred - Major League Baseball wants consumers to commemorate the anniversary of Jackie Robinson breaking the color barrier by buying a Cleveland Indians hat with the controversial logo emblazoned on the front.
The hat was available for a short time from the MLB shop until being taken down. A jersey with Chief Wahoo's likeness on one shoulder and Robinson's patch on the other was still available for purchase.
--Kevin Koe and Jamie Sinclair won the Pinty's Grand Slam of Curling Players Championship. Koe beat Sweden's Niklas Edin 6-2 in the mens final played in Toronto while Sinclair and her rink from Minnesota won the first ever Grand Slam event by an American beating Jennifer Jones 7-2.