SATURDAY RESULTS
Boston 6 Tampa 2
San Jose 4 Vegas 3 (2OT) Logan Couture OTG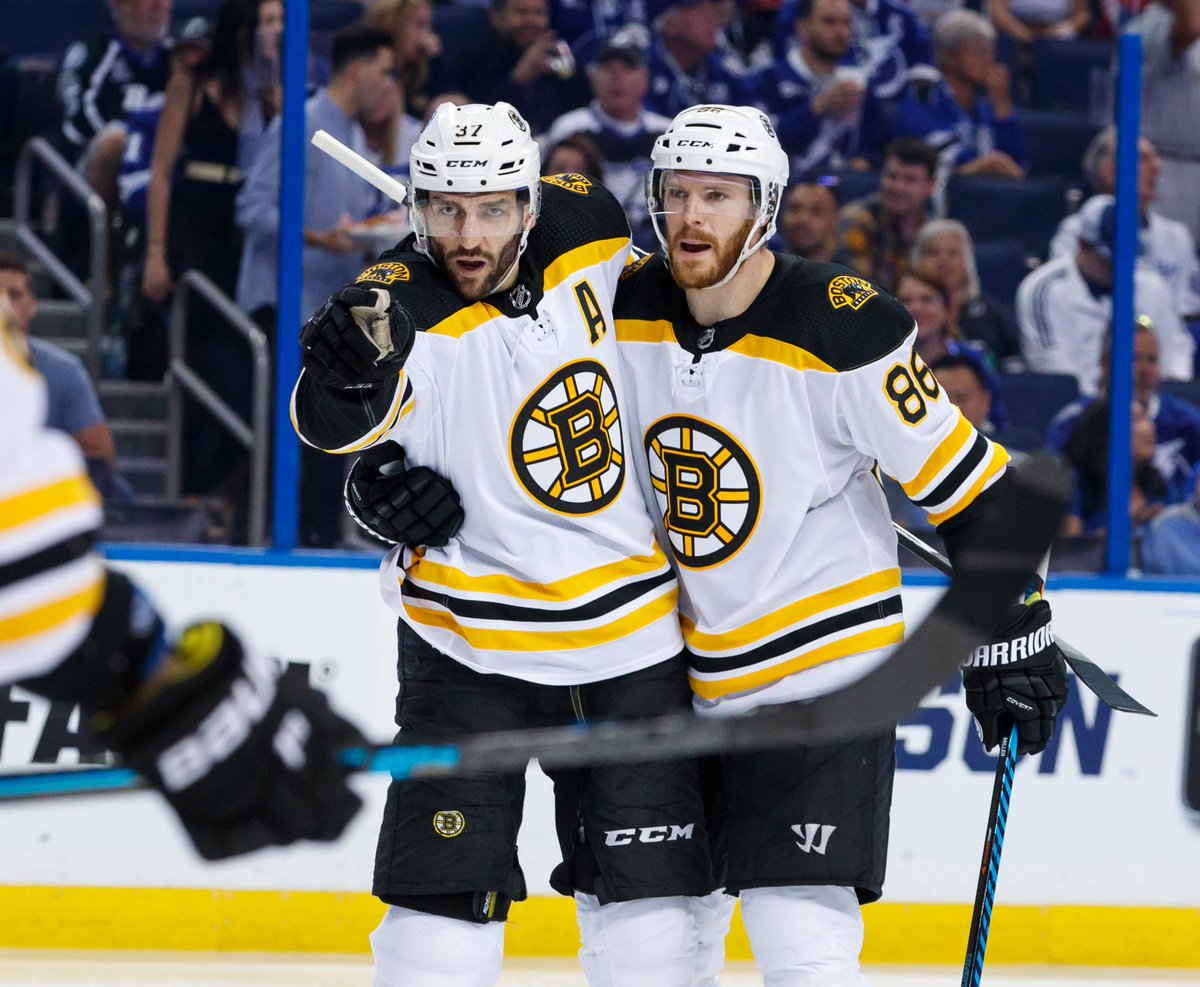 PASTRNAK, MARCHAND, BERGERON LEAD BRUINS TO ANOTHER HIGH-SCORING WIN
The trio of David Pastrnak (0-4—4), Brad Marchand (1-3—4) and Patrice Bergeron (2-1—3) combined for 11 points to power the Bruins to a Game 1 victory in Tampa.
* There have been 10 instances of a player recording at least four points in a game this postseason, with the Bruins accounting for five of those performances in eight games played (two apiece for Pastrnak and Marchand and one for Bergeron). Boston players combined for five such outings in the team's previous 162 playoff games dating to 1994.
* Pastrnak leads the NHL with 5-12—17 in the 2018 Stanley Cup Playoffs. He is the 13th different player in NHL history to record at least 17 points through his team's first eight games of a postseason – and first since Mario Lemieux (7-12—19) with the Penguins in 1992.
* Only five players in franchise history have recorded more 4+ point games in the postseason than Pastrnak and Marchand: Rick Middleton (5x), Johnny Bucyk (4x), Phil Esposito (3x), Craig Janney (3x) and Barry Pederson (3x).
* Only Esposito (2 in 1969), Bucyk (2 in 1972), Middleton (2 in 1982 and 1983) and Pederson (2 in 1983) had multiple showings of 4+ points in a single postseason.
COUTURE NETS WINNER IN DOUBLE-OVERTIME AS SHARKS EVEN SERIES
Logan Couture scored his second goal of the game at 5:13 of the second overtime to help the Sharks snap the Golden Knights' five-game winning streak and draw even in their best-of-seven series.
San Jose improved to 23-22 in 45 postseason overtime games, including a 4-4 record in contests that required multiple overtime periods. The Sharks are the second road team to capture a victory in double-overtime in the 2018 Stanley Cup Playoffs, joining the Capitals (Game 3 of the FR at CBJ).
* Brent Burns (2-1—3) collected an assist on Couture's second career postseason overtime goal. Since joining the Sharks in 2011-12, Burns has accumulated three three-point performances in the playoffs, making him the only defenseman in franchise history to post three such outings and the only Sharks blueliner to collect a two-goal outing on multiple occassions (3x). In fact, he is the only NHL defenseman with more than one multi-goal game in the playoffs since 2012.
* San Jose overcame a multi-goal deficit to win a playoff game for the ninth time in franchise history, with the last such rally coming in Game 1 of their First Round series at Edmonton last year. There are four other instances this postseason of a team winning after facing a multi-goal deficit: Columbus and Pittsburgh each have two such wins.
* The Sharks found the back of the net four times in Saturday's contest – including three goals in the second period – against a Golden Knights team that allowed only three goals against in its first five postseason games.
SNEAK PEEK AT SUNDAY'S ACTION
The Penguins and Jets look to take 2-0 leads in their respective series vs. the Capitals and Predators. Teams that take a 2-0 series lead on the road in a best-of-seven seris in the Stanley Cup Playoffs hold an all-time record of 71-20 (78.0%).