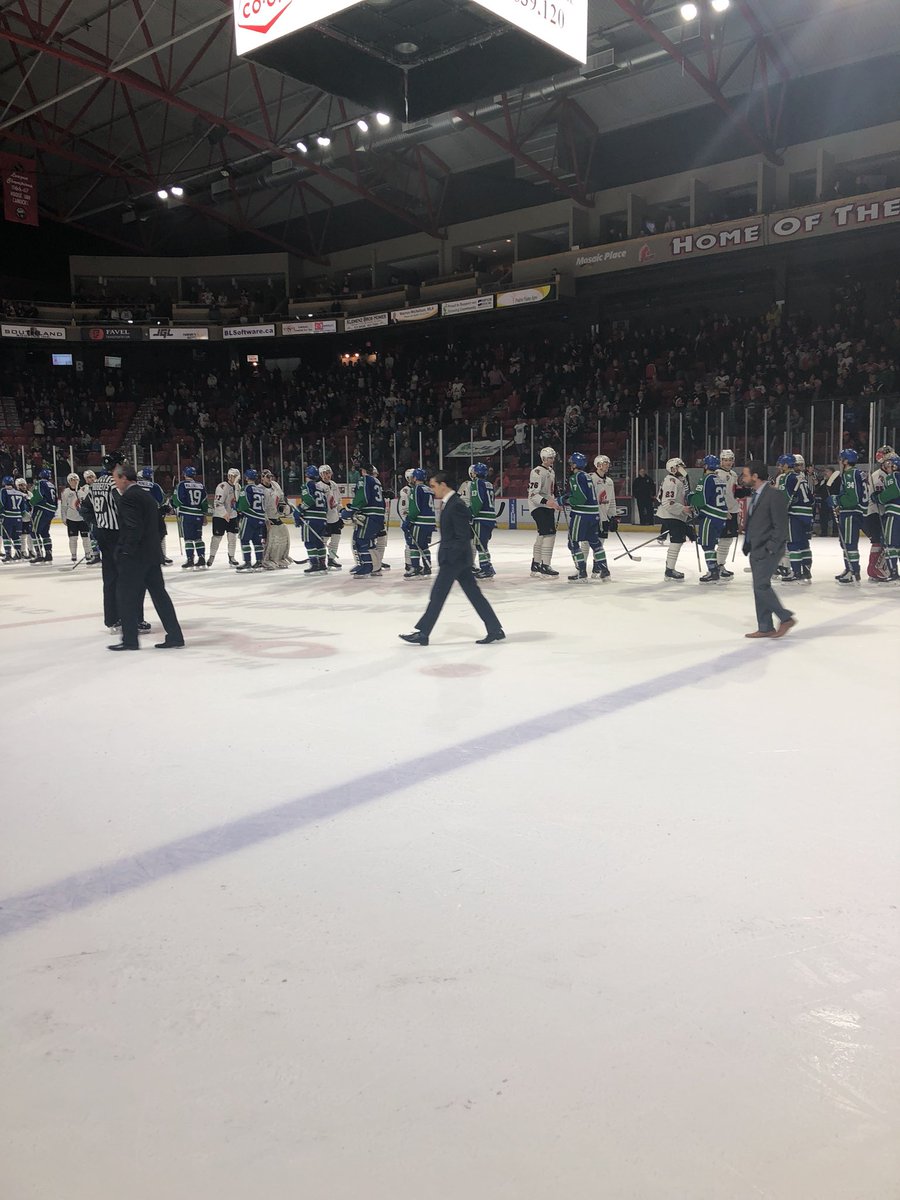 (Photo Moose Jaw Warriors/Twitter)
--The Scotty Munro trophy winners are done. The Moose Jaw Warriors, the league's best team in the regular season, were squashed 6-0 by Swift Current in Game 7 of their 2nd round series. Glenn Gawdin had four points for the winners while Stuart Skinner stopped 25 shots for his 3rd shutout of the series Swift Current moves on to play Lethbridge in the East final.
--The WHL is well-represented in the NHL's final Central Scouting draft rankings as 45 players are listed. The top-ranked WHL'er is Ty Smith of Spokane as the defenceman is ranked 14th amongst North American skaters. Others include Jett Woo (Moose Jaw) at 28, Cole Fonstad (Prince Albert) at 65 and Justin Almeida (Moose Jaw) at 88. Pats goalie Max Paddock is ranked 14th
--The Leafs, Devils and Avalanche are back into their first-round Stanley Cup playoff matchups. Toronto beat Boston 4-2...New Jersey slid by Tampa 5-2, Colorado got past Nashville 5-3 and San Jose scored four in the second as they destroyed Anaheim 8-1 to take a 3-0 series lead.
--Running back Roy Finch of the Calgary Stampeders has been arrested for allegedly assaulting an Oklahoma police officer in Edmond, Okla. Oklahoma County Jail records indicate the 26-year-old who was the CFL's top special teams player in 2017 was arrested Sunday for assault on a police officer, possession of marijuana and other charges. Records indicate Finch remained in jail Monday, but don't show if he's represented by a lawyer.Finch was arrested after officers found him in a car that smelled of marijuana. Finch allegedly swung at officers and ran through an apartment complex before officers finally wrestled Finch to the ground and handcuffed him.
--Kansas City Royals reliever Blaine Boyer jumped in to lend a hand when a piece of ice shattered the windshield of a team bus and injured the driver Sunday night in Toronto. As the Royals' team buses traveled from the airport to their hotel, a chunk of ice flew off the leading bus and shattered the windshield of the second bus. After shards of glass hit the driver and cut his face, Boyer grabbed the wheel to help keep the bus under control, according to multiple reports.
The Royals' trouble with ice didn't end there, as their game with the Blue Jays on Monday was postponed because pieces of ice that fell off the CN Tower punctured a hole in the roof of the Rogers Centre.