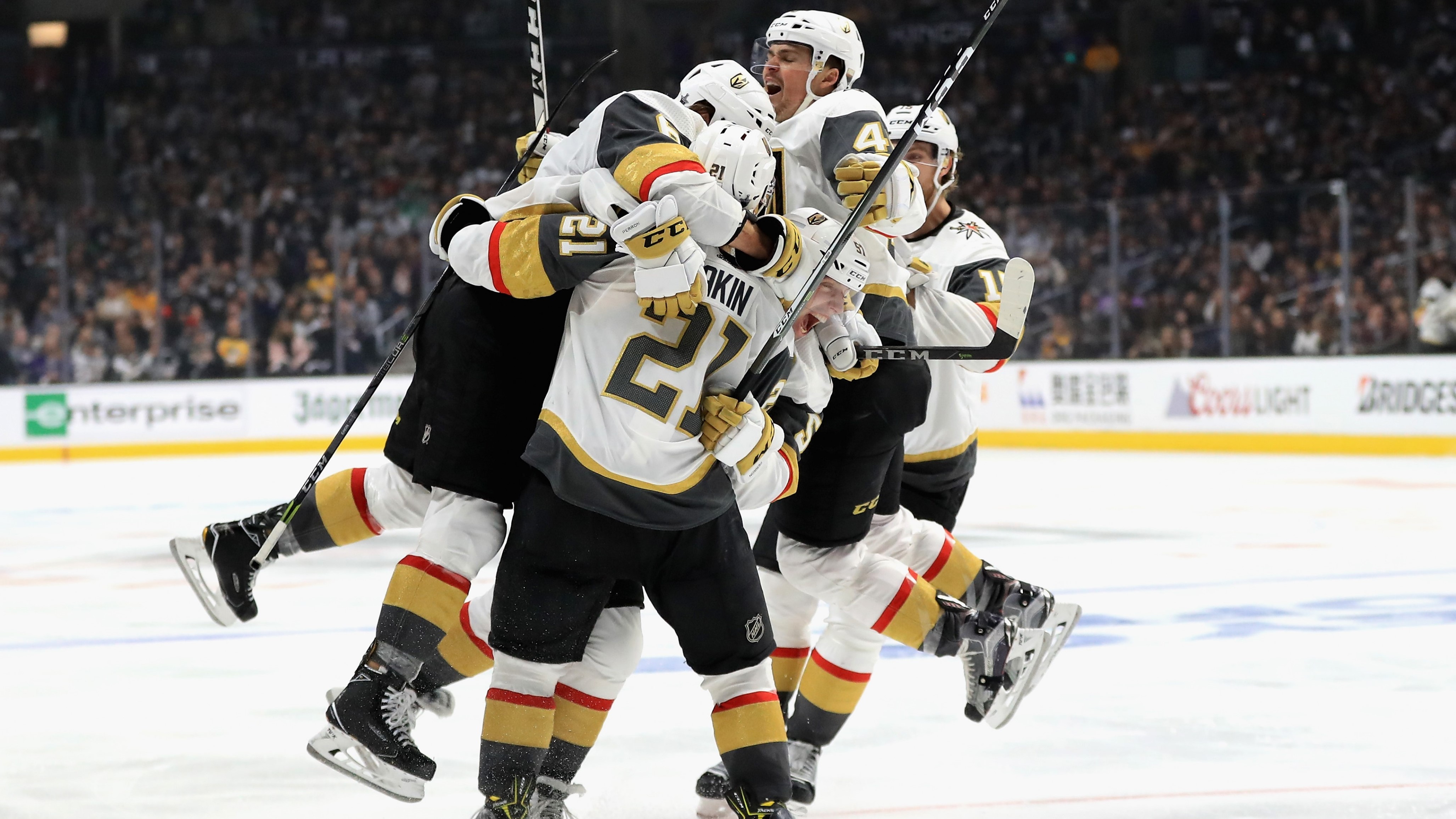 SUNDAY RESULTS
Pittsburgh 5 Philadelphia 1
Columbus 5 Washington 4 (OT) Matt Calvert-OTW
Minnesota 6 Winnipeg 2
Vegas 3 LA 2

GOLDEN KNIGHTS TAKE COMMANDING 3-0 SERIES LEAD

Trailing 1-0 through 40 minutes, the Golden Knights scored three consecutive goals and held off a late Kings rally to take a 3-0 lead in their First Round series.

* The Golden Knights can become the first franchise in NHL history to sweep a Stanley Cup Playoffs series in its inaugural season (excluding total-goals series, which were featured prior to 1936-37). The Kings, however, are one of four teams in NHL history to overcome a 3-0 deficit to win a best-of-seven series, doing so in the 2014 First Round vs. SJS en route to capturing the Stanley Cup.

* Marc-Andre Fleury (37 saves) earned his 65th career playoff win to move into a tie with Dominik Hasek for 11th place on the NHL's all-time list among goaltenders. He improved to 3-0 this postseason with a 0.84 goals-against average, .970 save percentage and one shutout.

CROSBY PUTS UP FOUR POINTS, PENGUINS TIE RECORD

Sidney Crosby (1-3—4) recorded four points in a playoff game for the third time in his career and the Penguins matched a Stanley Cup Playoffs record with a pair of goals five seconds apart to take a 2-1 series lead against the Flyers.

* The Penguins equaled the Stanley Cup Playoffs record for fastest two goals by one team achieved by the Red Wings in Game 5 of the 1965 Semifinals vs. CHI – Norm Ullman scored both goals. Elias adds that Joe Malone also scored two goals five seconds apart in Game 1 of the 1919 NHL Final – a series the Canadiens would eventually win in five games to qualify for a chance to compete with the PCHA's Seattle Metropolitans for the Stanley Cup.

* Crosby boosted his career playoff totals to 61-110—171 (all w/ PIT) to move within a point of Mario Lemieux (76-96—172) for the most in franchise history. Crosby, who also notched a natural hat trick in Game 1, recorded his 14th career postseason game with three or more points. Only teammate Evgeni Malkin (16) has posted more such outings since Crosby made his League debut in 2005-06.

WILD ERUPT FOR SIX GOALS TO CUT SERIES DEFICIT

The Wild erupted for six goals, including four in the second period, to defeat the Jets in Game 3 and cut their First Round series deficit to 2-1. Minnesota's six goals were its second-most in a playoff game in franchise history, behind a 7-2 victory in Game 5 of the 2003 Conference Semifinals at VAN.

* The Wild scored at least four goals in a single period during the Stanley Cup Playoffs for the fourth time in franchise history. Their postseason franchise record for most goals in a period is five, a mark set in the middle frame in Game 5 of the 2003 Conference Semifinals.

* Forwards Marcus Foligno and Jordan Greenway each scored their first career postseason goals. Greenway became the first player in franchise history to score the first goal of his NHL career (regular season or playoffs) in the Stanley Cup Playoffs.

DID YOU KNOW: CAPITALS IN OT

The Capitals have required overtime in 11 of their last 21 postseason games dating to Game 1 of the 2016 Conference Semifinals vs. PIT, including seven of their last eight in the First Round. Washington holds a 5-6 record in those contests.

LIGHTING THE LAMP

The first five days of the 2018 Stanley Cup Playoffs have featured 11 instances of a team scoring at least five goals in a game. There were only eight such occurrences through the entire First Round of the 2017 Stanley Cup Playoffs.