SUNDAY RESULT
Washington 4 Pittsburgh 1
Nashville 5 Winnipeg 4
FIALA SCORES IN DOUBLE OVERTIME AS PREDATORS EVEN SERIES
Winnipeg tied the contest with 1:05 remaining in regulation, but Kevin Fiala scored at 5:37 of double overtime as the Predators won Game 2 and evened their Second Round series at 1-1. Fiala became the third player in franchise history to score the winning goal in a game that required multiple overtimes, joining Matt Halischuk (Game 2 of 2011 CSF at VAN) and Mike Fisher (Game 4 of 2016 SR vs. SJS).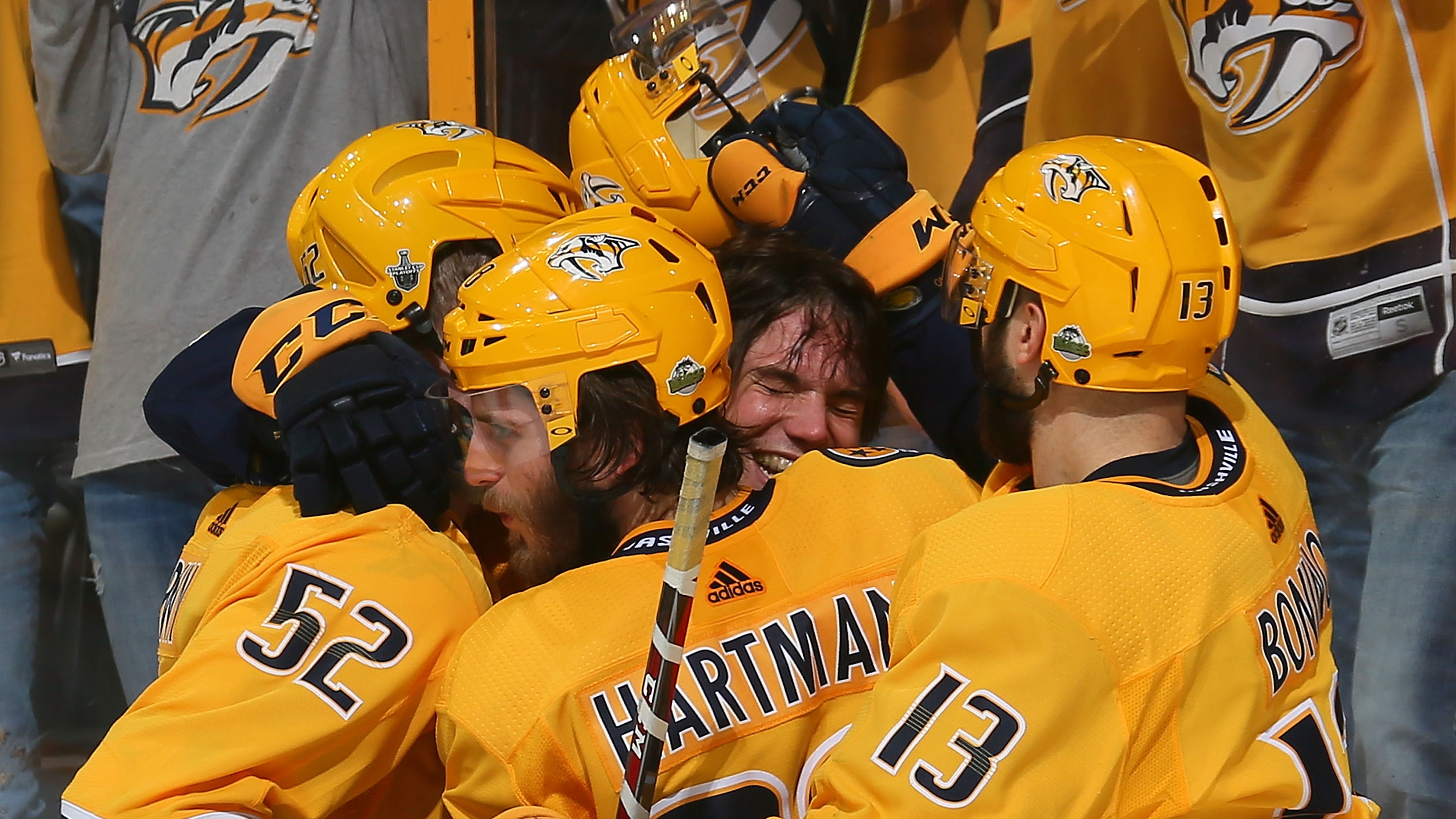 * Fiala scored his second career overtime goal in the Stanley Cup Playoffs (also Game 3 of 2017 FR vs. CHI) and became the first player in franchise history to score multiple overtime goals in the postseason. Elias notes that he became just the fourth player in the last 30 years (since 1988) to score two overtime goals in the Stanley Cup Playoffs before celebrating his 22nd birthday, joining Jaromir Jagr (w/ PIT), Alex Galchenyuk (w/ MTL) and Nikita Kucherov (w/ TBL).
* Pekka Rinne made 46 saves to establish a single-game career high in the Stanley Cup Playoffs, eclipsing the mark of 45 he set in Game 4 of the 2015 First Round at CHI. Only one goaltender in franchise history has recorded more saves in a postseason game: Dan Ellis in Game 5 of the 2008 Conference Quarterfinals at DET (52).
GOALS GALORE
The Predators and Jets combined to score nine goals, the eighth contest of 9+ goals through just 50 games in the 2018 Stanley Cup Playoffs.
* With 14 goals scored across two contests on Sunday, the average goals per game rose to 6.02 in the 2018 Stanley Cup Playoffs. The last postseason to conclude with a higher goals per game average was in 1996 (6.06).
CAPITALS EVEN SERIES AT 1-1, OVECHKIN EXTENDS GOAL STREAK
Alex Ovechkin scored for the third consecutive contest (4-1—5) to help the Capitals win Game 2 and even their Second Round series at 1-1.
* Ovechkin scored his seventh goal of the 2018 Stanley Cup Playoffs, one back of Jets forward Mark Scheifele (8) – who scored twice on Sunday – for the League lead. He boosted his career postseason totals to 14-15—29 in 22 games versus Pittsburgh (1.32 P/GP).
* Ovechkin scored his franchise-record 53rd career playoff goal to move into a tie with Bill Barber, Daniel Briere, Stephane Richer and Jeremy Roenick for 47th place on the NHL's all-time list. Only three players have scored more goals in the postseason since Ovechkin made his League debut in 2005-06: Sidney Crosby (64), Evgeni Malkin (61) and Henrik Zetterberg (54).
SNEAK PEEK AT MONDAY'S ACTION
The Bruins look to take a 2-0 lead in their series with the Lightning, while the Sharks and Golden Knights shift to San Jose with their series even at 1-1. Teams that take a 2-0 lead in a best-of-seven Stanley Cup Playoffs series own an all-time series record of 318-50 (86.4%), including a 71-20 mark when those victories occur on the road (78.0%).