--The Riders mini-camp goes in Florida this week. Can Chris Jones and the coaching staff find any jewels in the rough this year? Can they find someone like Tobi Antigha who impressed at this mini-camp this year? As you look at the roster going into this camp with the draft to follow in a few weeks time, there aren't many gaping holes and the ones that there are likely will be filled with guys who are coming to training camp and not guys who are in Florida.
This is the way I see things when you look at the depth chart----one that is floating and will have many parts change before main camp begins.
The quarterback position is strong. You have three capable running backs in Cam Marshall, Jerome Messam and Trent Richardson. Do we even have to discuss receiver? I would think as it stands right now you would have Duron Carter and Devon Bailey outside with Naaman Roosevelt, Rob Bagg and Bakari Grant inside. When you need a fullback, Spencer Moore replaces Bagg.
The o-line has a question mark at left tackle where Bruce Campbell was, but I guess you would go Travis Bond and Brendan Labatte on the left side, Peter Dyakowski (who will be hard-pressed to hold off Dariusz Bladek) and Thaddeus Coleman on the right side with Dan Clark in the middle. One might even want to move Coleman to the left side.
Defensively, you have Charleston Hughes and Willie Jefferson on the ends and Eddie Steele and Zach Evans inside. That being said, if you can find a Canadian to start elsewhere, big Nick James fills in for Steele.
Middle linebacker is a question mark and if you put Sam Hurl in there it may allow for James to be on the d-line, but I think someone like Derrick Moncrief or Sam Eguavoen could go in there. One of those two would be outside with someone like Cam Judge or Sam Williams on the other side.
The secondary would seem set with the corners being John Ojo and Jovon Johnson, the halfbacks being Ed Gainey and Crezdon Butler with Jeff Hecht or Mike Edem at safety.
Can the team find a middle linebacker in Florida? Can they find a d-back or a d-lineman for depth. I guess we will find out soon.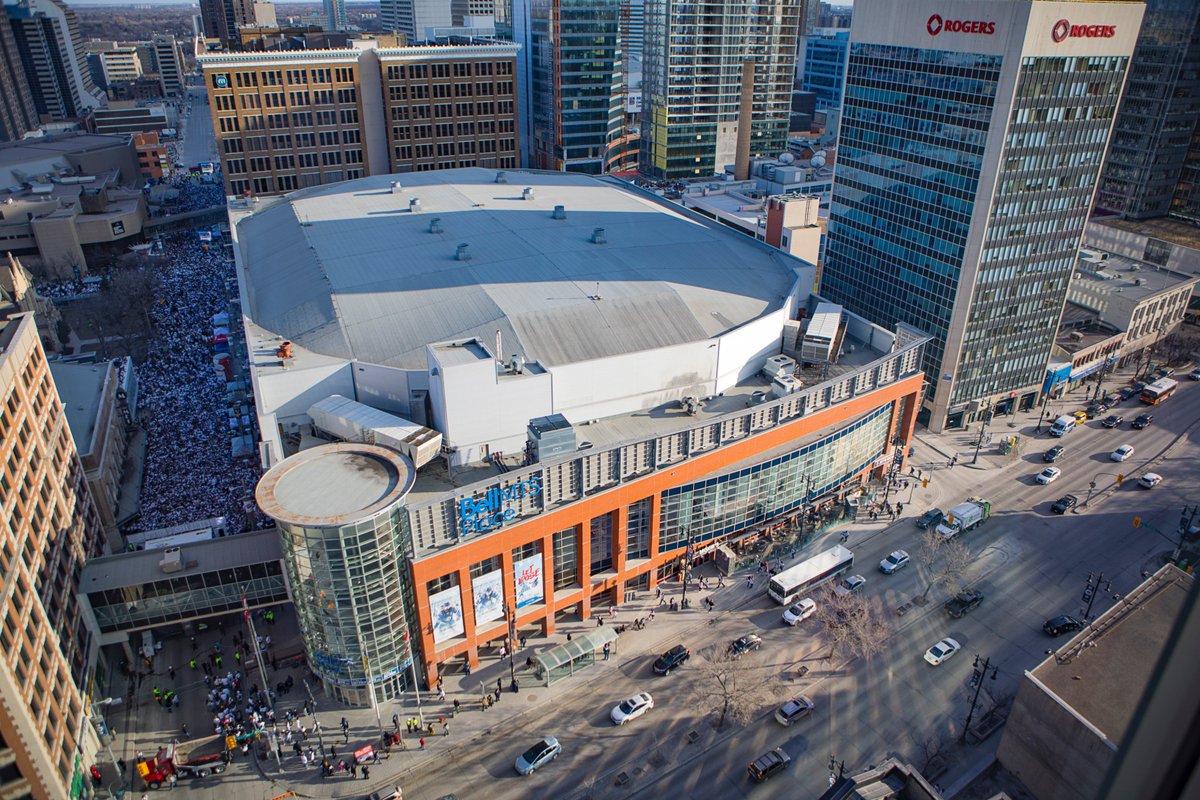 --There are a lot of happy Winnipeg Jets fans out there. What a scene it was outside and inside Bell MTS Centre Friday night as the Jets polished off Minnesota 5-0 to win their first playoff series as Jets 2.0. The thing is ITS ONLY GOING TO GET BIGGER!! I don't know how many people were at the corner of Portage and Main when the NHL gave Winnipeg the Atlanta Thrashers, but there had to be that many if not more on Friday. Imagine what it will be like if they get to the Stanley Cup final. What a scene!
The best chant of the night was "BOOK YOUR TEE TIME"!! Cold, but accurate!
--Seeing the people gather in Winnipeg and seeing those gather in Toronto for Raptors and Maple Leaf games make me wonder if that could happen here. Would Rider Nation show up en masse in City Square Plaza if you put up a giant screen to watch the game? I would think the answer is yes. Would they show up for a playoff game in November? I don't know about that, but you don't know if you don't try. I'd love to see it and you know the cameras would be out there as Rider Nation would show people across the country why there is no fan-base as close as the one that supports the green-and-white. Although let's be honest, the Jets fans give you a run for your money.
--Someone needs to explain to me how Kyle Connor of the Jets who led the league in goals for rookies doesn't get nominated for the Calder. There were a lot of great rookies in the league this year, but Connor should be in the top 3.
--Question for you. Are you happy if your team gets into the playoffs and then bows out in the first round? I would guess it depends on the team. If you are Jersey and Colorado after the season you had last year, I would say absolutely. If you are or L-A or Anaheim, I would say no
--All reports out of Calgary suggest Bill Peters is about to become the coach of the Flames after four seasons in Carolina. Nothing against the former Spokane Chiefs coach, but what did he do in Carolina to make him be "the guy" in Calgary so soon after the Glen Gulutzan firing. Shouldn't the Flames wait and see what else might become available?
--Good luck to both the Notre Dame Hounds and Saskatoon Stars as they try to bring a Telus Cup and an Esso Cup to the 306.
--Line of the weekend goes to Calgary Stampeders coach Dave Dickenson. Dave was the guest speaker at the Regina Rams dinner Friday night. According to the Rams Twitter account, he told the crowd in what was enemy territory that he felt like a Democrat at an NRA meeting Love it! I think Dickenson would have been a great speaker. If you were there, was he?
--That's all I got. Have a great week!