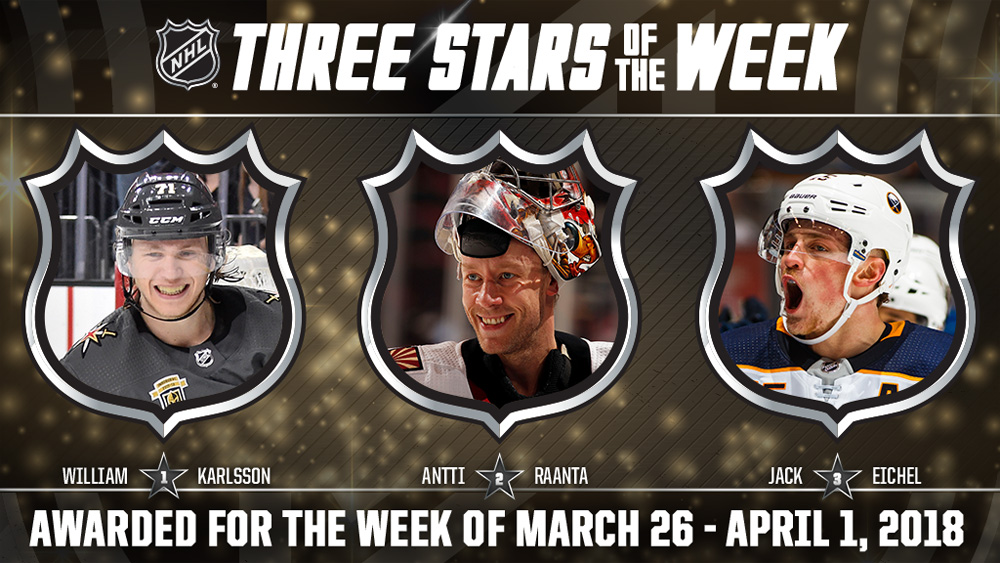 Vegas Golden Knights center William Karlsson, Arizona Coyotes goaltender Antti Raanta and Buffalo Sabres center Jack Eichel have been named the NHL's "Three Stars" for the week ending April 1.
FIRST STAR – WILLIAM KARLSSON, C, VEGAS GOLDEN KNIGHTS
Karlsson led the NHL with 3-6—9, including a pair of shorthanded goals, in four games as the Pacific Division champion Golden Knights (50-22-7, 107 points) became the first modern-era expansion team from any of the four North American professional sports leagues to start from scratch and finish first in its division (excluding mergers and all-expansion divisions). He posted 1-2—3 in a 4-1 victory over the Colorado Avalanche March 26, becoming the eighth player in NHL history to reach the 40-goal milestone for a club in its inaugural season (and first since Brian Bradley in 1992-93 w/ TBL). Karlsson added one assist in a 3-2 loss to the Arizona Coyotes March 28 before again collecting 1-2—3, including a helper on the overtime winner, in a 4-3 triumph over the St. Louis Blues March 30. He capped the week with 1-1—2, including a highlight-reel game-winning goal (while shorthanded), in a 3‑2 division-clinching victory against the San Jose Sharks March 31. The 25-year-old Marsta, Sweden, native shares third place in the League with 42 goals in 79 contests this season (42-33—75) after scoring 18 times in his first 183 career NHL games prior to 2017-18 (18-32—50).
SECOND STAR – ANTTI RAANTA, G, ARIZONA COYOTES
Raanta went 3-0-0 with a 1.00 goals-against average, .964 save percentage and one shutout as the Coyotes (28-40-11, 67 points) won three of their four games for the week to improve to 16-8-2 dating to Feb. 8. He made 19 saves in a 4-1 victory over the Tampa Bay Lightning March 26, followed by 27 stops in a 3-2 triumph against the Vegas Golden Knights March 28. Raanta then denied all 34 shots he faced to earn his 11th career shutout (and third of 2017-18) in a 6-0 win over the St. Louis Blues March 31. The 28-year-old Rauma, Finland, native has appeared in 45 contests this season, going 20‑16-6 while ranking third in the NHL with a 2.27 goals-against average and fourth with a .929 save percentage. That includes a League-best 1.87 goals-against average and .940 save percentage in 25 outings since Jan. 1 (minimum 15 GP).
THIRD STAR – JACK EICHEL, C, BUFFALO SABRES
Eichel placed second in the NHL with 3-5—8 in three games to help the Sabres (25-41-12, 62 points) pick up a pair of victories. He scored twice, including the winning goal, in a 3-2 triumph over the Toronto Maple Leafs March 26 before adding another goal in a 6-3 loss to the Detroit Red Wings March 29. Eichel then collected five assists in a 7-4 victory against the Nashville Predators March 31. In doing so, he became the first Sabres player to register five points in a game since Jan. 31, 2013 (Thomas Vanek) and the first with five assists in a game since Feb. 10, 1993 (Pat LaFontaine). The 21-year-old North Chelmsford, Mass., native paces Buffalo with 25-37—62 this season (63 GP) despite missing 15 games due to injury.